Oakcrest High School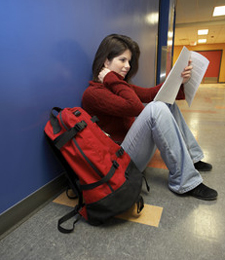 Oakcrest High School is a comprehensive four-year public high school located in Hamilton Township, Atlantic County. The school is part of the Greater Egg Harbor Regional High School District.
According to the school's website, Oakcrest serves students from Hamilton Township and Mullica Township, and the sending districts of the City of Port Republic and Washington Township (in Burlington County). Oakcrest began in 1957 with the organization of the Greater Egg Harbor Regional High School District. At that time, voters of four townships- Hamilton, Mullica, Egg Harbor and Galloway, along with Egg Harbor City, approved the regional formation. The total sending area comprised 337 square miles, at that time, the largest school district in the state. The total district population in the late 1950s was approximately 25,000. The 106 acre Hamilton Township site chosen for the new high school was purchased for one dollar.
Oakcrest's building would be situated upon the crest of a hill in an area surrounded by oak trees, so Oakcrest was chosen as the name. According to the school's website the school mascot was a Falcon, the school colors, blue and gray, and the emblems in the panels of the school ring were an Indian head and five holly leaves symbolizing the five sending districts.
Hamilton Township, home of Oakcrest High School, also includes the town of Mays Landing. Adjacent to the Oakcrest campus is the Atlantic Community College, which has shared their sports facilities as well as educational opportunities from time to time. Furthermore, Richard Stockton College, located in Galloway Township, within the Greater Egg Harbor Regional High School District, enables Oakcrest and Absegami students to take advantage of its many facilities and to participate in its cultural events. Students may also take advantage of vocational programs at the Atlantic County Vocational Technical School, located just a few minutes from Oakcrest's campus, on US Route 40.
The school has a variety of programs to suit a diverse student body, including Special Needs, a "High School-to-Work" program, College Preparatory classes, an Advanced Placement Program (AP), and Performing Arts training.
Oakcrest High School also offers a variety of extra-curricular activities including Academic Team, Band/guard, Bridge Club, Chess Club, Color Guard, Computer Club, Dance Team, Drama, French Club, Girls' Athletic Association, Habitat for Humanity, Literary Magazine, Math Club, Mock Trial, Multi Cultural Interest Club, Newspaper, Peer Mediation, Science Club, Ski Club, Social Studies Club, Spanish Interest Club, Stageband/Pitband, Stagecraft, Students Taking Action Now: Darfur, SADD, Student Council, Technology Club, Vocal Music/Chorus and Yearbook.
OHS Falcon TV has its own website with videos, photos, podcasts and info on all the latest news going on. Check it out by visiting https://sites.google.com/site/ohsfalcontv/home.
Athletics are also a large part of the student experience at Oakcrest. There are many talented athletes at the school including Michaela Puggi, Gabrielle Slusarski, Emily Brown, Emily Ohlson, Madelyn Frye-Cruz, Jessica Liepe, Christina Crenny, Logan MacIntosh, Alexandria De La Cruz, Amara Fleming, Breejae Adens, Brielle Potenski, Brittaney Brown, Brittany Maderia, Caitlynn Schutze, Carly Cordle, Cayla Landry, Daniela Peynado, Emily Wilson, Jasmine Chiao, Josselyn Gonzales, Liana Crenny, Logan Day, Megan Miller, Nicole Emper, Paige Hinson, Rachel Currier, Rayelle Pagan, Ryan Terry, Samantha Rocap, Samya Phillips, Sophia Cuerquis, Taylor Emerle, Taylor Thompson, Teea Allmond, Ryan Kelly, Axel Castillo, Troy Manno, David Sidwell, Richie Kreischer, Tyler Manno, Matt Robinson, Tristian Kuddar, Jailen Heard, Andre Nazario, Greg Wright, Tommy Kammer, Jack Markley, Donnie Stone, Jon Dodson, Ryan Johnson and others.
The OHS football team's season will get underway on September 19 at 1pm when the team visits East Orange Campus High School. The team will also have games against Pleasantville, Buena, Middle Township, Bridgeton, Absegami among other schools this upcoming season. The roster will include Jailen Heard, Kendall Elliott, Jayden Britt, Adam Montalvo, Matteo Samuel, William Fish, Yaier Hinton, Terrance Smith, Marcel Mitchell, Larry Mensah, Cailynn Schutze, AJ Davis, Samuel Govern, Alex Nichols, Kyle Miller, Mark Turner, Manny Rodriguez, Matt Petrucci, Zeb Smith and Austin Forvour.
Oakcrest High School is located at 1824 Dr. Dennis Foreman Drive in Mays Landing. For more information about the school, contact 609-909-2600 or visit oakcrest.net.
© SouthJersey.com 2015. All rights reserved. This article or parts thereof may not be reprinted or reproduced by any other party without the express written consent of SouthJersey.com. For more information, please call 856-797-9910.
For more information about what's going on in our local schools and what today's students are up to, visit our South Jersey Schools page.
Article continues below
---
advertisement


---
Author:
Meghan Shott
Archives
---
Advertise with SouthJersey.com
Shawnee High School
Acting Natural
Middle Township High School
Audubon High School
Cumberland Regional High School
African American Heritage Museum
Apple Pie Hill
Attractions: N. Pemberton RR Station
Johnson's Corner Farm
Lumberton's Air Victory Museum
Lucy the Margate Elephant
Tuckerton Seaport & Baymen's Museum
Emlen Physick Estate
Cape May's Washington Street Mall
More...