Labrador Hill Sanctuary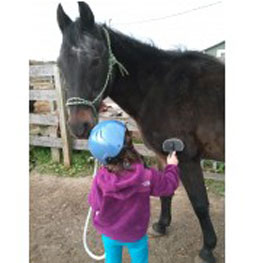 Labrador Hill Sanctuary is a permanent home to 52 horses, donkeys, ponies and mules, and is dedicated to long-term care, humane education, and the celebration of animal-human relationships.
Labrador Hill Sanctuary Inc., established in 2000, is dedicated to providing land and sanctuary for the long-term care, training and rehabilitation of equines--donkeys, horses, ponies and mules--and to providing a humane education program for students of all ages and abilities. They are committed to the preservation of animal life within the context of their own organization and as a societal approach to the guardianship of non-human cohabitants of the Earth. The Sanctuary provides a natural setting for both wild and domestic animals with an eco-friendly approach to property and facilities. Relationships between animals and between visitors and animals are of paramount importance, and the preservation of friendships within the Herd is central to the animals' health, wellbeing, and ability to relate to people. The Sanctuary, therapeutic for all visitors, is particularly enriching for special needs students who, like horses, struggle to communicate without conventional human language.
Article continues below
---
advertisement


---
They are committed to a comprehensive approach to maintaining the sanctity of the horses' place in the community, working with zoning officials, attorneys, bankers, the NJ State Department of Agriculture, the USDA, local builders, landscapers, craftsmen, musicians, artists, photographers, hay growers and dealers, neighbors, schools, and adult and teenaged volunteers to spread the word. They believe that equines belong on their land, on public lands, in suburbs and in rural communities, and have the right to their guardianship throughout their lives, whether rideable or not, retired or youthful. They view riding as an extension of the relationship between equines and humans; not an end goal, but rather a part of the journey to understanding the universe and emotional life of this ancient species.
The Herd itself is the greatest instructor. No visitor to the Sanctuary leaves without a breathtaking vision of another world view--one which hopefully will inform and enrich our existence with its timelessness, persistent commitment to its own agenda, and peace. The animals, most rescued from sure slaughter, neglect, or simply the winds of financial misfortune, issue a welcome to you. They are curious, sociable and communicative and only ask that you give them a fair hearing so they can continue to exist. Welcome to their Labrador Hill Sanctuary!
Labrador Hill has recently been asked to join Homes for Horses Coalition,a national organization committed to the long term care of equines, the end of slaughter of horses, and an internationally recognized standard for permanent care for animals. "We are very gratified to have been invited and look forward to a better future for all animals on Planet Earth," says Sarah Rabinowitz Mognoni, the Sanctuary's Executive Director.
Volunteering
The main priority of the volunteer crew is Sanctuary maintenance-manure clean-up, water tank cleaning and filling, feeding, hay distribution, help with both large and small hay bale deliveries, fence and shed repair, feed deliveries, logistics of herd/lesson/visit management, cleaning tack and equipment and helping to maintain the tack, well, and feed sheds. Volunteers also help out during school and scout visits, with special needs lessons, at fundraisers, and with special construction and landscaping projects. Volunteering at the Sanctuary is a physically energizing, therapeutic, and satisfying experience for everyone involved. Both adults and responsible teens are encouraged to help out. It is required that all volunteers participate in either some aspect of the Natural Horsemanship program or Introduction to Natural Horsemanship (see below) clinics to develop good safety and handling skills while out in the large and lively herd. Volunteers check in on a regular basis to establish regular schedules but, for the most part, work without supervision--so common sense and an ability to follow instructions are essential. Volunteers are an integral part of the Sanctuary's existence and become part of our extended family. They have a Youth Volunteer Corp that started this year. These volunteers will be responsible in the Spring for an overall property clean-up, a mural painting project for the older wooden sheds, and direct sales of their line of Labrador Hill Plushies.
Contact them to join either the Youth group or our group of adult volunteers-consider what skills you already possess and give us your ideas on how you can bring your specialty to the Sanctuary!
On-site Adoption
Labrador Hill Sanctuary offers an on-site adoption program, which helps fund the Herd's costs without separating animals from each other through the process of traditional adoption out. For $50/month, you may choose a special horse, donkey, pony, mule, or goat to be your friend, companion, confidante, or just beneficiary. You will receive a beautiful emailed adoption certificate and can visit by appointment as often as you wish. If you or your child becomes an adopter, they also offer a discount on lesson packages. Remember: the Herd largely comprises animals bought directly from kill buyers, animals homeless due to divorce or financial loss, senior high maintenance animals, and animals with disabilities like blindness, ringbone, or just emotional trauma from previous instability. Their lifeblood is the strength they derive from each other and from positive relationships with human visitors.
Equine Assisted Therapy
Labrador Hill Sanctuary is now offering Equine Assisted Therapy in the EAGALA model, which focuses on unmounted work, client based solutions, a team approach to professional facilitation, and a strong code of ethics. Sessions are individually designed with horses and clients by a mental health professional and an equine specialist and are extraordinarily effective in the creation of a sense of safety for clients experiencing a wide range of communication difficulties. PTSD, traumatic brain injury, domestic violence, family interventions and even corporate/management issues can be addressed in EAGALA sessions. Labrador Hill welcomes the military community. Both veterans and their families will benefit from this service. Sarah Rabinowitz Mognoni, Executive Director, has just completed the certification program for Equine Specialist with a focus on work with veterans and the military.
Natural Horsemanship Program, Riding Lessons and Summer Camp
Labrador Hill Sanctuary has a Natural Horsemanship program that provides a thorough understanding of equine behavior and communication so that all interactions--riding, handling, veterinary care, farrier care, feeding, grooming and just working out in the Herd--are stress free and happy for all involved. Riding lessons are also available.
The program respects, above all, the safety and autonomy of both students and horses, and fosters collaboration and partnership between humans and animals. Groundwork, or the art of enthusiastic play with an equine companion, is essential to safe, successful riding and constitutes a large part of all sessions, including Special Needs' students' sessions.
They have a new riding ring, constructed in 2015, that provides spectacular views of and contact with the entire Herd. They make frequent use of their wildlife habitat field as well. This beautiful, wild space is an excellent training area for students and their animal companions, offering both grazing and the unexpectedness of thickets of trees, wildflowers and wild animals to strengthen the students' horse/donkey communication skills.
One-hour lessons are available for adults and children ages 7 and up; half-hour lessons are available for children ages 2 to 7 and for Special Needs students. Group clinics for both children and adults are also offered throughout the year, and are designed to introduce attendees to natural horsemanship and to train volunteers.
They also have a summer camp program. Camp is a unique and inspirational week of horsemanship, gardening, cooking, and art/design, plus a fun field trip to introduce students to daily life at the Sanctuary. Hay deliveries, vet visits, farrier visits, working with the miniature horses and donkeys, Wharton State Forest trips and much more make for great group dynamics and a true exposure to living with the Herd. Sessions are confined to 4-5 campers and run from 9am to 2pm Monday through Friday.
Become a Member of Labrador Hill Sanctuary's Family
If you feel a passion for the humane treatment of horses, donkeys, ponies and mules, and enjoy spending time with them and others who share your passion, you can help support Labrador Hill Sanctuary's efforts by becoming a member of the family. As a member, you will receive special invitations to Sanctuary events, advance notice of discounts on lesson program and clinics, and access to the Herd. Memberships are available for individuals ($35), pairs ($40), and families ($50).
To join the family, click here.
To make a donation now, click here.
Special Events
The Sanctuary has a number of fundraising and special events during the year.
An introductory clinic on the EAGALA model for Equine Assisted Therapy will be held on September 8 at 6pm at the Sanctuary. The facilitator for this clinic is Sarah Rabinowitz Mognoni, Executive Director and Certified Equine Specialist. Cost is $20/person. Register by September 1 by email at mognoni@yahoo.com.
Call to Artists for HarvestFest 2015 Fine Arts and Crafts Show at the Sanctuary. Space fee is $35 (tax deductible). The event will be October 18, from 2-6pm (raindate 10/25, 2-6pm). Contact Sarah Rabinowitz Mognoni, Executive Director before October 10 to apply for exhibition space (www.labradorhill.com or mognoni@yahoo.com). Exhibit, sell, and support the preservation of animal life in the heart of the Pinelands!
HarvestFest 2015 Fine Arts and Crafts Show at the Sanctuary. Sunday, October 18, from 2-6pm (raindate 10/25, 2-6pm). While supporting the Sanctuary, enjoy great food, horsemanship demonstrations, children's activities and more!
Sanctuary Store
Labrador Hill Sanctuary also has a store where you can buy logoed products to help support their cause. To visit their online store, click here
Labrador Hill Sanctuary Inc, is a 501c3 corporation. Their facility is located at 1625 Conrad Avenue in Waterford. Their mailing address is 1221 Brookfield Lane Waterford, NJ 08089. For more information, call 856-768-9980, text 856-340-3784, email labradorhillsanctuary@yahoo.com, or go to labradorhill.com.
Photo: Elderly dear Arabian/Saddlebred cross, BJ came from his lifelong owner in Ohio who wanted him to have a great retirement home. He is kind, funny, and somewhat lacking in vision. He adores his herdmates and visitors! You can adopt him now!
August 13, 2015
© SouthJersey.com 2015. All rights reserved. This article or parts thereof may not be reprinted or reproduced by any other party without the express written consent of SouthJersey.com. For more information, please call 856-797-9910.
For more on local Organizations, visit our South Jersey Organizations page.
Author:
Ruth Cohen Ohlstein
Archives
---
More football commitments trickling for South Jersey football players
Former Glassboro Star George Johnson Almost Vaulted Team to NFC Title Game
A Running Start
For the Love of the Game
Usual Powers on Top in Wrestling
The South Jersey Fab Four
Lighting the Way
Setting the Stage
Big Words: Twins!
Ready to Grow
Home of the Brave
How Can I Ever Thank You?
One of All-Time Best Coaches Resigns
Walk of Fame: Ella Hampton
Jersey Fresh
More...