Hope Loves Company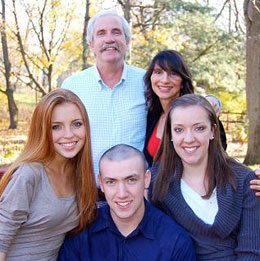 Do you know a child who loves someone who has ALS or has lost a parent or grand parent to ALS? Can you help an organization whose mission it is to help support these children?
"Please tell them about Hope Loves Company (HLC)," says Jodi O'Donnell-Ames, founder of HLC. "HLC is the only non-profit in the United States that is dedicated to helping the children of Amyotrophic Lateral Sclerosis (ALS, or Lou Gehrig's Disease) patients. The mission of Hope Loves Company is to provide emotional and educational support to children and young adults who have family members battling ALS."
What is ALS?
Amyotrophic lateral sclerosis (ALS) is a progressive neurological disease that causes muscle weakness and gradually impacts on the functioning of the body, leading to eventual death. It is also referred to as motor neuron disease or Lou Gehrig's disease, named after the famous baseball player who had the condition. Sadly, at this time, there is no cure. Most funding for ALS goes to research and patient care—and that is important, but what about the children? It is estimated that 85% of ALS patients have children, so those children will witness a parent struggling with terminal illness. HLC is unique in its dedication to supporting the children of ALS patients and relatives.
Founding Hope Loves Company
Hope Loves Company was founded by Jodi O'Donnell-Ames, and came about because of her experience with raising three children who learned about ALS as young children. O'Donnell-Ames lost her husband Kevin Gerard O'Donnell to ALS in 2001. Kevin was funny, handsome, loving and brave. Their daughter Alina was almost three when Kevin was diagnosed. She did not understand why her daddy was different, and Kevin and Jodi watched painfully as Alina noticed and adjusted to the many changes brought on by ALS.
In 2003, Jodi married Warren Benton Ames and became the mother of his two children, Nora and Adam, who were then 11 and 8. Nora and Adam lost their biological mother, Tina, to ALS in 2000, when Nora was 9 and Adam was 6. They, too, expressed grief and were challenged by the loss of a parent to ALS.
ALS united the O'Donnell-Ames family (pictured) in hope and in love. They live each day with hope for tomorrow and want to help other families who, like them, know ALS all too well. Not a day goes by without remembering Kevin and Tina and the lessons they have shared. Hope Loves Company was formed in their memories, and to help other families cope with the scope of experiences the O'Donnell-Ames family is all too familiar with.
What They Do
Camp HLC is a biannual weekend camp for children and young adults (8-21). This much-needed getaway is free for participants, and offers them an opportunity to enjoy a traditional camp experience, as well as special group counseling and other healing activities such as art therapy and yoga.
HLC Kids Connect is a safe, moderated online community for the children of ALS patients to talk and support each other. Participants can meet new friends and learn healthy ways to cope and feel less alone as they and their families are challenged by ALS.
Free Resources for ALS Families. HLC provides the children's book "What Did You Learn Today?" – written by Tina Singer Ames – who lived with ALS. It's free to any ALS family. This beautifully written and illustrated book gently introduces children to the effects of ALS on someone they love, and provides a message of hope.
How You Can Help
You can help by volunteering at HLC events and fundraisers. Events require a lot of hard work, from setting up tables to assisting children with projects. Your help is needed. If you are interested in helping, please email hopelovescompany@gmail.com and let them know how you can be of help.
Are you a professional who would like to give back to your community? As a non-profit, HLC depends on professional volunteers to help them with their mission. They would appreciate your time and experience as a contributor and educator. To help out, please email hopelovescompany@gmail.com to learn more. Fundraisers are important to the success of HLC. There are many ways to host a fundraiser and you can have fun while raising money and awareness. You can coordinate a simple fundraiser (car wash, yardsale) or organize a bigger event (golf tournament, silent auction) if you have the time. All fundraising efforts, big or small, help support HLC's mission! Do you work for one of these companies? You can help with your matching gifts donations! Click here and get involved!
You can also share your HOPE with one of their children by sending a HUGS of HOPE care package. This package includes a book, tshirt, snack, toy or game and your note or card. Packages can be sent with a donation of $50 to HLC. Please include t-shirt size, name, address and age of child. Email hopelovescompany.com to send a package.
There are many ways to help support this wonderful organization. You can buy a t-shirt, buy Jodi's book (on Amazon), and much more.
On Tuesday, September 1, you can meet Jodi along with the MDA and ALS Hope Foundation, for a Community Resource Fair. Event is held at the Cherry Hill Public Library from 6-7:30pm. Stay tuned for her book, "Someone I Love Has ALS."
Visit their website hopelovescompany.net to find out more!
If You Need Their Help
HLC has great programs and a wealth of information for families affected by ALS. Visit their website (hopelovescompany.net) for more information.
How to Contact HLC
Write to them (or send a donation) at Hope Loves Company, PO Box 931, Pennington, NJ 08534, email hopelovescompany@gmail.com, fill out the form on their website, like Hope Loves Company on Facebook, follow them on Twitter @HopeLovesCo, call them at 609-280-1905, or go to website hopelovescompany.net.
© SouthJersey.com 2015. All rights reserved. This article or parts thereof may not be reprinted or reproduced by any other party without the express written consent of SouthJersey.com. For more information, please call 856-797-9910.
For more on local Organizations, visit our South Jersey Organizations page.
Article continues below
---
advertisement


---
Author:
Ruth Cohen Ohlstein
Archives
---
Family Fun
Live from the White House
Collingswood
Stepping Up to the Plate
Local Story
Lingering Questions
Still Fresh
Under the South Jersey Sun
Riverside Retreat
Against All Odds
Like a Girl
Going Her Own Way
Fall In
Aiming to Please
Walk of Fame: Natalie Hope Sommermann
More...