Pennsville Memorial High School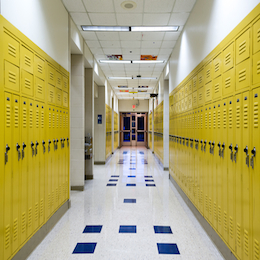 Pennsville Memorial High School, located in Salem County, was built as the final step of a memorial to honor all men and women who served in wars from the school district. The completed school contains 39 classrooms, a cafeteria, modern shops and a large auditorium. The first part of the memorial was a building of 18 classrooms, a gym, library, teacher's rooms, and health and administration suites, and was named Lower Penn's Neck Memorial School upon its completion on September 8, 1950.
Course selections at the school include required academic courses as well as honors and advanced placement options. Just some elective options include Journalism, Introduction to Linguistics, Understanding the Short Story, Anthropology, New Jersey History, U.S. Law, Anatomy & Physiology, Weather, Consumer Math, Sports Statistics, Stock Market, as well as courses in Technology and Music.
The following students were all named to the All A's Honor Roll earlier this year: Kelsie Battersby, Rache Bubeck, Hannah Cooksey, Dylan Dolbow-Abhau, April Hartman, Luke Iles, Brent Irwin, Shubrett Kaur, Mandi Powell, MacKenzie Rieger, Jacob Schmid, Alyssa Sebell, Arianna Smith, Haley Boden, Nicole Cunningham, Ryan Gray, Clorissa Kutney, Morgan Lane, Tressi Marigliano, Lauren Marini, Ashley Mistichelli, Carli Poeta, Noah Raine, Sawyer Runyon, Mason Russykevizc, Russell Scarpa, Elizabeth Slusher, Marissa Staring, Autumn Tripet, Logan Beals, Giovanni Bianco, Haley Kircher, Kody Leptien, Sarah Muhs, Kendall Npuda, Lauren Riek, Hayley Romansky, Emily Rosenberger, Joshua Schmid and Kaitlyn Taylor.
The school offers many extra-curricular activities in which students can participate, including Art Club, Audio Visual, Band, Drama Club, FLBA, German Club, History Club, Mock Trial, National Honor Society, Spanish Club, Student Council and Yearbook among others.
The athletics available at Pennsville Memorial High School include Cheerleading, Cross Country, Field Hockey, Football, Soccer, Tennis, Basketball, Track, Wrestling, Baseball, Golf, and Softball.
The Pennsville Memorial High School football team has had a successful season this 2016-2017 school year with wins against Woodstown, Woodbury, Deptford, Clayton, Gloucester City, Glassboro, Woodstown, and Penns Grove. Players are Ryan Halter, Doyne Friebel, Ray Knappenberger, Andrew Caroll, Brennan Rieco, Brandon Morris, Dallas Dilks, Mickey Tilton, Logan Johnston, PJ Halter, Blayne Swaffar, Nick Toms, Dalton Beals, Jon Gurnovich, Zachary Derish, Devon Friant, Tyler Bevis, Brady Locke, Shaun Brooks, Cody Caldwell, Thomas Data, Alec Marts, Nick Bard, Zach Battle, Brandon Friant, Wayne Brooks, Brian Dunton, Bryston Townsend, Ray Donnelly, Ryan McFarland, Sean Simpkins, Stathi Kakiousis, George Fath, Kevin Bobb, Ryan Cooper-Dean, Logan Brown, Robert Rappa, William Darling, Logan Alexander, Brandon Sherman, Rob Saulin, and Zach Bowman.
The girls soccer team captured 13 wins this season including shutouts against Wildwood, Salem and Gloucester Catholic. The team includes April Hartman, Arianna Smith, Ashley Mistichelli, Bailey Lovell, Emily Sobelman, Hannah Cooksey, Jenna Smith, Kate Taylor, Kelsie Battersby, Liz Slusher, MacKenzie Freas and Morgan Krough.
The Pennsville Performing Arts Boosters (PPAB) is the non-profit group of parents, guardians and families that support all Pennsville performing arts programs. Members meet on a monthly basis to plan fundraisers and events. To learn more, visit their website at http://www.p-p-a-b.org/index.html.
This year's high school winter band and choir concert is planned for Thursday, December 22 at 7pm in the PMHS auditorium.
Save the date! Pennsville's Drama Club will be performing their spring musical, Mary Poppins on March 23-25 at 6:30pm and March 26 at 2pm. More information will be announced in early 2017.
Pennsville Memorial High School is located at 110 South Broadway in Pennsville. For more information about the school, call 856-540-6200 or visit http://www.psdnet.org/psdnet/Schools/High%20School/.
© SouthJersey.com 2016. All rights reserved. This article or parts thereof may not be reprinted or reproduced by any other party without the express written consent of SouthJersey.com. For more information, please call 856-797-9910.
For more information about what's going on in our local schools and what today's students are up to, visit our South Jersey Schools page.
Article continues below
---
advertisement


---
Author:
Meghan Shott
Archives
---
More Articles