Audubon High School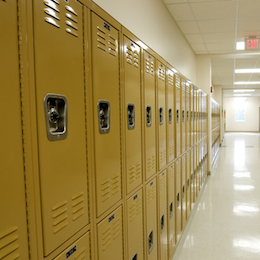 Audubon High School was opened in September 1926, and had 500 students. The school developed into a full six-year high school, with seventh, eighth and ninth grades being taught at the junior high school and tenth through twelfth grade at the senior high school. The school is ranked in the top 10 high schools of Camden County in a report released by the Star Ledger.
Audubon High School is fully accredited and approved by the New Jersey Department of Education. The major goal of the school is growth for the individual, according to the school's website. They seek to give all students the opportunity to grow intellectually, socially, physically and morally.
Students at Audubon High School study subjects such as Language Arts, Social Studies, Mathematics, Science, Business Education, World Languages, Fine and Performing Arts, Art, Music, Technology Education, and Health and Physical Education. Audubon also offers various AP courses including Advanced Chemistry, Calculus, English Literature and Composition and US History.
Congratulations to the Audubon High School marching band for capturing the USBANDS 2015 New Jersey State Championship in Group IIA with a score of 95.525, their highest score of the season. The group also earned awards for Best Color Guard, Best Music, Best Overall Effect and Best Visual. The marching band performed their show "The Call of the Mountain" in both USBANDS and Tournament of Bands (TOB) competitions throughout the fall 2015 season.
According to the school's website, "STARS (Students and Teachers against Racism and Stereotypes) is an organization whose objective is to break down all types of discrimination and stereotyping through interaction with students from other schools, educational projects at AHS, discussion groups, and other projects. STARS looks for students who can lead by example both inside and outside of school, people who would like to improve themselves and have others improve themselves, and people who are willing to make friends with people who are different from themselves."
The Audubon High School Student Council includes students that represent the entire student body to the Administration, Faculty, and Board of Education, while encouraging growth in both citizenship and leadership for the students. Along with this, the council participates in many community service projects, such as the Blood Mobile and the Senior Citizens' Party, and sponsors activities like dances, Homecoming festivities, the Winter Ball, and Spirit Week.
Athletics offered at the school include Football, Cross Country, Soccer, Cheerleading, Field Hockey, Tennis, Basketball, Wrestling, Swimming, Indoor Track, Baseball, Golf and Softball. The athletic department website is http://www.audubonathletics.org/.
Fall sports are wrapping up for the season. Athletes include Matt Connelly, Quitay Long, Emmanuel Coleman, Robby Dunn, Brian Furlong, Sharif Ghee, Tony Dustman, Jesse Efymow, Jeovoni Vazquez, Tommy Monteferrante, Shane Snyder, Dale Johnston, Joe Zuccarelli, Tim Gale, Kyle McNeely, Jahmir Chatman, Mike Noce, Eli Lapp, Chris Badecki, Jacob Gale, Nick Salamone, Sean Smith, Cameron Greene, Josh Grubb, Stephen Prince, Greg Janney, Dominick Cipolone, Allen Chase, Mike Chavis, Connor Immendorf, Nate Laxton, Zach Pergola, Abigail Leonardt, Amy Guldin, Chelsea Fadio, Danielle Nicklas, Danielle Powers, Kaitlin Amato, Lindsay Musselman, Maria Granato, Mikayla Lavecchio, Miranda Eggleston, Molly Furlong, Rachel Parr, Andrew Fehr, Andrew Gifford, Cameron Bordi, Coe Nolan, Dalton Aversa, Damon Meraz, Daniel McRory, Dylan Trow, Ethan Eppler, Evan Neide, Garrity Bantle, Jeremy McShane, John Delduke, John Ward, Kevin Carbone, Kyle Limbaga, Kyle McNeely, Lukas Press, Ryan Goodman, Sean Caja, Sean Lafleur, Steven Lindenmoth, Steve Ruoff, Thomas Vanfossen, Tony Carbone and many others.
Did you know that Audubon Jr./Sr. High School has a Facebook page? You can keep up with all the latest news by visiting https://www.facebook.com/pages/Audubon-JrSr-High-School/301037103328219.
Audubon High School is located at 350 Edgewood Avenue in Audubon. For more information about the school, visit audubonschools.org/Audubon-high-school or call 856-547-4073.
© SouthJersey.com 2015. All rights reserved. This article or parts thereof may not be reprinted or reproduced by any other party without the express written consent of SouthJersey.com. For more information, please call 856-797-9910.
For more information about what's going on in our local schools and what today's students are up to, visit our South Jersey Schools page.
Article continues below
---
advertisement


---
Author:
Meghan Shott
Archives
---
Advertise with SouthJersey.com
Shawnee High School
Acting Natural
Middle Township High School
Cumberland Regional High School
African American Heritage Museum
Apple Pie Hill
Attractions: N. Pemberton RR Station
Johnson's Corner Farm
Lumberton's Air Victory Museum
Lucy the Margate Elephant
Tuckerton Seaport & Baymen's Museum
Emlen Physick Estate
Cape May's Washington Street Mall
Maple Shade High School
More...