CamCo Cops Get Civil Rights Lesson In...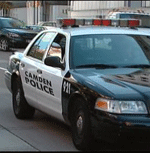 CamCo Cops Get Civil Rights Lesson In Philadelphia
PHILADELPHIA (CBS) – Members of the Camden County Police Department have been taking time to visit the National Constitution Center in Philadelphia this week.
It's more than just a quick trip across the Ben Franklin Bridge. Officers were taken on a tour of the facility and got a chance to sit down with a group of young people.
The idea here is to make sure officers appreciate community concerns and distrust of men and women in blue.
"For us to build bridges within those communities and open up the lines of communication and enhance our levels of trust, we need to have a true understanding of our role in history and its relationship with the Constitution," Camden County Police Chief Scott Thomson tells KYW Newsradio.
Remember, these officers took an oath to uphold the Constitution.
Kerry Sautner, education director at the NCC, organized the sessions.
"One of the things that we really want to have an open dialogue and a conversation about is the establishment of justice and fairness in our society, " she said. "What does that mean to people today and what did that mean to the Founding Fathers when they were setting up the Bill of Rights?"
Officers in Philadelphia and Newport News, Virginia have also taken part in the program.
Article continues below
---
advertisement


---
Author:
http://philadelphia.cbslocal.com/2015/12/03/camco-cops-get-civil-rights-lesson-in-philadelphia/ --David Madden
Archives
---
South Jersey Biz Digital Edition
Man Accused Of Trying To Kill Toms River Police Detective
School Bus Driver Charged In Crash That Injured 8 Students In South Jersey
Man Gets 40-Year Sentence For Killing Couple In Their Camden Home
Police Searching For Man Who Allegedly Sexually Assaulted Woman In Camden Home
Gov. Murphy Says Bill To Legalize Recreational Marijuana In NJ Short On Votes
Lindenwold Man Sentenced For Shooting Camden County Metro Officer In Leg
1 Dead, 3 Injured In Shooting At Camden After-Hours Club
Camden City Council Puts Brakes On Limiting Roadside Memorials After Hearing From Grieving Families
Increased Security At Clearview Regional Middle School After Bomb Threat Discovered In Bathroom
Homeless Veteran Johnny Bobbitt Pleads Guilty In State Court For Role In GoFundMe Scam
Driver Killed In Single-Vehicle Crash After Truck Found Overturned On Field Near High School In Woolwich Township
2 Dead In Multi-Vehicle Crash In Gloucester County During Winter Storm
Prosecutors Probe Slayings Of 2 Shot In Idling Car In Camden
Gloucester County Dealing With Recent Spike In Hepatitis A Cases
More Articles