Mainland Regional High School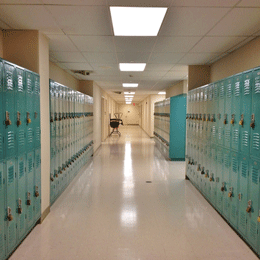 Mainland Regional High School is a regional public high school serving students from the communities of Linwood, Northfield and Somers Point in Atlantic County. The school has been recognized by the Blue Ribbon Schools Program, the highest honor that an American school can achieve.
MRHS has joined the School Choice Program. This will allow students living outside of the Linwood, Northfield and Somers Point communities to attend the school at no cost to their parents/guardians.
Mainland Regional High School's curriculum includes more than 220 diverse course offerings in subjects including Language Arts Literacy, the Visual and Performing Arts, Mathematics, Science, Social Studies, Business, World Languages, and Health and Physical Education. There are over 25 Advanced Placement courses and over 40 Honors courses.
The use of technology is integrated into teaching every day at the school. All classrooms have internet access and technology proficiency is expected of all students and teachers. A variety of technology-related courses are offered, including Web Authoring, Visual Basic, Computer Programming, along with computer applications courses, and TV Production.
In addition to academia, Mainland also offers many extra curricular activities and sports in which students may participate. Clubs at the school include Academic Team, Choir, Drama, FBLA, Jazz Band, Key Club, Mock Trial, Photography, Rally Against Discrimination, Book Club and Student Council, among others. Sports include cheerleading, cross country, field hockey, football, soccer, tennis, basketball, swimming & diving, winter track, wrestling, baseball, crew, golf, lacrosse, softball, and track & field. The school also has an aquatic center for use by students and the community.
The winter Basketball season is winding down and the boys team has had great wins against Absegami, Cedar Creek, Oakcrest and Bridgeton just to name a few. Players this past winter season included Brandon Savitch, Sahmir Jones, Osun Osunniyi, Alex Viscount, Angelo Barron, Cornelius Brozell, Dalton Raring, Devon Sharkey, Duncan Scandin, Gabe Fooks-Michnya, Jaquon Mace, John Paytas, Mary Cortallessa, Nick Atohi, Nick Mairone, Ted Bergman, Tom Zanaras and Zach Fryhoffer.
The girls team had impressive wins this season against Manalapan, Absegami, Holy Cross and Oakcrest to name a few. Their team includes Mackenzie Brennan, Francesca Geromini, Jordan Schallus, Taylor Dalzell, Mary McLaughlin, Gabby Boggs, Emily Dirkes, Madi Hafetz, Jillian Gatley, Lexi Schoen, Claudia Mairone, Aly Nazarok, Kylee Watson, Georgia Schoen, Sam Murphy, Lauren Toner, Maggie Borden, Paige Ortzman and Ava Zanaras.
Also called out on the News section of Mainland's website is student Maxwell Castellano who was named Poetry Out Loud Regional Champion this year.
According to Mainland's website, The Mainland Channel was established in 1995. The channel is shared by the Public Schools and City Governments of Linwood, Northfield and Somers Point. The channel is maintained by Mainland Regional High School and intends to inform and educate the three communities. The students of the Advanced Media Production class produce all programming on The Mainland Channel.
Mainland's marching band performs their show every fall at competitions held at area high schools as well as regional, state and national championships. To learn more about the band, check out their website at http://mainlandmarchingband.weebly.com/.
The school's Aquatic Center is open to local residents and offers adult water aerobics, water fitness classes, group lessons, swim club, a lifeguard course, a water safety course, an instructor course and private lessons. Birthday party times are also available. For more information visit http://www.mainlandregional.net/Departments/acenter.html.
There will be a College Admissions Panel on Wednesday, March 29 at 6:30pm. Admissions representatives from several colleges and universities will discuss the college search as well as the application and admission processes.
Mainland Regional High School is 1301 Oak Avenue in Linwood. For more information about the school, call 609-927-4151 or visit http://www.mainlandregional.net/.
© SouthJersey.com 2017. All rights reserved. This article or parts thereof may not be reprinted or reproduced by any other party without the express written consent of SouthJersey.com. For more information, please call 856-797-9910.
For more information about what's going on in our local schools and what today's students are up to, visit our South Jersey Schools page.
Article continues below
---
advertisement


---
Author:
Meghan Shott
Archives
---
In Good Health
2017 Executives of the Year
Superior Sandwiches
Raise a Glass
Impressive New South Jersey BBall HOF class
The Promise of Public Transportation
Empowering the Next Generation
Singles: January 3
River Revitalization
Spreading Cheer
Singles: December 27
Winter Retreat
Are Holiday Parties Back in Favor?
Support System
Singles: December 20
More...