Full Circle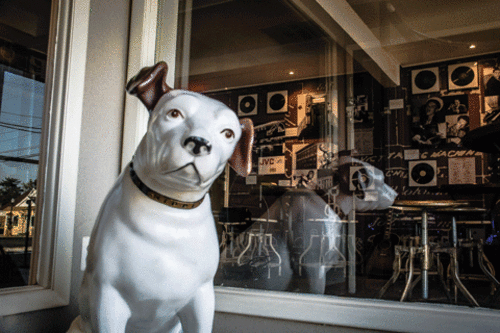 ...From the pages of South Jersey Magazine...
When most people think about the epicenter of the recording industry, major cities like Los Angeles, New York or even Memphis come to mind. But if you ask Graham Alexander, president of Victor Talking Machine Co., the city of Camden is really where it all started and he's on a mission to bring the historic label back to its roots.
The key to the vault
From the outside, The Vault—the Berlin headquarters for Victor Talking Machine Co., Victor Records and Radio Corporation of America—still resembles the bank that once occupied the building. But inside, instead of protecting people's financial assets, the vault is now safeguarding the history of recorded music in America.
The space has multiple functions: part performance venue, part museum and part business headquarters. High-top tables are positioned around the room, each providing a direct view of the stage where acts perform on weekends. The walls showcase a timeline of historical events, and a back hallway displays memorabilia—one of the first turntables made by Emile Berliner in 1895 (and since restored by the Smithsonian), a microphone from Western Electric and yet-to-be restored mixing consoles—and in plain view sits a recording booth, where records are pressed right before your eyes.
It's a bit of a utopia for music historians.
At the forefront of it all is Alexander, a 26-year-old musician and lifelong South Jersey resident. He has performed on Broadway in the shows Rain: A Tribute to the Beatles and Let It Be, released two albums and once ran a recording studio in Pennsauken. How he became president of a record label originally founded in 1901 is a bit of an unusual story.
Several years ago, Alexander was planning to start his own label, saying he didn't feel comfortable with the record deals he was being offered. While working on Broadway, he heard about an auction taking place at a nearby hotel. Looking into it further he discovered Victrola was one of the brands being auctioned off. He recognized the Camden connection and acquired it, figuring it would be the perfect launching pad for his band's future albums.
It quickly became much bigger than Victrola, though. Alexander pursued additional brands such as His Master's Voice, Little Nipper and the Victor Talking Machine Co., which was later owned by RCA. After three long years of legal battles, Alexander was finally able to bring these brands—as well as thousands of Victor Records masters, acetates and tests from the first 40 years of the recording industry—home to South Jersey, and more specifically The Vault.
Alexander says the Berlin headquarters are temporary, as is their recording studio in down town Haddonfield. "The goal is to go to Camden. We want floors seven and eight in Building 2, which are the original Victor recording studios (current home to the Camden School Board)," he says. "We want to take this concept and blow it out, make it larger."
When Alexander says "we," he's referring to his friends and business associates in the venture. Zach Harksi, with whom he grew up and has been making music, is vice president of development, and Christina Sees, secretary. Together these milennials are resurrecting a label that hadn't (until recently) put out a record since 1946.
Significant history
Article continues below
---
advertisement


---
Alexander has quickly become well-versed in the history of Victor Talking Machine Co., and he readily admits he can be a bit long-winded while giving tours at The Vault, which are offered on the same nights as performances.
"Victor is something of a lost label," he says. "It was a big deal when artists said they were with Victor or RCA Victor. The whole concept of how we record music was invented in Camden."
Victor Talking Machine Co. was founded by Eldridge Johnson and Emile Berliner in 1901. Their partnership formed because Berliner had created an alternative to Thomas Edison's cylinder phonograph—the flat disc phonograph, which was easier to mass produce. Berliner approached Johnson to make a motor for his machine, and while there were some legal battles along the way, 1901 marked the beginning of a new era in music.
Alexander says Victor can take credit for several firsts. All manner of things were recorded, including speeches, the ringing of the Liberty Bell and the first orchestra, all in Camden. Alexander says the jazz and country music recording industry began in Camden. The Carter family's song "When I'm Gone," which many will recognize as the "Cups" song from Pitch Perfect, was recorded in Camden.
Victor was also the first to record the sound of war. "There's a 1918 recording of a gas bombardment in France. Their idea was that the engineer would bring it back and it would help drum up war bonds," says Alexander. "It's very ghoulish if you listen to it. It's really cool, but also spooky."
But it was their focus on artists and marketing them that elevated Victor's success. "Berliner and Johnson were the first to sign artists to exclusive contracts in music," he says. "They signed Enrico Caruso in 1903 and he became the first million-selling artist." Victor Records went on to sign and record legends including Rachmaninoff, Bing Crosby, Duke Ellington, Louis Armstrong, Lead Belly and Woody Guthrie.
"They are the first to realize it's about the artists. They are doing album covers and marketing the artists and their stories," says Alexander. "It allows them to explode and in their prime, Victor is pressing 800,000 records a day. They occupied [dozens of] buildings, approximately 3 million square feet of space, in Camden on the waterfront."
Victor also invested in branding its records. What we affectionately know today as the Nipper dog originated from a painting called "His Master's Voice" and was adapted into the iconic logo and imprinted on every record label Victor put out.
In 1929, Victor was purchased by RCA, which Alexander says really marked the beginning of the end for Victor. Alexander says, "RCA cared less about the musical division. TV was coming in and they focused on home entertainment, which eventually changed to military contracts from World War II and on. Elvis was RCA Victor's first big acquisition and they never committed to many more artists."
In 1946 RCA Victor left Camden. Archival materials collected over Victor's history were kept in a vault on the Delaware River. Fifteen years later RCA wanted to build a dock to ship equipment out of the country, says Alexander. "They let people come into the vault for a month to take what they could, but after that they bulldozed the whole thing into the river and poured concrete over top of it. We estimate over 300,000 pieces [of materials] were lost."
Bringing the legacy back
Alexander says his passion for Victor Talking Machine Co., its history and influence stems from his musician identity. He performs regularly with his band at The Vault, whether it's a John Lennon tribute, a night of all Paul McCartney songs or hits from the '60s and '70s. The tours offered on performance nights are just one way to share the discoveries he has made since acquiring these brands, but he wants it to go beyond South Jersey.
"We've discovered early recordings, like Rachmaninoff's Flight of the Bumblebee—an early version—and we want to distribute that in a way the most people will hear it," he says. "We just have to figure out what that is." He doesn't feel streaming platforms like Spotify or Apple Music allow people to seek out new music. "I really miss hearing a new song and seeking it out."
They have also started to release original music, the first on the Victor Talking Machine Co. label since 1946, beginning with Alexander's own sophomore album Repeat Deceiver. The company also just completed a project for Marvel and Disney, creating music for the show Guardians of the Galaxy. "It's amazing because it's Graham Alexander music from Victor," Alexander says.
"We're also working on bringing new artists to the label, people we feel need a fair shot. Our goal is to bring new life into the recording industry. We want to start with three to four artists and really focus on them. Victor is our platform to do this," he says.
He wants to bring music back to Camden. "Camden was the music city. People would dream of coming here to record, and I love the city. There are so many amazing people here," he says.
Cherry Hill resident Fred Barnum, an RCA historian and author of the book His Master's Voice in America, says he saw himself as the last guy carrying the torch to keep the RCA Victor company name and story alive—until he heard about Alexander.
"I heard from a coworker that there was a Victor Talking Machine website, and I thought, 'How could that be? The company is defunct.' But I did some digging and sure enough, there was the news about him starting up the label again," says Barnum.
Barnum and Alexander started emailing, sharing information and just over two months ago they met in person when Barnum attended a show at The Vault and took the tour. "I was really impressed with Graham. To be as young as he is and to be so vibrant and eager to do what he's doing to bring the name back, as well as through his music— he's really talented. He has not only glommed on to the history, but he's getting adept at it quickly," says Barnum.
The night Barnum and Alexander first met in person, they talked for three hours after the show about all kinds of topics and how they could collaborate to take this further, Barnum says.
"He shares a vision I've had for 20 years, but I was never able to get the momentum or financial backing," continues Barnum. "I've talked to designers and thought about a museum on the Camden waterfront, a museum of recorded sound, with visuals, memorabilia, an interactive exhibit, along with an entertainment venue in the same building. And this is what Graham has done with The Vault, but a miniature version. The idea to bring it home to Camden, to the original Victor recording studios and return it to its original glory—I think that would bring it full circle."
Published (and copyrighted) in South Jersey Magazine, Volume 13, Issue 1 (April, 2016).
For more info on South Jersey Magazine, click here.
To subscribe to South Jersey Magazine, click here.
To advertise in South Jersey Magazine, click here.
Author:
Liz Hunter
Archives
---
Who's Who in Health Care
Former Shawnee star Doolittle Calls It A Career
Camden County College welcomes Baseball Hall of Fame
South Jersey Football Games of the Week
Out & About
QB Ronnie Borden is Back in the Game
Should fans be worried for the Phillies bullpen?
South Jersey Football Games of the Week
A look at South Jersey's Top H.S. Girls' Soccer Teams
Out & About
Eagles will be fine after close call in opener
High School Football Games of the Week
Is it Super Bowl or bust for the Eagles?
What's New in South Jersey?
From New Jersey to Nashville
More...