Hometown Report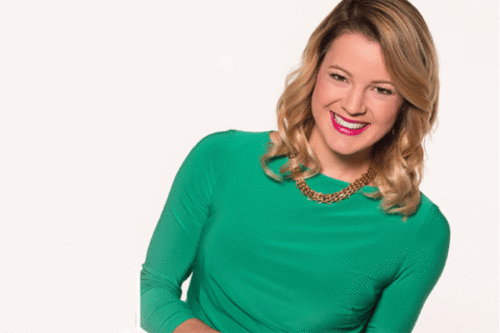 ...From the pages of South Jersey Magazine...
Long before she was a reporter with CBS 3, Alexandria Hoff was inspired by the thrill of live television thanks to a neighbor who lived near her family's Ocean City retreat. The neighbor, a Pennsylvania politician, often had satellite trucks lined up behind his house to do live interviews and Hoff found herself swept up in the excitement. "I knew that I wanted to be in the thick of it all," she says. "I think I realized at a young age that by knowing what is going on in the world, one has the ability to start or at least contribute to any given conversation."
After working stints in Hagerstown, Md. and Harrisburg, Pa., Hoff joined CBS 3 last March, allowing the Lumberton native to return to the environment that inspired her to pursue broadcast journalism all those years ago. We spoke with Hoff about coming back home to pound the pavement in search of a good story, her family ties to the Phillies and her deep love for beatnik literature.
Happy to be home…
Except for the fact that my mom can now easily tell when I've "borrowed" her clothes, it's been a daily dream come true. I think for almost everyone in this industry there is a certain sense of peace that comes with returning to the towns and people we care about most.
My parents spend half of their time in Clearwater, Fla., and warmer months back home in Lumberton so they give me a great excuse to go back. I love the unexpected charm of South Jersey—those unfamiliar with it do not expect the wooded villages and open farmland.
Speaking of, though it's not held there any more, the Burlington County Farm Fair was always the highlight of every young Lumbertonian's summer. If stopping through, Dadz Bar and Grill is great for wings and even better for eclectic crowd watching. Another quirky lunch spot that I've always loved is the Runway Café at the South Jersey Regional Airport.
Down the shore… Often Ocean City feels like my true hometown simply because it has remained so untouched. Its heritage is why I believe it is such a sacred place to so many families. I'm a third-generation devotee and plan to keep passing on this adoration.
My friends and I attended Holy Cross Academy in Delran and back then, our weekends consisted of begging my parents for the key to our Shore house. We all began to surf around 14 years old and once in college my girlfriends and I spent two summers working there while living out of an economy-sized rental. At one point, we were taking turns sleeping on a blow-up alligator. That is how much we loved—and still cherish—Ocean City.
Best beach day…
Article continues below
---
advertisement


---
The best Ocean City morning is waking up late and walking to Blitz's Deli for bagels and eggs to cook up before heading to the beach. All that time spent laying in the sand then requires some serious rest. An afternoon nap never feels as good as it does down the Shore. From there, my favorite late lunches have consisted of lots of family gathered around for an assortment of Wawa hoagies picked out by my dad. If waves are good, surfing is best after 5 p.m. Then, since I likely haven't put shoes on all day, around dinner time my friends and I might head out to Somers Point or Sea Isle. Though, preference always goes to where we can ride bikes to. The evening would end with a late-night skee ball session on the Boardwalk. Throw in a trip to an Asbury Avenue bookstore and I could do the above every day.
The daughter of a Phillies Hot Pants Girl…
You know what? My mom was—still is—a total babe so I bet those stories are a lot more interesting than what she has confessed to me. One of them has something to do with a big kiss she got from a star player in the moment immediately after the 1980 World Series win. That's the kind of stuff I really can't compete with.
All in a day's work…
A reporter and photographer's day is filled with puzzle pieces that must come together just right in order for a story to work. That said; I have always found the script writing process to be the most challenging step. There's always that looming fear of not doing justice to a story that deserves it. That's also why writing is the most rewarding part of my job. If a story is told in just the right way the viewer feels it and you go home knowing you did right by the people you interviewed. I feel lucky to work alongside such gifted storytellers in a newsroom that values such effort.
Working your way up…
Those super-small starter markets are hard. While the rest of your college friends are in New York City and living like pseudo-socialites, you are working nights and weekends out of a two-woman bureau in rural Virginia. It's really a make or break time. You learn a lot about yourself and what you can and should endure as a young professional. It teaches you how to be self-reliant and desperately creative.
Inspired by the Beat Generation…
Jack Kerouac did for me what I think he has done for many fans by offering a sense of relief to a restless young mind. I've referred to myself as an "unlikely fan of beatnik literature" only because it always seemed to surprise people in college when I would briefly turn down T-Pain's "Buy U a Drank" to try and talk Whitman and politics. What I read by beatnik authors showed me for the first time that people could be knowledge-hungry and also pretty hip.
I have a framed copy of Howl in my apartment along with a 1930s portable Underwood typewriter, the same model Kerouac used to write On the Road. It was the most thoughtful gift I've ever received.
Other ways to unwind...
I really do also love to hike, surf and be outdoors. I'm also very excited to be back in a city that is home and host to so many great musicians.
Published (and copyrighted) in South Jersey Magazine, Volume 13, Issue 1 (April, 2016).
For more info on South Jersey Magazine, click here.
To subscribe to South Jersey Magazine, click here.
To advertise in South Jersey Magazine, click here.
Author:
Peter Proko
Archives
---
Who's Who in Health Care
Former Shawnee star Doolittle Calls It A Career
Camden County College welcomes Baseball Hall of Fame
South Jersey Football Games of the Week
Out & About
QB Ronnie Borden is Back in the Game
Should fans be worried for the Phillies bullpen?
South Jersey Football Games of the Week
A look at South Jersey's Top H.S. Girls' Soccer Teams
Out & About
Eagles will be fine after close call in opener
High School Football Games of the Week
Is it Super Bowl or bust for the Eagles?
What's New in South Jersey?
From New Jersey to Nashville
More...