For Starters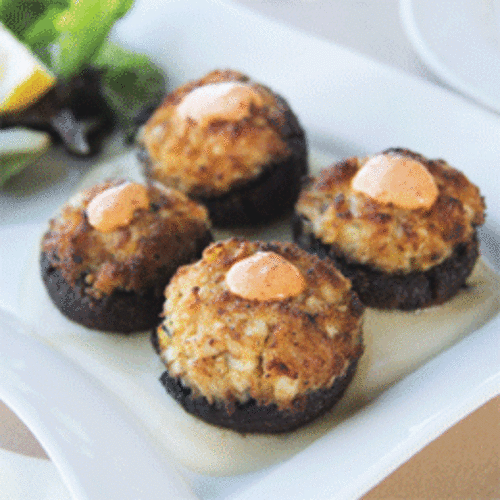 ...From the pages of South Jersey Magazine...
Appetizers are like a preview of what to come during your meal, a peek behind the curtain before you meet the star of the show.
There's no shortage of wonderful opening acts across South Jersey, from vibrant seafood plates to decadent past dishes that tease the taste buds of even the most discerning epicureans.
In our ongoing quest to find the best food in our area, we spent many hours in search of the best appetizers you'll find on local menus.
Here, then, we present 40 mouthwatering way to start your meal, from casual eateries to fine dining establishments.
Buffalo Jumbo Shrimp
at Redstone American Grill in Marlton
Jumbo—and we mean jumbo—shrimp get tossed in a seasoned breading and fried, then coated in Buffalo sauce and served on a pool of extra Buffalo sauce and blue cheese dressing. The shrimp are so big that they don't lose their juicy, briny flavor, while the Buffalo breading provides those familiar wing flavors that are hard not to love.
Wood-Oven Fire Roasted Long Hots
at Filomena Lakeview in Deptford
Often a staple in homemade Italian comfort foods, Filomena Lakeview's long hots send our taste buds on a wild ride. These long hot peppers are stuffed with prosciutto, provolone and gorgonzola cheeses and then wood-oven fired. If you aren't partial to the heat, bring your extinguisher.
Kani Salad
Article continues below
---
advertisement


---
at Ocean Cuisine in Washington Township
Our love of Ocean's sushi led us to try this dish of cold crab, cucumber, noodles and just the right amount of spice and we found it to be highly addictive. The blend of textures and flavors shows that even simple preparation can deliver complex results.
Mozzarella di Bufala
at Sapori in Collingswood
The word "fresh" is what keeps us coming back to Sapori and Chef Franco's Mozzarella di Bufala is nothing short of fresh. Slices of bresaola (cured beef) are laid out and topped with fresh buffalo milk mozzarella imported from Naples and topped with tomato, olives and baby rucola.
Crab Imperial Stuffed Cremini Mushrooms
at RiverWinds in West Deptford
With its beautiful views of the Delaware River and romantic setting, RiverWinds is a popular spot for date night. Want a great way to start the night off? Try sharing these oven-roasted baby Portobello mushrooms, which are overflowing with crabmeat and finished with a roasted red pepper aioli.
Eggplant Rollatini
at Scarpinato's in Washington Township
Thinly sliced prosciutto and impastata ricotta—known for its smooth texture and often found in desserts—stuffed into the eggplant and then cloaked in a vibrant San Marzano sauce makes this common Italian menu item taste anything but ordinary.
Bang Bang Shrimp Tempura
at Terra Nova in Washington Township
This Napa Valley-inspired eatery is best known for its wine selection and sushi bar, but the extensive menu has something for everyone. The spicy kick provided by the bang bang shrimp is complemented nicely by a sweet-chili dipping sauce and won't fill you up before the main course has arrived.
Crispy Fried Artichokes
at Catelli Duo in Voorhees
This is a must-order whenever we visit this sleek eatery in the Voorhees Town Center (with an outpost coming soon to the Moorestown Mall as well). Tender artichokes are lightly battered and served with an accompanying lemon aioli and shaved cheese that work in concert to make you smile with each forkful.
Tako Su
at Yokohama in Maple Shade
Expertly prepared octopus that is wonderfully meaty is livened up with a vinegar sauce and served over a seaweed salad. It's a testament to how exciting seafood can be when you step outside of your comfort zone every once in a while.
Clams Casino
at Little Tuna in Haddonfield
This appetizer is as storied as Haddonfield's history, but thankfully the folks here treat it with the respect it deserves by not overpowering the clam and bacon—the true stars of the show—with too much filler.
Sausage and Figs
at Da Soli in Haddonfield
Dried figs add a bite alongside mouthwatering pieces of chicken sausage, which burst with spices and a salty brine, all finished off with a sweet-and-tangy balsamic reduction.
Peruvian Ceviche
at El Sitio in Collingswood
This South American take on a classic seafood appetizer is one of our favorites and for good reason. Portions of fish get an acidic lift from lemon and served with sweet potato and corn for a truly unique way to start your meal.
Grand Plateau
at The Capital Grille in Cherry Hill
This starter is like the all-star team of the seafood world: Maine lobster, jumbo lump crab, oysters and shrimp cocktail all on one two-tiered tray of deliciousness. It's big (it should be for $99), but if you're going to indulge, this is the way to do so.
Sautéed Snails
at Amici in Cherry Hill
The thought of eating snails can intimidate some, but we highly recommend this plate where the earthiness of wild mushrooms lends itself perfectly to the molluscs as they bathe in a garlic white wine sauce.
Broccoli Rabe and Roasted Tomato Ravioli
at Anthony's Creative Cuisine in Haddon Heights
If the name of this well-executed pasta plate isn't enough to grab your attention, the delectable caponata and maple balsamic drizzle certainly will. And to think, you're still eating cheese ravioli.
Kona Filet Tips
at The ChopHouse in Gibbsboro
Start your luxury steak dinner with …well, more steak. The ChopHouse takes a beautiful filet of beef, dices it into bite-size portions, then coats the pieces in strong Kona coffee before sautéing it with roasted shallots and mushrooms.
Sausage alla Botto
at Botto's Italian Line in Swedesboro
Botto's makes all their sausages in-house; you can also find it in grocery stores to take home. At their namesake restaurant, however, one of their many sausage plates starts with sliced coins of sweet Italian sausage, which get sautéed in olive oil, garlic and white wine and served alongside pepperoncini peppers and sliced mushrooms.
Crispy Calamari
at Braddock's in Medford
Who doesn't love perfectly cooked calamari? A go-to fan favorite, this calamari gets breaded and deep fried until golden and tender, then served with a house-made mango sriracha sauce. The tangy and slightly spicy sauce perfectly complements the fried breading, and both additions leave the calamari itself to stand as the true star.
CHUlicious Burger
at CHUlicious in Moun Laurel
This isn't your local fry joint's burger, in fact, there's no beef to be found. Juicy and tender Chinese bacon—think pork belly coated in a sweet and spicy soy sauce—gets grilled until crackling and stacked with just a bit of lettuce between two steamed bao buns, and served as a fun way to kick off your next dim sum dining experience.
Wisconsin Fried Cheese Curds
at Yard House in Moorestown
Straight from the Midwest, cheese curds are the solid bits left in the cheese making process. But when breaded and deep fried they turn into the ultimate indulgence, like a more grown-up mozzarella stick. Gooey and creamy, Yard House serves theirs with a specialty honey hot sauce and a horseradish aioli for dipping and sharing.
Mussels
at Max's Seafood Café in Cloucester City
We're partial to the red spicy and the Thai versions of mussels here, but there are several varieties to choose from and there are no bad choices. Each steaming bowl is packed with plump mussels floating in a sea of intricate broth.
Chickpea Fries and Romesco
at The Farm and Fisherman Tavern in Cherry Hill
The Farm and Fisherman has a selection of snack plates, small and easy bites that are great for relaxing at their bar or as a small starter to your larger meal. The chickpea fries take seasoned chickpea flour and cook it until thick enough to slice, then fry off those slices until golden brown. The crispy exterior reveals a creamy interior, and is taken to the next level with a house-made romesco sauce for a sweet and earthy touch.
Takoyaki
at Fuji in Haddonfield
Octopus meat is transformed into a delicate dumpling that manages to be rich but still light and elegant. They're served in a house-made katsu sauce alongside briny bonito flakes and pickled radish, with a spoonful of Japanese kewpie mayo for an extra touch of decadence.
Devils on Horseback
at The British Chip Shop in Haddonfield
This old school British bar snack starts with whole dates, which get stuffed with tangy blue cheese crumbles, wrapped in bacon and fried. It's an all-in-one bite that needs no accompaniment, as the date creates a sweet exterior sauce on the bacon while the blue cheese melts just enough to become a smooth bite that electrifies the date's deep flavors.
Guacamole
at Distrito in Moorestown
Our No. 1 dining tip at the Moorestown Mall? Never skip this dish. Owner Jose Garces keeps it simple, using premium avocados at their peak ripeness, mashed with diced and roasted jalapeno and a combination of seasoning. It's sprinkled with mild Cojito cheese and served with their house-made tortilla chips for an added crunch that we would gladly eat for breakfast, lunch and dinner.
Handmade Pork Dumplings
at P.F. Chang's in Marlton
One of P.F. Chang's many dim sum options, tender ground pork is seasoned and wrapped in a pocket of paper thin wonton wrappers before being either pan-fried or steamed—the choice is yours—and served with a light chili sauce. They also come in a shrimp variety for seafood lovers, in plates of four or six.
Lobster Spinach Queso
at Firebirds in Moorestown
Chunks of buttery lobster are tossed with sautéed spinach and diced tomato and stirred into a white queso dip of pepper jack cheese, then served alongside rainbow tortilla chips. The cheese itself is mild enough that the flavor of the lobster still stands alone, while the chunks of tomato add a fresh burst to each bite.
Blistered Shishito Peppers
at Treno in Westmont
Small, vibrant shishito peppers get tossed with balsamic vinegar and diced prosciutto, then broiled whole until blackened and crispy on the outside and topped with Parmesan cheese. In some ways, this plate is like a game of Russian roulette, as one in every four peppers has a bit of a kick, while the rest are sweet and mild.
Stuffed Eggplant
at Block Olive in Voorhees
Feta cheese is placed inside meaty eggplant before it is baked in a tomato sauce to create a Mediterranean medley of flavors on your plate that you'll think about until the next time you order the dish.
Palak Chaat
at Coriander in Voorhees
Crispy spinach is combined with yogurt and a tamarind and date chutney for a flavor mixture that is every bit as complex as it is straightforward. It's a thoughtful preparation of ingredients that play well together.
Beef Carpaccio
at Il Villagio in Cherry Hill
An Italian restaurant standby, carpaccio is not for everyone, but it's definitely for us. Supremely thin slices of raw meat are fanned onto the plate and served with shaved parmesan reggiano and arugula for added texture and flavor balance.
Goat Cheese Croquettes
at Blue Plate in Mullica Hill
Forget chicken croquettes and gravy, at Blue Plate they use "mesa corn dust" to cloak goat cheese for a creamy bite with plenty of texture. The spicy apple cider sriracha dipping sauce only adds to why this dish is one of our favorites.
Pork Belly with Sweet Garlic Chili Oil Sauce
at Han Dynasty in Cherry Hill
Shreds of pork belly are met with Sichuan sensibilities for a plate that packs plenty of punch. The strands of the protein work well to absorb the sauce so that you get a true taste of the authentic preparations this restaurant is so well-known for.
Avocado Fritter
at Sweet Lula's in Pitman
The duet of crab meat with the soft, creamy avocado allows this beer battered concoction to truly hit all the high notes and we are more than glad to sing its praises.
Turkey Confit
at Redzin in Mount Laurel
This plate is like Thanksgiving for the next generation. Slow-cooked, tender turkey comes with all the fixings including sundried cranberries, a barley risotto and micro greens. Who needs gravy when you can have a pomegranate balsamic drizzle instead?
Mango Brie Quesadilla
at Mexican Food Factory in Marlton
The soft brie and the juicy stone fruit may seem like an odd pairing for a quesadilla, but they complement each other so well when tucked into a grilled tortilla that also houses green chiles and sweet onions for added depth.
Fried Macaroni and Cheese
at Cheesecake Factory in Cherry Hill
We know, we know, fried foods are not good for you. This is why we suggest that you only order this sinful starter comprised of breaded orbs that ooze cheesy goodness into a pool of marinara sauce on your cheat day. Or any day for that matter, live a little.
Pan-Crisped Pork Belly
at Fleming's in Marlton
Is there anything better than a crispy, fatty piece of pork belly when it's prepared just right? Only if you plate it with a dark cherry and onion chutney and goat cheese grits.
Dolmades
at Testia Taverna in Marlton
Grape leaves are the perfect vessel in which rice, dill, fennel, pine nuts and currants are stuffed inside. A crisp tzatziki brightens the dish with even more flavor.
Beef Brisket Flatbread
at Iron Hill in Maple Shade and Voorhees
Tender brisket is braised in the brewery's porter to add richness, while caramelized onions give a touch of sweetness. Chopped arugula gives a hint of bitterness while sharp white cheddar and a silky horseradish cream add even more flavor.
Published (and copyrighted) in South Jersey Magazine, Volume 13, Issue 2 (May, 2016).
For more info on South Jersey Magazine, click here.
To subscribe to South Jersey Magazine, click here.
To advertise in South Jersey Magazine, click here.
Author:
Erica Bauwens, Matt Cosentino, Kaytlyn Mroz and Peter Proko; photography by Alison Dunlap
Archives
---
Family Fun
Live from the White House
Collingswood
Stepping Up to the Plate
Local Story
Lingering Questions
Still Fresh
Under the South Jersey Sun
Riverside Retreat
Against All Odds
Like a Girl
Going Her Own Way
Fall In
Aiming to Please
Walk of Fame: Natalie Hope Sommermann
More...