Woodbury High School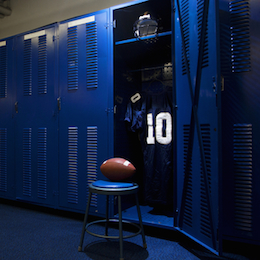 Woodbury Junior-Senior High School is a comprehensive, community, middle and high school that serves students in sixth through twelfth grades from Woodbury, Gloucester County. More than 70% of their students enroll in Honors or Advanced Placement classes.
Woodbury City Public Schools was recently awarded a $1.5 million grant as part of the 21st Century Community Learning Centers Program and Out-of-School Time Resources. The money will go towards an after-school and summer activity program.
Woodbury feels that a student's education does not end when the bell rings at the end of each day. According to their website, various activities and athletics at the Junior and at the Senior High strive to enhance what the student has learned in the classrooms with a practical, hands-on program that will expose the student to how the lessons learned in the classrooms can be used in the real world. Activities include Junior and Senior High Yearbook, White and Gold newspaper, National Honor Society, Theater Club, Robotics Team, WHS Choir, WHS Band and others.
The Robotics Team at Woodbury is a group of students interested in pursuing a career in engineering and technology. This team learns to design and build a robot. Robots from previous years included one modeled after the 2010 Camaro and one that was designed to retrieve and construct parts of an airplane.
The High School Band comprises several bands, including the Concert Band and the Marching Band. All members of the Marching Band are also members of the Concert Band. The other bands at the High School level are the Wind Ensemble and the Jazz Band. These bands include selected musicians from the Concert Band.
Congratulations to the marching band and color guard. They won first place at the Wildwood Elks Parade earlier this year.
Staff members in the yearbook club learn to organize, plan, and lay out text and artwork for the high school yearbook. They also learn photography and Photoshop skills in meetings before and after school.
Woodbury High School is the oldest member of the Colonial Athletic Conference, which is composed of smaller schools. Woodbury's many athletic teams include Boys and Girls Soccer, Boys and Girls Tennis, Boys and Girls Indoor Track, Boys and Girls Swimming, Boys and Girls Cross Country, Boys and Girls Track and Field, Boys and Girls Basketball, Football, Wrestling, Golf, Baseball, Field Hockey, Cheerleading and Softball.
Athletes this season included Adam Carey, Brandon Buckley, Branson Shute, Chris Roan, Christian Navas, Clayton Cotando, Conor Finnegan, Dean Triplett, Devontae McDowell, Elijah Gaines, Greg Carey, Hamilton Hock, Jimmy Ulmer, Joey Norton, Josh Green, Lee Norton, Nick Arrison, Spencer Sklivas, Teddy Sparks, Timmy Brown, Tyler Scolpino, Morgan Tripodi, Ashley Campbell, Cara Kinkler, Carlissa Brown, Emily Atkinson, Isabella Minnetti, Jazlyn Pagan, Jazzlyn Abbatelli, Julie Slusser, Kelly Powell, Kendall Harvey, Kyarra Williams, Nora Campo, Rachel White, in addition to others.
Congratulations to the school's students of the month for the 2015-2016 school year: Lillian Maimone, Malik Austin, Ashley Campbell, Greg Carey, Thomas Stanek, Samuel Oni, Alyssa White, Kendal Lacovara, Sarah Schollenberger, Michael Reeves, Joycelynn Colvin, Emily Atkinson, Caitlin McGeehan, Adam Carey, Abigail Ward, Ma'Ree Sansbury, Gerald Gutierrez Marquez, Teresa Biernacki, Anna Schollenberger, Latrisha Robinson, Katy Moreno-Membreno, Alysa Echevarria, Marc Croce, Sara Juliano, Diamond Lincoln, Clayton Catando, Naseemah Alfareh, Jacynda Ahrens, Willie Hunter, Ania Holland, Lucienne Nowak and Samantha Everingham.
Congratulations to the recipients of the President's Education Awards. For Outstanding Academic Achievement – Honor Roll, Sarah Becker, Megan Carnall-Tetlow, Justin Cohen, Sarah Freidel, Smir Kee, Ian McKenna, Abigail Sweeny, Kayla Tiedeken, Dante Turiccki, Peyton Ward and Rahyell Young. For Oustanding Academic Excellence – Principal's List, Georgia Bevelheimer, Stephan Boyle, Kaitlin Butler, Stephanie Colindres, Carrie Eobbi, Andy Figueroa Polanco, Angela Graff, Joseph Guy, Ariana Khalid, Isaac Knipel, Hailey Lindeborn, Allison Martin, Madeleine Maule, Aidan Potter, Emily Potter, Kayla Rozanski, Hunter Sprouls and Margaret Ulmer.
Woodbury Junior Senior High School is located at 25 North Broad Street in Woodbury. For more information about the school, call 856-853-0123 or visit woodburysch.com/hs.
© SouthJersey.com 2016. All rights reserved. This article or parts thereof may not be reprinted or reproduced by any other party without the express written consent of SouthJersey.com. For more information, please call 856-797-9910.
For more information about what's going on in our local schools and what today's students are up to, visit our South Jersey Schools page.
Article continues below
---
advertisement


---
Author:
Meghan Shott
Archives
---
More football commitments trickling for South Jersey football players
Former Glassboro Star George Johnson Almost Vaulted Team to NFC Title Game
A Running Start
For the Love of the Game
Usual Powers on Top in Wrestling
The South Jersey Fab Four
Lighting the Way
Setting the Stage
Big Words: Twins!
Ready to Grow
Home of the Brave
How Can I Ever Thank You?
One of All-Time Best Coaches Resigns
Walk of Fame: Ella Hampton
Jersey Fresh
More...