Best Doctors 2016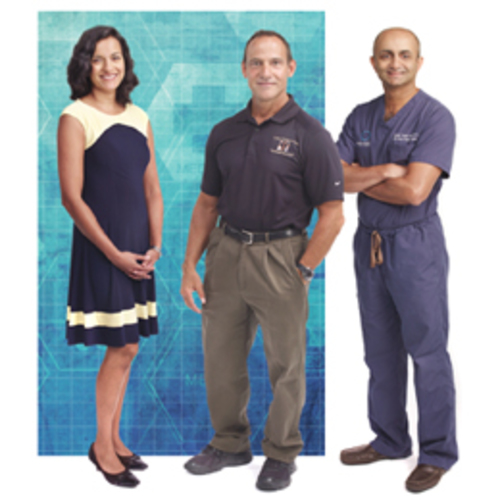 ...From the pages of South Jersey Magazine...
New treatments, advances in technology and deeper levels of understanding have assisted physicians with more effective methods for keeping patients healthy. Nowhere is that more evident than right here in South Jersey, where residents have access to some of medicine's brightest minds.
In order to simplify the search for a skilled physician, we have partnered with global health solutions company Best Doctors, Inc. in compiling our annual list of the medical professionals who have made the region's health their top priority. In addition, thousands of readers cast their votes online for our readers' poll, thereby providing a comprehensive list of physicians who are committed to making a difference in the world.
ANESTHESIOLOGY
Alan F. Kwon
Marlton
(856) 797-9600
CARDIOVASCULAR DISEASE
Article continues below
---
advertisement


---
Related Articles
---

Harvey L. Waxman
Cherry Hill
(856) 216-0300

DERMATOLOGY
Warren R. Heymann
Marlton (
856) 596-0111

Naomi Lawrence
Marlton
(856) 596-3040

Jonathan Winter
Sewell
(856) 589-3331

EMERGENCY MEDICINE
Michael Chansky
Camden
(856) 342-2351

GASTROENTEROLOGY
Adam B. Elfant
Mount Laurel
(856) 642-2133

GERIATRIC MEDICINE
Thomas Cavalieri
Stratford
(856) 566-6843

HAND SURGERY
John M. Bednar
Cherry Hill
(856) 489-5634

David A. Fuller
Camden
(856) 968-7486

INFECTIOUS DISEASE
John Baxter
Camden
(856) 963-3715

Henry Fraimow
Camden
(856) 963-3518

Annette Reboli
Camden
(856) 963-3715

INTERNAL MEDICINE
Thomas Cavalieri
Stratford
(856) 566-6843

NEPHROLOGY
Brenda R. C. Kurnik
Marlton
(856) 988-8064

Lawrence S. Weisberg
Camden
(856) 757-7844

Ron Zanger
Cherry Hill
(856) 667-7266

OBSTETRICS AND GYNECOLOGY
John A. Carlson Jr.
Voorhees
(856) 247-7310

Derek Chapman
Moorestown
(856) 642-6580

Robert Debbs
Voorhees
(877) 894-0287

Michelle A. Iavicoli
Cherry Hill
(856) 321-1800

Ronald J. Librizzi
Sewell
(856) 341-8300

Sherrilynn Parrish
Collingswood
(856) 854-4524

Wanda Ronner
Haddonfield
(856) 429-0400

David Warshal
Camden
(855) 632-2667

OPHTHALMOLOGY
Mitchell Fineman
Cherry Hill
(800) 331-6634

W. Reed Kindermann
Cherry Hill
(856) 667-3937

Courtland M. Schmidt Jr.
Marlton
(856) 596-1601

ORTHOPAEDIC SURGERY
David Clements
Camden
(856) 968-7486

Richard D. Lackman
Camden
(856) 361-1754

Alexander A. Sapega
Mount Laurel
(856) 273-8900

Michael Sidor
Mount Laurel
(856) 273-8900

OTOLARYNGOLOGY
Daniel G. Becker
Sewell
(856) 589-6673

PATHOLOGY
Warren R. Heymann
Marlton
(856) 596-0111

PEDIATRIC CARDIOLOGY
Guillermo (Bill) Sanchez
Voorhees
(856) 783-0287

PEDIATRIC CLINICAL GENETICS
Jaya Ganesh
Camden
(856) 968-7255

PEDIATRIC GASTROENTEROLOGY
Maria R. Mascarenhas
Voorhees
(215) 590-3630

PEDIATRIC MEDICAL GENETICS
Jaya Ganesh
Camden
(856) 968-7255

PEDIATRIC NUTRITION
Maria R. Mascarenhas
Voorhees
(215) 590-3630

PEDIATRIC OPHTHALMOLOGY
W. Reed Kindermann
Cherry Hill
(856) 667-3937

Bruce Schnall
Voorhees
(856) 772-9090

PEDIATRIC SPECIALIST/ ABUSED CHILDREN
Martin A. Finkel
Stratford
(856) 566-7036

PEDIATRIC SPECIALIST/ ADOLESCENT AND YOUNG ADULT MEDICINE
Robert Theodore Brown
Camden
(856) 342-2001

Lori Beth Feldman-Winter
Camden
(856) 968-7362

PEDIATRIC SPECIALIST/ NEONATAL-PERINATAL MEDICINE
Leonard S. Goldsmith
Voorhees
(856) 719-9926

Gary E. Stahl
Camden
(856) 342-2265

PEDIATRIC SPECIALIST/NEUROLOGY, GENERAL
Michael H. Goodman
Camden
(856) 342-2226

Mark Mintz
Voorhees
(856) 346-0005

PEDIATRIC THORACIC SURGERY
Harsh Grewal
Camden
(856) 342-3250

PEDIATRICS/GENERAL
Pierre Coant
Deptford
(856) 848-6346

April Douglass-Bright
Camden
(856) 342-2001

Lori Beth Feldman-Winter
Camden
(856) 968-7362

William R. Graessle
Camden
(856) 342-2001

Florence E. Rosen
Cherry Hill
(856) 428-5020

Edward Rosof
Marlton
(856) 596-3434

Charles A. Scott
Medford
(609) 654-9112

William G. Sharrar
Camden
(856) 342-2001

Stacy A. Smith-Elfant
Marlton
(856) 988-9101

PLASTIC SURGERY
Daniel G. Becker
Sewell
(856) 589-6673

Martha Matthews
Voorhees
(856) 325-6767

Ronald M. Warren
Mount Laurel
(856) 727-0030

VASCULAR SURGERY
James B. Alexander
Marlton
(856) 342-2151

Jeffrey P. Carpenter
Moorestown
(856) 342-2151

Joseph V. Lombardi
Sewell
(856) 342-2151

READERS' CHOICE
South Jersey's leading physicians as chosen by our readers

AESTHETIC MEDICINE
Dr. Danielle Brenza
Sewell
(856) 218-4848

Dr. Robert Fortino
Washington Township
(856) 318-4100

Dr. Pooja Malik
Mullica Hill
(856) 478-2111

Dr. Anu Momi
Voorhees
(856) 809-0909

Dr. Matthew Pinto
Marlton
(856) 988-8483

Dr. Donna Wilcox
Moorestown
(856) 985-8500

ALLERGY AND IMMUNOLOGY
Dr. Linda Graziano
Cherry Hill
(856) 428-5120

Dr. Faina Gutin
Woodbury
(856) 845-8300

Dr. Min Ku
Haddonfield | (856) 795-5600
Voorhees | (856) 651-9700

BARIATRIC SURGERY
Dr. Louis Balsama
Sewell, Stratford, Voorhees
(856) 589-0600

Dr. Harish Kakkilaya
Woodstown
(856) 624-4319

Dr. Marc A. Neff
Cherry Hill
(856) 665-2017

Dr. Rohit A. Patel
Camden, Voorhees
(856) 342-2384

CARDIOLOGY
Dr. Ronald Cohen
Haddon Heights, Marlton, Sewell
(856) 582-2000

Dr. Joshua Crasner
Sewell
(856) 589-0300

Dr. William Godin
Cherry Hill
(856) 482-8900

Dr. Kathleen Heintz
Camden, Pennsville
(856) 342-2034

Dr. Douglas Jacoby
Cherry Hill
(800) 789-7366

Dr. Louis Papa
Voorhees
(856) 435-8842

Dr. Daniel Tarditi
Cherry Hill | (856) 795-2227
Haddon Heights | (856) 546-3003
Sicklerville | (856) 237-8183

Dr. Howard Weinberg
Sewell
(856) 589-0300

Dr. Perry Weinstock
Camden
(856) 342-2034

CARDIOVASCULAR DISEASE
Dr. M. Scott Dawson
Woodbury
(856) 845-0100

CHIROPRACTIC
Dr. Sylvia Bidwell
Moorestown
(856) 273-1551

Dr. Charles Carabasi
Marlton
(856) 983-3373

Dr. Christopher Eulo
Sewell
(856) 306-8176

Dr. Jesse Liebman
Marlton
(856) 596-3000

Dr. Michael O'Keefe
Medford
(609) 654-4299

Dr. Vincent Picillio
Turnersville
(856) 939-6196

Dr. John Sandoz
Mount Laurel
(856) 206-9560

CLINICAL CARDIOLOGY
Dr. Benjamin Silverman
Marlton
(856) 396-0950

COLON AND RECTAL SURGERY
Dr. Robert Gardine
Turnersville |(856) 262-7340
Voorhees | (856) 429-8030

DERMATOLOGY
Dr. Ronald Bernardin
Voorhees
(856) 627-1900

Dr. Sandra Elder
Marlton
(856) 596-3393

Dr. Justin Green
Marlton
(856) 596-0111

Dr. Analise Halpern
Camden | (856) 342-2439
Marlton | (856) 596-0111

Dr. Karen S. Harkaway
Delran
(856) 461-1400

Dr. Rachel Klein
Medford
(609) 953-0908

Dr. Amy Krachman
Hammonton
(609) 561-0033

Dr. Robin Levin
Mount Laurel
(856) 810-9888

Dr. Magoly P. Monaco
Moorestown
(856) 642-6450

Dr. Robert Solitto
Voorhees
(856) 770-0800

Dr. Birgit K. Toome
Egg Harbor Township, Marlton, Vineland
(856) 751-9560

Dr. Ingrid Warmuth
Swedesboro
(856) 358-1500

EAR, NOSE, THROAT/ OTOLARYNGOLOGY
Dr. Saba Aftab
Marlton
(856) 435-9100

Dr. Scott L. Busch
Cherry Hill
(856) 424-0414

Dr. Harry Cantrell
Haddonfield, Voorhees, Washington Township
(856) 602-4000

Dr. Stephen Gadomski
Haddonfield, Voorhees, Washington Township
(856) 602-4000

Dr. John McGrath
Marlton
(856) 797-9961

Dr. Heather Nardone
Voorhees
(800) 416-4441

Dr. Scott Schaffer
Marlton
(856) 435-9100

Dr. David N. Schwartz
Voorhees, Willingboro, Woodbury
(856) 602-4000

Dr. Samir Shah
Mount Laurel, Washington Township, Voorhees
(856) 602-4000

Dr. Thomas Spalla
Camden | (856) 968-8695
Sewell | (856) 342-3113
Voorhees | (856) 325-6516

Dr. Stephen J. Tai
Marlton
(856) 435-9100

Dr. Gabriel Wong
Marlton
(856) 435-9100

ENDOCRINOLOGY
Dr. Gregory Barone
Cherry Hill
(856) 406-4091

Dr. Alison Herbst
Moorestown
(856) 727-0900

Dr. Farah H. Morgan
Cherry Hill, Sewell
(856) 795-3597

FAMILY MEDICINE
Dr. Daniel Altman
Blackwood
(856) 629-7006

Dr. Joseph Cavallaro
Sewell
(856) 344-7916

Dr. Joshua Coren
Mount Laurel
(856) 380-2400

Dr. William Furey
Voorhees
(856) 783-0695

Dr. Joseph Gallagher
Somerdale | (856) 309-7700
Washington Township | (856) 218-2312

Dr. David T. Gigliotti
Berlin
(856) 767-3234

Dr. Meredith Kenney
Haddonfield
(856) 354-2211

Dr. Joseph Levin
Moorestown
(856) 778-4009

Dr. Thomas J. Marzili
Medford
(609) 451-2020

Dr. Michael Meltzer
Hainesport
(609) 702-0014

Dr. Albert Puelo
Medford
(609) 654-9100

Dr. John F. Robertson
Cherry Hill
(856) 874-0139

Dr. Tatyana Skripnichenko
Mullica Hill
(856) 223-0500

GASTROENTEROLOGY
Dr. Neil Cohen
Marlton
(856) 983-1900

Dr. Steven Davidoff
Marlton
(856) 983-1900

Dr. Joshua DeSipio
Mount Laurel
(856) 642-2133

Dr. Elizabeth Egan
Voorhees | (856) 772-1600
Washington Township | (856) 374-5822
West Deptford | (856) 384-8282

Dr. Samuel N. Giordano
Willingboro
(856) 877-0400

Dr. Gary Levin
Marlton
(856) 424-4339

Dr. Ahmed Shehata
Cherry Hill | (856) 429-4433
Washington Township | (856) 875-8040

Dr. Alan Tulman
Marlton
(856) 983-1900

Dr. Warren Werbitt
Cherry Hill | (856) 429-4433
Washington Township | (856) 875-8040

GENERAL SURGERY
Dr. Larry Cohen
Cherry Hill, Sewell
(856) 665-2017

Dr. John D'Emilia
Stratford
(856) 566-2700

Dr. Lisa Reid
Camden | (856) 968-8695
Voorhees | Sewell | (856) 342-3113

Dr. Roy Sandau
Cherry Hill, Sewell, Voorhees
(856) 665-2017

Dr. Michael J. Sasso
Sewell, Stratford, Voorhees
(856) 589-0600

GERIATRIC MEDICINE
Dr. Elisabeth Siegert
Moorestown
(856) 642-6226

HEMATOLOGY/ ONCOLOGY
Dr. Tami Bach
Mickelton
(856) 423-0754

Dr. Seth Howard Berk
Mount Holly
(609) 702-1900

Dr. Maurice J. Cairoli
Mount Holly
(609) 702-1900

Dr. Kevin Callahan
Camden, Thorofare, Voorhees
(855) 632-2667

Dr. Eduardo Fernandez
Westampton
(609) 702-7550

Dr. Courtney Gabriel
Cherry Hill
(800) 789-7366

Dr. Generosa Grana
Voorhees
(856) 325-6750

Dr. Rachel Levenbach
Mount Holly
(609) 702-1900

Dr. Trina A. Poretta
Sewell | (856) 582-0550
Voorhees | (856) 435-1777

HOSPICE & PALLIATIVE CARE
Dr. Mark Angelo
Voorhees
(856) 325-6750

Dr. Stephen Goldfine
Marlton
(856) 596-1600

Dr. Marianne Holler
Marlton
(856) 566-6845

INFECTIOUS DISEASE
Dr. David Condolucci
Voorhees
(856) 566-3190

INFERTILITY
Dr. Louis R. Manara
Voorhees
(856) 767-0009

Dr. Gary Packin
Burlington, Marlton, Sewell
(856) 596-2233

Dr. Stephen Sawin
Burlington, Marlton, Sewell
(856) 596-2233

Dr. Robert Skaf
Burlington, Marlton, Sewell
(856) 596-2233

Dr. George Taliadouros
Marlton
(856) 988-0072

Dr. Peter G. Van Deerlin
Burlington, Marlton, Sewell
(856) 596-2233

INTERNAL MEDICINE
Dr. Aney Abraham
Camden
(856) 342-3150

Dr. Sanjay K. Bhendwal
Vineland
(856) 692-7700

Dr. Colin Campbell
Atco
(856) 767-2000

Dr. Joseph Gambale
Turnersville
(856) 582-2500

Dr. S. Michael Mirmanesh
Marlton
(856) 985-0203

Dr. Saadia Rehman
Willingboro
(609) 835-2838

Dr. Kimberly Rozengarten
Camden
(856) 968-8695

Dr. Richard G. SantaMaria
Voorhees
(856) 784-7398

Dr. Anthony Sherman
Cherry Hill
(856) 321-1919

Dr. Anthony Wehbe
Stratford
(856) 346-6500

INTERVENTIONAL RADIOLOGY
Dr. Michael Farner
Voorhees
(888) 909-7572

Dr. David Goldstein
Cherry Hill
(856) 661-5454

NEPHROLOGY
Dr. Virginia Irwin-Scott
Blackwood
(856) 374-4440

Dr. Devang Lodhavia
Marlton, Moorestown, Voorhees
(856) 424-7390

Dr. Beckie Michael
Marlton
(856) 988-8800

Dr. Joseph Pitone
Voorhees
(856) 566-5478

NEUROLOGY
Dr. S. Manzoor Abidi
Maple Shade
(856) 866-0466

Dr. Steven Bromley
Audubon
(856) 546-2300

Dr. Evren Burakgazi- Dalkilic
Camden | (856) 342-2445
Cherry Hill | (856) 546-8525
Voorhees | (856) 673-4912

Dr. Joseph V. Campellone
Camden, Cherry Hill
(856) 342-2445

Dr. Amy Colcher
Camden, Sewell
(856) 342-2445

Dr. Larry Janoff
Cherry Hill
(856) 795-2000

Dr. Andrew McGarry
Cherry Hill, Sewell
(856) 342-2445

Dr. Stephen C. Vanna
Maple Shade
(856) 866-0466

NEUROSURGERY
Dr. Christopher Farrell
Voorhees
(215) 955-7000

Dr. Jack Jallo
Sewell
(215) 955-7000

Dr. Joan O'Shea
Marlton
(856) 797-9161

Dr. Tariq Siddiqi
Voorhees
(856) 751-6600

Dr. Mark Testaiuti
Mount Laurel, Sewell
(856) 222-4444

Dr. Alan Turtz
Camden
(856) 968-7965

Dr. Steven S. Yocom
Camden, Turnersville
(856) 968-7695

OBSTETRICS & GYNECOLOGY
Dr. Susanne Adamson
Voorhees
(856) 874-1114

Dr. Isadore Ances
Voorhees
(856) 325-6600

Dr. Geoffrey Bowers
Voorhees
(856) 424-3323

Dr. Kenneth Chen
Moorestown
(856) 231-8500

Dr. Kenneth Covone
Sewell
(856) 218-2312

Dr. Jonel Dershem
Voorhees
(856) 770-9300

Dr. Roberta Felsenstein
Turnersville, Voorhees
(856) 772-2300

Dr. Michele Godorecci
Voorhees
(856) 874-1114

Dr. Eric B. Grossman
Turnersville, Voorhees
(856) 772-2300

Dr. Byron Hapner
Mullica Hill
(856) 223-8930

Dr. Jennifer Hummel
Sewell
(856) 589-1414

Dr. Susan Kaufman
Cherry Hill
(856) 424-8091

Dr. Jeffrey Levine
Voorhees
(856) 770-9436

Dr. Saifuddin Mama
Camden | (856) 342-2186
Marlton | (856) 983-5691

Dr. Wendy Martinez
Voorhees
(856) 770-9300

Dr. Stacy McCrosson
Mount Laurel
(856) 778-4700

Dr. Kristen McCullen
Mount Laurel
(856) 778-4700

Dr. Mike Minoff
Moorestown
(856) 642-6580

Dr. Emily Ricci
Voorhees
(856) 424-3323

Dr. Sarah Rosen
Voorhees
(856) 424-3323

Dr. Anthony Salerno
Sewell
(856) 218-0300

Dr. Richard Tucker
Mount Laurel
(856) 778-8622

OPHTHALMOLOGY
Dr. Brandon Ayres
Marlton
(856) 596-1601

Dr. Elizabeth A. Dale
Marlton
(856) 596-1601

Dr. Ravi Goel
Cherry Hill
(856) 795-8787

Dr. Stephen Y. Lee
Marlton
(856) 596-1601

Dr. Michael J. Pro
Marlton
(856) 596-1601

Dr. Jesse Richman
Cherry Hill
(888) 376-2133

ORTHOPEDIC
Dr. John Abraham
Sewell
(800) 321-9999

Dr. Lawrence Barr
Cherry Hill
(856) 616-2999

Dr. Arthur R. Bartolozzi
Cherry Hill
(888) 678-4632

Dr. Brad J. Bernardini
Sewell | (856) 629-2688
Vineland | (856) 696-0900

Dr. Joseph Bernardini
Vineland
(856) 696-0900

Dr. Robert E. Booth
Cherry Hill
(888) 678-4632

Dr. Larry Deutsch
Mount Laurel, Pennington
(856) 222-4444

Dr. Henry Dolch
Camden
(856) 342-3159

Dr. Thomas Dwyer
Mullica Hill, Vineland, Woolwich
(856) 690-1616

Dr. Erik Freeland
Cherry Hill | Voorhees (856) 342-3159
Glassboro | (856) 536-1475

Dr. Daniel T. Goldstein
Mount Laurel
(856) 235-7080

Dr. John Gray
Marlton, Moorestown
(856) 673-3960

Dr. Robert Greenleaf
Marlton, Voorhees
(856) 673-3960

Dr. Rajesh K. Jain
Marlton, Moorestown, Voorhees
(856) 673-3960

Dr. Steven H. Kahn
Cherry Hill
(856) 663-7080

Dr. Christopher K. Kepler
Sewell
(800) 321-9999

Dr. Gregory Klingenstein
Marlton
(856) 673-3960

Dr. Fred McAlpin
Elmer, Mullica Hill, Vineland
(856) 690-1616

Dr. Paul Marchetto
Voorhees
(800) 321-9999

Dr. Jonas Matzon
Washington Township
(800) 321-9999

Dr. Kam Momi
Mount Laurel, Sewell
(856) 222-4444

Dr. Alvin Ong
Egg Harbor Township, Hammonton
(800) 321-999

Dr. Fabio Orozco
Egg Harbor Township
(609) 677-6060

Dr. Manny Porat
Moorestown, Voorhees
(856) 673-3960

Dr. Rick Raimondo
Marlton
(856) 396-0629

Dr. Laura Ross
Berlin | (856) 768-7777
Hainesport | (609) 267-2333

Dr. John Salvo Jr.
Marlton, Sewell
(856) 321-9999

Dr. James A. Sanfilippo
Marlton, Moorestown, Vineland
(856) 673-3960

Dr. Scott Schoifet
Moorestown, Voorhees
(856) 673-3960

Dr. Mark Schwartz
Mount Laurel
(856) 235-7080

Dr. Eddie S. Wu
Elmer, Vineland, Woolwich
(856) 690-1616

PAIN MANAGEMENT
Dr. Gary Buck
Mount Laurel
(856) 255-5479

Dr. Scott Pello
Mount Laurel
(856) 255-5479

Dr. A. J. Rastogi
Hainesport (609) 845-3988
Washington Township (856) 673-9393

Dr. Adam Sackstein
Voorhees
(856) 566-8600

Dr. Kieran Slevin
Hainesport | (609) 845-3988
Washington Township | (856) 673-9393

PATHOLOGY
Dr. William Kocher
Camden
(856) 342-2506

Dr. Darshan Roy
Cherry Hill | (856) 488-6560
Stratford | (856) 346-6000
Turnersville | (856) 582-2500

PEDIATRICS/ GENERAL
Dr. Wendy Cook
Sewell
(856) 262-9180

Dr. Joseph DelGiorno
Blackwood | (856) 228-1061
Mullica Hill | (856) 343-3910

Dr. Susan Friedler
Voorhees
(856) 751-9339

Dr. Anne M. Gordon
Moorestown
(856) 536-1400

Dr. Stacey Hammer
Moorestown
(856) 536-1400

Dr. Cyrus Mohazzebi
Cherry Hill | (856) 795-3320
Sicklerville | (856) 875-7444

Dr. Mahbod Mohazzebi
Cherry Hill | (856) 795-3320
Sicklerville | (856) 875-7444

Dr. Nellie Novak
Camden
(856) 541-9811

Dr. Jared Pasternak
Sewell
(856) 863-9999

Dr. Parisa Razi
Cherry Hill, Collingswood
(856) 424-6050

Dr. John B. Tedeschi
Cherry Hill, Collingswood
(856) 424-6050

Dr. Rey Velasco
Cherry Hill, Collingswood
(856) 424-6050

Dr. Jason Weber
Cherry Hill, Collingswood
(856) 424-6050

PEDIATRIC CARDIOLOGY
Dr. Aaron T. Dorfman
Voorhees
(856) 435-1300

Dr. Katherine T. Levinson
Voorhees
(856) 435-1300

PEDIATRIC GASTROENTEROLOGY
Dr. Jose F. Del Rosario
Voorhees
(800) 416-4441

Dr. Andrew Grossman
Voorhees
(856) 435-1300

Dr. Ritu Verma
Voorhees
(856) 435-1300

PEDIATRIC GYNECOLOGY
Dr. Beverly A. Mikes
Cherry Hill
(856) 424-8091

PHYSICAL MEDICINE & REHABILITATION
Dr. Scott Jarmain
Mount Laurel
(856) 222-4444

Dr. Michael J. Paul
Galloway, Mount Laurel, Sewell
(856) 222-4444

PLASTIC SURGERY
Dr. Lyle Back
Cherry Hill
(856) 751-7550

Dr. Anthony Corrado
Stratford
(877) 481-3233

Dr. Steven Davis
Cherry Hill, Northfield
(856) 424-1700

Dr. William C. Franckle
Voorhees
(856) 772-6500

Dr. Brett Garber
Voorhees
(856) 616-9200

Dr. Frederick Lavan
Sewell
(856) 256-7705

Dr. Evan Sorokin
Cherry Hill | (856) 797-0202
Sewell | (856) 256-7705

Dr. Thomas Steffe
Sewell
(856) 256-7705

Dr. Gary Tuma
Pennington
(609) 537-7000

Dr. Bhupesh Vasisht
Voorhees
(856) 784-2639

PODIATRY
Dr. Ghadeer Alami
Vineland
(609) 267-9400

Dr. Jade Barnard
Cherry Hill
(856) 795-1003

Dr. Homyar Karanjia
Marlton
(800) 321-9999

Dr. Faith Schick
Egg Harbor Township
(609) 677-6060

PULMONARY MEDICINE
Dr. Greg Breen
Woodbury
(856) 853-2025

Dr. Peter Curreri
Merchantville
(856) 663-1121

Dr. Bryan Ferroni
Sewell
(856) 218-8080

Dr. Melvin R. Pratter
Voorhees
(856) 325-6789

Dr. Thomas Nugent
Cherry Hill
(856) 429-1800

PSYCHIATRY
Dr. Edward Baruch
Mount Laurel
(856) 273-8000

RADIOLOGY
Dr. Nilesh Doshi
Voorhees
(856) 751-0123

Dr. James P. Elder
Voorhees
(856) 751-0123

Dr. Catherine W. Piccoli
Voorhees
(856) 751-5522

Dr. Ross L. Titton
West Deptford
(856) 751-0123

RADIATION ONCOLOGY
Dr. Alexia Harvey
Voorhees, Woodbury, Willingboro
(888) 217-8662

Dr. David Horvick
Voorhees, Woodbury, Willingboro
(888) 217-8662

SURGICAL ONCOLOGY
Dr. Malini Iyer
Cherry Hill
(856) 488-4224

Dr. David P. Warshal
Voorhees
(855) 632-2677

THORACIC SURGERY
Dr. Morris Eisen
Voorhees
(856) 772-9600

UROLOGY
Dr. Elizabeth Babin
Turnersville
(856) 401-9300

Dr. Douglas Berkman
Mount Laurel
(856) 252-1000

Dr. Stuart M. Diamond
Willingboro, Salem, Turnersville
(856) 339-4466

Dr. Adam Perzin
Mount Laurel
(856) 252-1000

Dr. Jeffrey J. Tomaszewski
Marlton, Sewell, Voorhees
(856) 342-3113

VEIN/VASCULAR
Dr. Richard Daniels
Bordentown
(609) 298-0033

Dr. Charles Dietzek
Sewell, Vineland, Voorhees
(856) 309-9777

Published (and copyrighted) in South Jersey Magazine, Volume 13, Issue 5 (August, 2016).
For more info on South Jersey Magazine, click here.
To subscribe to South Jersey Magazine, click here.
To advertise in South Jersey Magazine, click here.

Author:

South Jersey Magazine-- Editorial Staff; Photography by Gary Mattie
Archives
---
More Articles