WJFL American Football Division, the...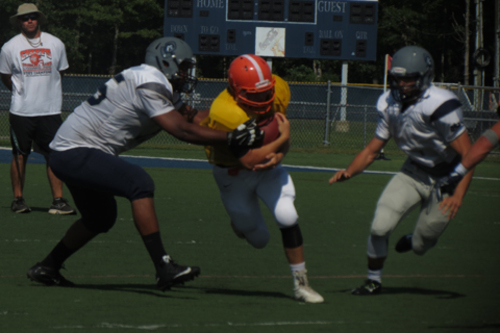 WJFL American Football Division, the Deepest in South Jersey
The West Jersey Football League American Division is the deepest football division in South Jersey, one in which all six teams qualified for the postseason a year ago.
As far as changes, Hammonton and Kingsway move into the division while Cherry Hill East and Eastern, the fifth and sixth place teams respectively last season, move to the WJFL National.
Cherokee, coming off an 8-3 season, enters as the favorite, but Hammonton, Williamstown and Shawnee appear capable of making noise, while nobody should discount perennial contender Washington Township. The one team that won't be listed with the contenders is Kingsway, where new coach Mark Hendricks will field a relatively inexperienced team compared to the rest of the division.
Cherokee looked solid in a scrimmage last week against the reigning No. 1 team in South Jersey, St. Augustine. The Chiefs have two players who have earned Division I scholarships. Running back-defensive back John Lovett is headed to Rutgers while wide receiver-defensive back Meikle Bowers will attend Monmouth.
Senior quarterback Jake Bodine wasn't a full-time starter but he completed 52 of 87 passes for 772 yards and 9 TDs and has great field presence.
The Chiefs should also be a major factor in South Jersey Group 5.
Hammonton (9-2) is another major threat. The Blue Devils have one of South Jersey's most exciting players in senior quarterback-defensive back Malachi Winters, who is more of a threat as a runner. He rushed for 556 yards (10.7 avg.) and 9 TDs.
Senior two-way tackle Jon Vega (6-0, 235) was an all-conference selection on defense and has the ability to dominate on both sides of the ball.
Second-year coach Jim Raso, as his predecessor Pete Lancetta, likes to run the ball, but if the Blue Devils can improve the passing game, they will be among the contenders in South Jersey Group 4.
Williamstown (9-3) advanced to the South Jersey Group 5 final before losing to Toms River North, 14-7 and the Braves will be competitive once again.
Senior two-way lineman Dylan Daisey (6-2, 245) is the lone two-way returning starter, but this is a team that usually plays two-platoon football and there are plenty of experienced players such as senior fullback Eriq Mercado (5-9, 200). Mercado rushed for 479 yards (5.1 avg.) and 12 TDs.
Shawnee (9-3) has been to the South Jersey Group 4 final three consecutive years, winning in 2013 and 2014 and losing to Timber Creek last year.
The Renegades biggest task is replacing four-year varsity quarterback Michael Welsh. The strength is on defense, especially at linebacker. Leading the way is senior Jax Luzinski, who had 100 tackles last season.
Washington Township (6-4) rebounded from a 2-8 season to return to the playoffs. The Minutemen won a share of the division title with Cherokee. While Township was hit hard by graduation, senior quarterback Mike Piperno will attempt to build on his strong junior season. He completed 118 of 206 passes for 1,563 yards and 17 TDs.
Kingsway (5-5) hopes to be competitive, but Dragons appear at least a year away from being contenders.
Photo by Marc Narducci: Cherokee's Jake Bodine carries the ball in a scrimmage last week vs. St. Augustine for WJFL American
© SouthJersey.com 2016. All rights reserved. This article or parts thereof may not be reprinted or reproduced by any other party without the express written consent of SouthJersey.com. For more information, please call 856-797-9910.
For more Local Sports features, visit our South Jersey Sports page.
Article continues below
---
advertisement


---
Author:
Marc Narducci; Photo by Marc Narducci
Archives
---
Bishop Eustace's Danny O'Rourke a model of stability
South Jersey Football Games of the Week
Eagles saved their season with win over Carolina
A Difficult Loss
Top Physicians 2021
Phillies wasted lights-out seasons from Bryce Harper and Zack Wheeler
Another strong season for Olympic American Girls' Soccer
South Jersey Football Games of the Week
'You Do Not Have to Suffer'
Egg Harbor Township Football Showing Great Improvement
Phillies face a difficult, but not impossible final week
Continuing the Difficult Climb
South Jersey Coronavirus (COVID-19) Developments - Booster Shots (September 27)
South Jersey H.S. Football Games of the week
Something to Build On?
More...