An Upscale Night Out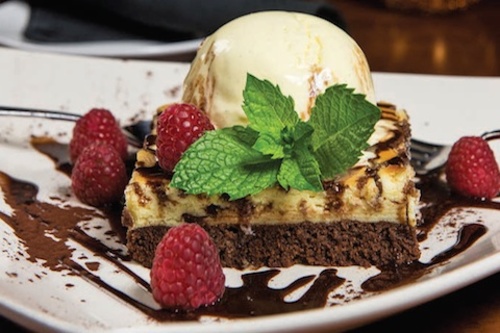 ...From the pages of South Jersey Magazine...
Giumarello's
329 Haddon Ave.
Haddon Township
(856) 858-9400
Revisit
Giumarello's has become a staple in the South Jersey community over almost 30 years of operation. Brothers Gian and Sam Giumarello took the passion, dedication and love that goes into a Sunday Italian dinner and translated it into an eatery serving up high-end steaks, seafood, pasta and so much more.
We've always been regulars at the Giumarello's G Bar, a gorgeous—and humongous—bar serving up artisanal cock- tails created by co-owner and mixologist Gian. Stop by the bar and grab a drink before heading to your table, like their Mountain Manhattan, a twist on the classic that adds plenty of kick without sacrificing smoothness.
A welcoming and attentive service staff awaits you at the table, with servers darting about all evening helping with drink suggestions, refilling glasses and freshening bread bowls. The years of experience really shine through in the customer service, as there was never a moment of delay and the evening ran smoothly from start to finish.
Through the entire night you could see bowl after bowl of mussels coming from the kitchen, in a variety of sauces wafting with fresh herbs and spices. So naturally, they can't be left off our table, which opted for the saffron selection. The mussels were tossed with chopped shrimp, roasted chunks of tomato and freshly diced thyme, all served in a golden saffron cream broth. The mussels were tender and the shrimp was a surprising, briny addition that also added a nice bit of texture, but the sauce itself was much thicker than any other mussel base on the market, creating a heavy chowder- like dish that left most of the table full by the time salads had arrived.
Shrimp pancetta also came in their own thick and creamy sauce, this time with the addition of Dijon mustard and horseradish that packed a real kick. The spice from the mustard and horseradish slightly overpowered the shrimp, but luckily the salty, crunchy pancetta added a whole new bite to the plate and helped the shrimp remain perfectly cooked.
Another perfectly cooked dish was the thick-cut filet mignon, blackened just enough with a crackling exterior and delightfully pink center. It came finished with thick-cut mushrooms, slow- cooked, caramelized onions and chunks of crumbled gorgonzola cheese for a tangy flavor that melted into each bite. The steak was so tender that you could just eat it on its own—which is an option for this particular dish—but the additions of the vegetables and cheese helped it stand out as unforgettable.
A lobster-stuffed veal chop was miss- ing its shellfish co-star, with only a small chunk of coldwater lobster tail tossed into sautéed spinach and melted mozzarella, but the veal chop was juicy and the spinach was fresh and packed with flavor. It was all finished off with a veal demiglace, made for dipping and a great addition that didn't distract from the rest of the plate, much like the delicate house-made dauphinoise potato stack that accompanied each plate.
The evening ended with a warm cream cheese brownie topped with vanilla gelato. The standout piece of the plate was surprisingly the ice cream, which was creamy and bursting with fresh vanilla bean flavor. Don't get me wrong, the cream cheese brownie certainly didn't disappoint, thanks to its supremely fudgy texture and sweet- and-tangy cream cheese. Each bite was just the right combination of warm, gooey decadence.
When looking to indulge in an upscale meal, attention to detail is what can make or break an evening. Luckily for Giumarello's, everything—from service to ice cream—seemed to pay homage to that mentality. With a dedication to pleasing diners and guests, it would be no surprise if this local landmark stuck around for at least another 30 years.
Published (and copyrighted) in South Jersey Magazine, Volume 13, Issue 5 (August, 2016).
Article continues below
---
advertisement


---
For more info on South Jersey Magazine, click
here
.
To subscribe to South Jersey Magazine, click
here
.
To advertise in South Jersey Magazine, click
here
.
Author:
Nancy Donovan; Photography by Jeff Anderson
Archives
---
More Articles