Haddon Heights High School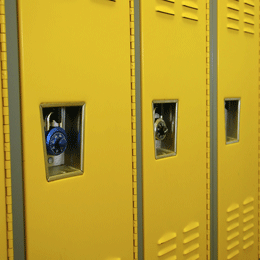 Haddon Heights High School, home of the Garnets, serves over 800 students of Haddon Heights, Barrington and Lawnside, NJ and is part of a NJ High Performing School District. Beginning last year, students from Merchantville now also attend Haddon Heights High School. According to the school's website, they offer many learning opportunities for students, including advanced placement courses, a vigorous honors program, a broad technology program and many sports and extracurricular activities. Students in grades 4-12 are each issued a Chromebook to use throughout the school year.
The 2016-2017 school year kicked off earlier this month and back to school night will be held on Thursday, October 6 at 7:00pm.
Academic Departments at the school include Business, English/Foreign Language, Math, Science, Special Education, Social Studies, Technology/Consumer Science, Fine and Performing Arts, and Physical Education/Health.
In addition to five guidance counselors, Haddon Heights High School also offers a Student Assistance Counselor (SAC). The Student Services Department provides Scholarship Bulletins and assists all students in making their post-graduate decisions. Each year between 85 and 95 percent of graduates pursue post secondary education.
Extracurriculars at the school include Academic Challenge, Art Club, Bowling Club, Concert Choir, French Club, Jazz Band, Multi-Cultural Student Union, National Honor Society, Peer Mediation, Spanish Club, Student Council, Volleyball Club and many others.
Haddon Heights High School also offers many athletic choices for students, including football, field hockey, soccer, cross country, tennis, cheerleading, basketball, wrestling, swimming, softball, baseball, track & field, and golf as part of the Patriot Division.
The Haddon Heights football team's schedule for the 2016 season includes games against Haddon Township, Penns Grove, Woodbury, Lindenwold, Audubon, Paulsboro, New Egypt, Gateway Regional and Haddonfield. Players on the team include Tariq Miller, Ronald Branham, Matt Diorio, Jeremy Daubert, Tai-quan Frazier, Deven Yuen, Troy Jackson-Fulton, Jake Breyer, Javon Lambert, Shane Sankey, Scott Harding, Tyrese Wiggins, Ryan Finnegan, Jake Barr, Austin Getley, Bobby Daley, Brad Kent, Cameron Kee, Clinton Benjamin, Damier Corbin, Granco Coppola, Fred Shinault, Gabe Fanelle Rojek, Isayah Alston, Jake McCormick, Jalen Riggs, Jared Greene, Jared Latane, Jason Scott, John McCormick, Kyle Cross, Matthew Barrett, Max Shinault, Mike Smith, Navante Williams, Rob Schuhl, Ryan Slater, Savon Taylor, Vincent Ferraro, Vincenzo Macolino and William Benjamin, according to MaxPreps.
Are you a Haddon Heights High School alum? Check out their website: http://www.haddonheightsalumni.com/ and catch up with your former classmates.
The Class of 1966 50th Reunion is scheduled for Saturday, September 24 at The Kove in Audubon from 6-10pm. Call 856-546-0808 for more information.
The 45th Reunion for the HHHS Class of 1971 will be held at the Taproom Bar & Grill in Haddon Township on October 8. Contact Leslie Celia at hhhs70stodo@gmail.com for further details.
The Class of 1957 is gearing up for their 60th Reunion. Mark your calendar for Saturday, September 13, 2017 for a gathering followed by an option cruise from September 14-23 on the Anthem of the Seas from Cape Liberty, NJ up the coast of New England. All years are invited to participate in the cruise portion. If you're interested in learning more, contact Dawn Higins at MCA Travel at 856-281-9227 or dawn@mcatravel.com.
Haddon Heights Junior/Senior High School is located at 301 Second Avenue in Haddon Heights. For more information about the school, call 856-547-1920 or visit http://hhsd.k12.nj.us/hhhs/index.php.
© SouthJersey.com 2016. All rights reserved. This article or parts thereof may not be reprinted or reproduced by any other party without the express written consent of SouthJersey.com. For more information, please call 856-797-9910.
For more information about what's going on in our local schools and what today's students are up to, visit our South Jersey Schools page.
Article continues below
---
advertisement


---
Author:
Meghan Shott
Archives
---
More Articles