A Big Stink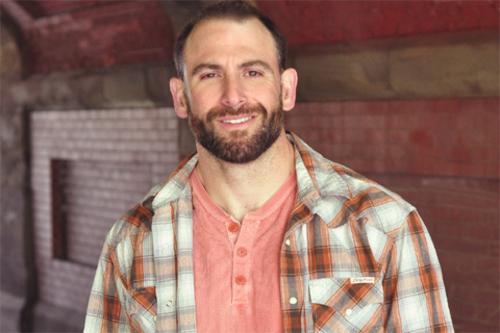 ...From the pages of South Jersey Magazine...
Bill "Stink" Fisher's nickname came from his childhood in Cherry Hill and just stuck. Such an unusual name is fitting for such a massive man with a personality to match. Fisher used his size to earn him a spot on the Rowan University football team and then a brief stint in the NFL as a line- man with the New York Jets.
Fisher's professional football career may not have lasted long, but he was still a big guy with big dreams and used his football frame as an advantage to further his acting career. He was quickly picked up to play the big man in several football films, including Adam Sandler's remake of The Longest Yard and the Philly-based Invincible.
Since then, Fisher has appeared in tele- vision and film roles across many genres, including The Lovely Bones, Blue Bloods and—most recently—a reoccurring spot as unhinged inmate Aaron Helzinger on Gotham. And somewhere in between roles, Fisher and his ex-wife Connie Correia opened The Pop Shop in Collingswood and now Medford. The Pop Shop has be- come known for serving up a slew of fresh, unique dishes, including a sprawling grilled cheese menu that earned them a minute of fame on Bobby Flay's former show Throwdown with Bobby Flay.
We caught up with Fisher at his Medford home to hear about his acting career, his unique celebrity acquaintances and what's next for the guy who can't slow down.
Lights, camera, action…
Article continues below
---
advertisement


---
I was playing professional football and I was home in between teams and I got asked if I wanted to do a football commercial for an Eagles-Dallas game. I had a blast on set and I really enjoyed the atmosphere, so I started pursuing it. From that point forward I was being brought in for auditions and I was booking 60-70 percent of [them]. Casting said I was blowing people away so I decided to really give it a shot, and anything I do, I do 100 percent. I'm full of passion and I still am.
The big break…
I started doing a lot of commercials upfront, a film here, a small TV role here, nothing really big or major until I did The Longest Yard. I submitted myself for that film. One day my ex-wife Connie was away for work and my 15-year-old was 1 or 2 at the time. I get a mystery call from Los Angeles, and they ask me to come in the next day for a casting of The Longest Yard. ... I called Connie and told her and she just said, "Go: Give [Fisher's son] Holden to your mom and go." And I got on a plane and I really nailed it. The role I read for went to Stone Cold Steve Austin, but they wanted me to come in as a featured extra to possibly be upgraded to a principal role. It was an opportunity of a lifetime and that was the catalyst to get my career up and running. I made a lot of good friends on set and I made a lot of connections, and from that day on my resume really propelled my career forward.
Befriending Adam Sandler…
Adam is Jewish from New Hampshire and I'm Jewish from New Jersey. I also played for the Jets and that's Adam's favorite team, and we both lost our fathers who were major figures in our life around the same time, so Adam and I had a lot to connect and bond with. We had a lot of fun camaraderie like that; took trips on days off, we laughed a lot.
East Coast attitude…
I live in South Jersey. I know I'm not in L.A. or New York, and I'm not willing to uproot my family and my life. I might not get the work that L.A. people get, but that's OK. East Coast people, we live in a certain environment. It's very aggressive and competitive, and you have to be on your toes. You have to go at it, you have to attack. When you put that personality in an L.A. environment we do really well.
A new role…
Gotham has been wonderful and I'm hoping to come back this season. My character arc left me dangling. The character, [Aaron Helzinger], got knocked out cold, and he's a legacy character which eventually morphs into a comic book character. I don't know where I fit in this season but he's com- ing back. I auditioned a hundred times for this role and when I booked the role people kept congratulating me be- cause it's a pretty cool role and the guy can't get killed off. He's a dim bulb, a big brute who angers easily and has a lot of potential for violence.
Good gone bad…
I play a lot of bad guys. I'm this nice, Jewish kid from Cherry Hill and they make me a bad guy. Maybe it's my alter ego, I don't know. It's kind of fun because it's a side of me that never comes out. But I'm also very comedy drive and I love comedy, and I really enjoy that. So there have been moments on Gotham where I'm able to bring that into a scene, which is great because I get to have a little fun and contribute to the show.
The Pop Shop…
My ex-wife Connie and I were a lot younger and I was making really good money with the acting work I was doing, and Connie had gone to Johnson & Wales University for hotel and restaurant management. She always wanted to have a bed and breakfast so we played with that for a while, and had our son. We knew [Collingswood] needed a family spot. We had a really frustrating night out with our [then] 2-year-old, and we ran out halfway through the meal. There were no family places for kids to just be kids. And that was the linchpin for The Pop Shop.
Getting cheesy… The menu evolved by desire. I initially said I wanted 100 types of grilled cheese. Connie said absolutely not, how about 10? Then I talked her up to 30. I'm proud to say that we were the first restaurant ever to offer that many different varieties of grilled cheese and make that our focal point. And when the producers of Bobby Flay's show did a Google search of grilled cheese restaurants, we came up first. That's how we got on his show.
The second location…
Medford is getting into its groove. Even though it's 10 miles away [from the Collingswood location] it's a different atmosphere. It took us time to under- stand that clientele while getting two kitchens and two floors ready, which as you can imagine, is twice the work. There's such a great potential for doing more out in Medford.
What's next… Life for me is a balance. I've been married to my wife Jessica for a year now, and have a 15-year-old, a 10-year-old and my 5-year-old stepson. I've been more focused on acting in the last year, and the last 10 years it was really 50/50. I'm also opening a food truck. Pop Shop a GoGo is being wrapped right now and should be up and running in the next two to three weeks. We want to do a lot of corporate, private, residential entertainment. And because of our brand, people will identify with it.
Published (and copyrighted) in South Jersey Magazine, Volume 13, Issue 6 (September, 2016).
For more info on South Jersey Magazine, click here.
To subscribe to South Jersey Magazine, click here.
To advertise in South Jersey Magazine, click here.
Author:
Erica Bauwens
Archives
---
Who's Who in Health Care
Former Shawnee star Doolittle Calls It A Career
Camden County College welcomes Baseball Hall of Fame
South Jersey Football Games of the Week
Out & About
QB Ronnie Borden is Back in the Game
Should fans be worried for the Phillies bullpen?
South Jersey Football Games of the Week
A look at South Jersey's Top H.S. Girls' Soccer Teams
Out & About
Eagles will be fine after close call in opener
High School Football Games of the Week
Is it Super Bowl or bust for the Eagles?
What's New in South Jersey?
From New Jersey to Nashville
More...