Under the South Jersey Sun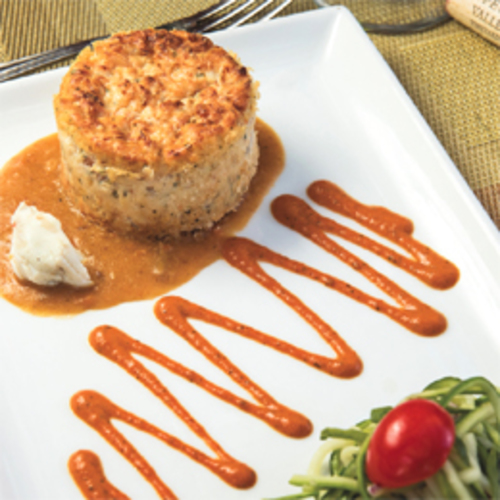 ...From the pages of South Jersey Magazine...
Toscana
1990 Route 70 E.
Cherry Hill
(856) 489-7373
With the weather winding down, one of the easiest ways to enjoy a beautiful evening is out at Toscana. Tucked away from the hustle and bustle of Route 70, the front porch and seating area is truly unbeatable, designed like an outdoor Tuscan balcony, complete with a beautiful fountain and real grape vines and, you guessed it, grapes hanging from the trellises.
The level of intimacy at Toscana is translated into the menu, customized and de- signed with years of experience in mind and featuring a selection of Italian crudo— or sushi—wood-fired pizzas, house-made pastas and a selection of wines from HopewellValleyVineyards out of Pennington.
Starting the night with a plate of warm crab cheesecake was a totally unique introduction, featuring a dish of jumbo lump crab meat combined with chopped shrimp, cheese and finished with a roasted red pepper coulis and cucumber. Each bite really delivered on the crab, with massive chunks of meat appearing throughout the whole plate, and the balance of creamy to savory was surprisingly tasty.
Another appetizer of mushrooms campagna was also incredibly creamy, as whole mushrooms were stuffed with crumbled sausage and spinach, topped with cheese and broiled in béchamel sauce. The mush- rooms and their filling were flavorful enough on their own, as a combo as familiar as sausage, spinach and mushroom is hard to dislike, but the béchamel was unusual and bland, lacking no additional seasonings or flavors than the flour, milk and butter it's made of.
At an Italian restaurant with the reputation for excellence that Toscana has, pasta is simply a must. Seafood manicotti took house-made sheets of paper-thin pasta and stuffed them with ricotta cheese, shrimp, chopped scallops and crab meat before being coated in a Parmesan besciamella tomato crust—similar to a béchamel sauce, with a helping hand of Parmesan and tomato—and baking it until bubbly. The pasta was perfectly executed, cooked just al dente so that it held up against all of the other enticing ingredients and stood alone as the star on the plate. That's not to say, however, that the accompanying sauce and fresh, tender seafood didn't have its moments to shine. For a dish with so many elements, each bite was truly cohesive.
The Sicilian duck entrée, however, didn't share that cohesiveness. A duck breast was pan cooked and served in a Sicilian blood orange sauce, then flambéed with Grand Marnier liqueur and served with grilled asparagus and a house-made potato torta. The torta was tender and creamy and the asparagus itself was grilled perfectly, with the right touch of salt and a bit of char from the grill. But the duck itself was overcooked and subsequently tasted dry, while its accompanying sauce was loaded with chiffonade orange peels that overloaded the sweet sauce with bitterness.
A plate of profiteroles with a few espressos was a light pick-me-up to enjoy as the sun set. Each cream puff was loaded with a house-made cream, then smothered in a rich chocolate sauce similar in consistency to pudding that paired just right with the airy, light pastry.
As much as we love the South Jersey sites, it can be hard to find a dinner escape with a true view within driving distance, and Toscana manages to craft an intimate and private space that is worth investigating. It's like a little trip to Tuscany, and you don't even need to renew your passport.
Published (and copyrighted) in South Jersey Magazine, Volume 13, Issue 6 (September, 2016).
Article continues below
---
advertisement


---
For more info on South Jersey Magazine, click
here
.
To subscribe to South Jersey Magazine, click
here
.
To advertise in South Jersey Magazine, click
here
.
Author:
Nancy Donovan; Photography by Jeff Anderson
Archives
---
Family Fun
Live from the White House
Collingswood
Stepping Up to the Plate
Local Story
Lingering Questions
Still Fresh
Riverside Retreat
Against All Odds
Like a Girl
Going Her Own Way
Fall In
Aiming to Please
Walk of Fame: Natalie Hope Sommermann
Catch of the Day
More...