Moorestown High School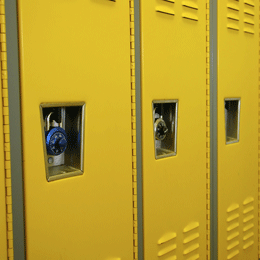 Moorestown High School is a four-year comprehensive high school with a history of long standing academic excellence since its founding in 1904. According to the school's website, "the vision for Moorestown High School is for the continued development and maintenance of a program which effectively balances academics, aesthetic, and athletic elements. A critical component of this program is the maintenance of an environment which responds to the students' personal and academic needs."
Approximately 1000 students attend the school and there are nearly 90 certified faculty members. There are over 170 courses and programs of study for students to choose from, in areas such as Business & Info Technology, English/Language Arts, Family Consumer Science, Fine Arts, Industrial Technology, Mathematics, Performing Arts, Physical Education/Health, Science, Social Studies and World Language. More than 56 percent of students participate in Advanced Placement courses as well, and 95 percent of students continue their education after graduation.
Many Moorestown High School students participate in activities and sports at the school. Student Government has many participants, in addition to clubs such as Art Club, Debate Team, FBLA, Interact Club, Latin Club, Multi-Cultural Club, Photography Club, Robotics Club, Vegetarian Club and many others.
Moorestown's Music Department offers course work in instrumental music, vocal music and musical theater. The school's 2016 fall play, One Flew Over The Cuckoo's Nest, will be performed on October 27-29. For more information about Moorestown Theater, visit their facebook page.
Sports offered at the school include baseball, basketball, bowling, cheerleading, cross country, dance squad, field hockey, football, golf, lacrosse, soccer, softball, swimming, tennis, track, volleyball and wrestling.
Players on the girls soccer team this fall season according to Max Preps are Alex Hubler, Ali Simeone, Amanda Wichterman, Ava Frantz, Emily Bretschnieder, Marissa Genevro, Nina Nelson-Bechtold, Olivia Carson, Quinn Nicolai, Robin Panzarella and Sarah Gally.
The Moorestown Rowing Club has begun their fall season. Check out their website to learn more about Moorestown Crew.
The football team's opponents this season include Cumberland, Seneca, Highland Regional, Northern Burlington, Buena, Woodrow Wilson, Hightstown, Bishop Eustace Prep, Cherry Hill East and Triton. Players are Brandon Outlaw, Ryan Penner, Tommy Bolte, J'Wan Steward, Joshua Pearcy, Joshua Bearder, Michael Holt, Mitchell Lisa, Brian McMonagle, Hugh Malesh, Rhett Mueller, Marcus Harvey, Nicholas Moncholi, Alex Jackson, Kevin Travis, Alexander Wright, Brian Chepurny, Nicholas Cartwright, Zion Howard, Sam Filler, Steven Weissman, Tyler Hare, Jalen Eagan, Chase Mueller, Cole McHugh, Mansukh Kandhari, Nate Dalmass, Jack Ginley, Zack Cataline, Stephen Wasdyke, Will Conaty, Brandon Mckiernan, Colbe Eldridge, Joshua Fauvell, Robert Garrison II, Jaxon Zaorski, Matt Harvey, Daniel Zuber, Aaron Jacobs, Thomas Hughes, Victoria Bane, Michael Shenot, Francis Pryor, George Horiates, Efe Kahyaoglu, William Eaise, Danny Schultz, Jack Finnerty, Murat Ozbay, Aaron Arroyo and Killian LoRusso.
The MHS Home and School Association has a facebook page. Check out: https://www.facebook.com/MoorestownHomeSchool to stay up to date with what's happening with this parent/teacher organization and in the Moorestown schools. They also have a new website: http://moorestownhomeandschool.com/.
Moorestown High School graduates interested in organizing a class reunion should contact Inger Begley at 856-235-3231 or ibegley@mtps.com. She can assist with class lists and other suggestions.
The Class of 1955 will hold a reunion on Wednesday, October 12 at the Medport Diner on Route 70 in Medford from 2:30-5pm. Cost for the party is $10 and it is BYOB. Call Jim May at 856-829-6725 for information.
Come to Moorestown High School on Friday, October 14 and test drive a Lincoln from 5-8pm before the home football game against Hightstown. The Girls Swim Team will earn $20 for each person that test drives a car, courtesy of Holman Ford/Lincoln of Maple Shade.
Moorestown High School is located on 350 Bridgeboro Road in Moorestown. For more information, call (856) 778-6610 or visit them on the web at http://mhs.mtps.com/.
© SouthJersey.com 2016. All rights reserved. This article or parts thereof may not be reprinted or reproduced by any other party without the express written consent of SouthJersey.com. For more information, please call 856-797-9910.
For more information about what's going on in our local schools and what today's students are up to, visit our South Jersey Schools page.
Article continues below
---
advertisement


---
Author:
Meghan Shott
Archives
---
More Articles