Paul VI High School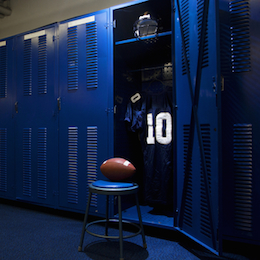 Paul VI, a diocesan high school inspired by the Catholic ideal, is committed to the Gospel of Jesus Christ and to the spiritual, intellectual, physical and social development of its students. According to their website, as a Catholic school, they have the responsibility to prepare their students for the contemporary world guided by the light of faith. The school offers students the opportunity to learn, live and worship as active members of a Catholic community. Paul VI, located in Haddonfield, is attended by nearly 1100 students.
Paul VI High School offers courses in areas such as Drama, Industrial Arts, Home Economics, Music, Dance, Art, Business Education, Language, Social Studies, Mathematics, Science, English, Physical Education and Religious Education.
Film Production is an elective offered by Paul VI. In this course, students will learn details of editing, camera shots, lighting, audio mixing, safety and writing for broadcast. Each student will be able to produce a completed, polished video yearbook for the school with a focus on artistic, conceptual and technical details.
Languages offered at Paul VI include Latin, Spanish, Italian and French.
The school also offers activities including Art Club, Electronic Competition Club, Literary Magazine, National Honor Society, Pep Band, Poetry Club, Samaritan Club, School Newspaper, Student Health Advocacy and Yearbook, among others.
National Honor Society provides peer-to-peer tutoring services for students who need remedial assistance. According to the school's website, daily tutoring sessions take place in the Media Center during free periods.
Sports offered at Paul VI include Cheerleading, Cross Country, Field Hockey, Football, Soccer and Tennis in the Fall, Basketball, Cheerleading, Ice Hockey, Indoor Track, Swimming and Wrestling in the Winter, and Baseball, Golf, Lacrosse, Softball, Tennis and Track in the Spring.
Football players this 2016 season include Henry Westermann, Rogers Onuoha, Nick Mattia, Kevin Johnson, Demetrius Hudson, Douglas Colbert, Erick Robertson, Adam Costantino, Isaiah Jones, Amir Byrd, Alan Tucker, Anthony Moran, Devon Rand, Isaiah Raikes, Tony Sylvester, Eric Matos, John Donegan, Jeremiah Daniels, Tariq Johnson, Jay-Jay Vaughters, Arthur Myles, Brian Brown, Rece Parker, Sam Casale, Johnny Intriago, Jalen Thomas, Jeremy Thomas, Jamir Garland, Nathan Vannatta, Nolyn McGrath, Brandon Morales, Kamren Henry, Devon Foster, Drew Williams, Charlie Wigginton, Jared Castro, Dennis Hallam, Roland Williams, Will Potter, Ben Trauger, Joe Petruzzo, Jake Fenton, Jace Rodriguez, Christian Rinick, Aidan Jones, Vincent Fehre, Cole Silvey, Austin Rapp, Chris Garrison, RJ Walsh, Keanu Williams, Trey Horton, Jake Bradford, Robert Miller, Caelan Colbert, Samuel Raymo, Billy Hackett, Michael Gambino, Brian Bruccoliere, Robert Montgomery, Conor Mcaneney, Cameron Flax, Preston Verling, John Calvello, Nehemiah Daniels, Ryan Donnelly, Ryan Keane, Jonathan Rodriguez, Pasquale Desanto, Peter Gurecki and Isaiah Taylor.
Players on the girls soccer team at Paul VI this fall include Alyssa Carfagno, Ava Albergo, Bernadette Tiberi, Elena Bizzoco, Emily Broderick, Emma Trassati, Gabrielle Marra, Jarah Barquero, Jessica Bizzoco, Jillian Badgley, Kara Staudenmayer, Kristin Spering, Lauren Calabria, Lindsey Shannon, Lizzie Caltabiano, Maggie Gardner, Megan Prendergast, Megan Reardigan, Melanie Benish, Melanie Ragozzino, Olivia Boucot, Rylee Milligan and Taylor Marcinek.
The Paul VI Alumni – Blue and White 5K Run will be held on Saturday, October 22 at 9am at Pennypacker Park in Haddonfield. Sponsored by Paul VI Alumni Association and the cross country teams, the entry fee is $20 in advance and $25 day-of. For more information, please contact Mary Anne Yeager, myeager@pvihs.org or 856-858-4900, ext. 343.
The Paul VI High School PTO annual Fashion Show "Diamonds and Denim" is November 17, 2015 at Lucien's Manor in Berlin. The show begins at 5:30pm with auction baskets, raffles and 50/50 prizes, followed by dinner and the show. Tickets are $50 per person. For more information, email Denise Iatarola at brashnsassy2u@comcast.net.
Paul VI High School is located at 901 Hopkins Road in Haddonfield, NJ. For more information about the school, call 856-858-4900 or visit www.pvihs.org.
© SouthJersey.com 2016. All rights reserved. This article or parts thereof may not be reprinted or reproduced by any other party without the express written consent of SouthJersey.com. For more information, please call 856-797-9910.
For more information about what's going on in our local schools and what today's students are up to, visit our South Jersey Schools page.
Article continues below
---
advertisement


---
Author:
Meghan Shott
Archives
---
A TALE OF THREE WEDDINGS
Timber Creek's Leary heads to Illinois
One of Us
Truer Words Have Been Spoken
A Thriving County
Executive Q&A
A Man of Many Faces
Super Women
Vocal Leader
Seeking Acceptance
The Business of Health Care
Mommy's Gone Viral
Singles: December 13
2017 Men of the Year
The Weekender
More...