West Deptford High School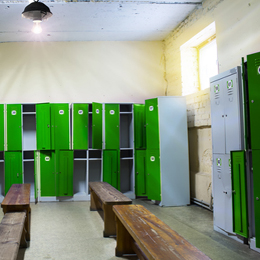 West Deptford High School offers a comprehensive program of studies to ninth through twelfth grade students from West Deptford Township. Classes in areas such as Applied Technology, English, Fine Arts, Mathematics, Physical Education/Health, Science, Social Studies, Special Education and World Languages are offered.
West Deptford High School also offers an advanced placement program to students and currently enrolls over ten percent of its student body in at least one of the AP courses offered, including English, History, Chemistry, Physics, Biology, Music Theory, Psychology, French and Spanish.
The WDHS Marching Band is just one of the many organizations in the school. Throughout the fall they can be found performing at varsity football games, local parades, or competing against other area marching bands. The marching band traveled throughout New Jersey, Delaware, Pennsylvania, and Maryland this year performing at Collingswood HS, Brick Memorial HS, Madison HS, Clearview Regional HS, Deptford HS as well as in the South Jersey Regional Championships and the Atlantic Coast Champions. They are 7-time Tournament of Bands Region 1 Group 2 Open Champions.
Key Club is another one of West Deptford High School's most popular organizations throughout the community. According to their website, Key Club is all about volunteering. Together with the Kiwanis Club of Woodbury, the organizations work to improve the quality of the community and the awareness of the importance of volunteerism.
Congratulations to the September Students of the Month: Brett Wicker, Maria Perez, Savannah Corsey, Alexis Leotta, Jaden Snyder, Lauren Hulmes, Ryan Staffieri, Bassey Abit, Gillian Purvenas and Ryan MacAdams.
Congratulations to the October Students of the Month: Samantha Stewart, Chris Leporati, Victoria Frantzen, Jessica Jenis, Dante Paterna, Christopher Chaires, Vincent Pierce, Zach Hoffman and Steven Bobo.
West Deptford also offers many sports including basketball, cross country, field hockey, baseball, softball, football, soccer, tennis, cheerleading, bowling, swimming, wrestling, winter track, golf, lacrosse and track and field.
The fall season is wrapping up and some West Deptford teams have headed to the playoffs. The girls soccer team had a 2-1 loss against Haddonfield to bring their season to an end earlier this month. Players on the team included Abby Fenton, Becca Topeka, Caroline Perry, Chloe Senatore, Devin Sullivan, Gabby Sileo and Jordan Clark. The West Deptford football team has earned wins over Audubon, Willingboro, Overbrook, Sterling, Woodstown, Haddonfield, Cinnaminson and Collingswood. Players on the team include Chris Leporati, Darryl Johnson, Quamere Lamour, Darren McKeown, Quran Dozier, TJ Hoyt, Desmond Colon, Lucas Taylor, Peter Orio, Aidan Carr, Justin Foster, Michael Gismondi, Ebrahim Nasir, Luke Smith, Nofphe Johnson, Gio Gismondi, Ken Lim, Nick Januszka, Marty Gormley, Connon Jupin, Anthony Seas, Ryan Baglivo, Max Velahos, Ray Seas, Mike Oldt, Elijah Pratt, Jack Murphy, Kyle Garrison, James Young, Ty Thurston, Nosaj Leonard, Dylan Lucas, Mike Flaherty, Nehemiah Young, TJ Kelly, Luke Walsh, Ray Chudzinski, Tyler Cobb, Max Finocchi, Nick Novak, Ryan Jupin, Tyler Stauffer, Garrett Lamartina, John Maguire, Justin Roane, Shane Kelly, Gavin Orr, Bobby Metz, Frank Pennell, Sal Mannino, Alex Direnzo, Mike Bolideau, Anthony Dicarlo, Aaron Seang, Matt Charbeneau, James Jennings, Jason Collier and Roberto Melecio.
West Deptford High School is located at 1600 Old Crown Point Road in West Deptford. For more information about the school, call 856-848-6110 or visit http://hs.wdeptford.k12.nj.us/.
© SouthJersey.com 2016. All rights reserved. This article or parts thereof may not be reprinted or reproduced by any other party without the express written consent of SouthJersey.com. For more information, please call 856-797-9910.
For more information about what's going on in our local schools and what today's students are up to, visit our South Jersey Schools page.
Article continues below
---
advertisement


---
Author:
Meghan Shott
Archives
---
More Articles