Stepping Up to the Plate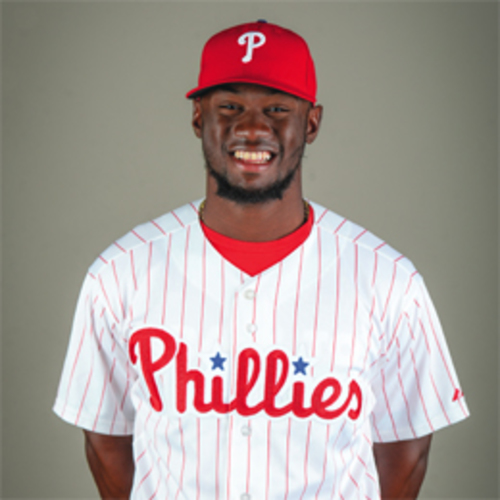 ...From the pages of South Jersey Magazine...
Odubel Herrera would rather be talking about baseball.
It's late in spring training and the Phillies center fielder is on a bus ride from Clearwater, Fla., to Tampa for a game against the Yankees when his new five-year, $30 million contract is brought up yet again.
A rising star in the organization, Herrera has been frequently asked about the new deal that he agreed to in December, just a few weeks before his 25th birthday. In return for possibly giving up three years of free agency down the line, he received the kind of guaranteed money that can set him up for the rest of his life.
The Phillies, meanwhile, locked up one of their most talented young players, who became an All-Star last summer in just his second major-league season.
While $30 million is bound to change anyone, Herrera insists that he's the same old kid from Venezuela who just wants to become the best baseball player he can be.
"It was huge for me," he says through a translator. "It really means a lot to sign that contract because it gives my family financial security. It shows that my hard work paid off.
"But don't get me wrong, I want to keep working hard. I'm hungry to get better and prove that I'm worth every single penny of that contract."
As the Phillies continue to transition from a rebuilding team to hopefully a contender in the next several seasons, Herrera hopes to be in the middle of the renaissance. After increasing his home runs, RBIs and on-base percentage last season, he is penciled into the third spot in the lineup this year and should be a key player for a team looking to improve on its 71-91 record.
Herrera spoke to South Jersey Magazine about his childhood in Venezuela, life in Philadelphia and the recent passing of a Phillies legend.
Q&A
Article continues below
---
advertisement


---
SOUTH JERSEY MAGAZINE:
This is your third full season with the Phillies. Now that you're an established major-league player, has that changed your approach to the season and do you feel like more of a leader for a young team?
ODUBEL HERRERA:
It was a very hectic off-season for me with the contract and all of that, but I have high expectations for myself and the team. I really want to become a role model for the younger guys, even though I'm still young. I think they can look up to me, and if I'm able to bring that energy to the team, maybe they can feed off that.
SJM: Do you think the additions of veterans Howie Kendrick and Michael Saunders to the lineup will lead to better offensive production this season?
OH: Without a doubt, the additions of Michael Saunders and Howie Kendrick are going to help us a lot. They are veteran guys who have a lot of experience and they are guys we can learn from. I feel very, very good knowing they're going to be in our lineup. They're going to help us be a better team, they're going to help us be better teammates and they're going to help us win. Ultimately, that's what we want, to win games for the city.
SJM: With that improved lineup and a solid starting rotation, is this team ready to compete this year?
OH: Of course. I really think we can show everybody in MLB that we're ready to compete. I really believe in this team and I think we're going to be a surprising team in 2017.
SJM: You were determined last year to improve your plate discipline and work more walks. Is there anything specifically you're focused on this season?
OH: This year, I'm [still] focusing on being more disciplined at the plate. I want to get better results offensively and defensively. That's why I work every single day with my coaches and try to stay focused on becoming a better baseball player and helping my team win.
SJM: How was the experience of representing your country this spring in the World Baseball Classic?
OH: It was great. It was awesome to spend time with those big-leaguers and to represent my country and my family.
SJM: Obviously, baseball was a major part of your childhood in Venezuela. What was it like growing up there and did you look up to any Venezuelans in the major leagues, like former Phillies outfielder Bobby Abreu?
OH: Growing up in Venezuela was good for me. I love my country and I think it's a beautiful country. I'm from San Jose, a beautiful, small town. Bobby Abreu was always one of my favorite baseball players. But at home, my dad would always talk about [former Reds shortstop] Dave Concepcion. He loved how he played and I would always hear that name in my house. At the World Baseball Classic I actually saw Dave Concepcion, so that was special.
SJM: How did you get your nickname, El Torito?
OH: When I was little, my dad always called me El Torito, which means Little Bull. My friends and my baseball teams started calling me that too, but my dad is the one who created that nickname.
SJM: What do you like about the Philadelphia area? Are you living in the city?
OH: Yes, I like living in Philly. I think the people in Philadelphia are friendly and they're very polite and nice to me. I think Philly has some beautiful areas. It's different from Venezuela, but it's beautiful too.
SJM: Do you have any favorite restaurants in the city? What about New Jersey—do you ever visit the Shore or anything?
OH: I actually lived in New Jersey my first year with the Phillies. There are a few restaurants in Philly that I like a lot. One of them is Del Frisco's.
SJM: What is a typical day off like during the season?
OH: To be honest with you, I just stay put and try to relax as much as I can. If my family happens to be with me, then we do go out and I show them the city. They want to see as much as they can.
SJM: Are there any particular teammates you spend a lot of time with?
OH: I can't pick one guy in particular. I think I have a good bond with everyone, but mostly the Latino guys, for sure, because of the language. But even the other guys, we joke around a lot and share laughs.
SJM: What do you remember about play- ing in last year's All-Star Game, and are you setting that as a goal again this year?
OH: Of course. I'd definitely love to be back at the All-Star Game this year. When you experience that once, you want to do it every year. I really hope some of my teammates get a chance to go with me this year. It was a great experience. It was awesome to spend time with all of the other All-Stars, learn from them and see how they behave in the clubhouse and the dugout. I'm still young, so I want to learn as much as I can.
SJM: The organization lost an important person when former manager Dallas Green passed away during spring training. Did you get to know him at all during your time with the Phillies?
OH: Yes, I met him. I didn't spend much time with him, but I would see him on the field sometimes. I know he was a big part of the Phillies' organization and I know people are very sad about his death. It's obviously a hard moment for baseball fans and Phillies fans especially. I appreciated the little time I spent with him and I know he was a big part of Phillies history. Hopefully I can be as great as he was, although I know that will be hard.
Published (and copyrighted) in South Jersey Magazine, Volume 14, Issue 1 (April, 2017).
For more info on South Jersey Magazine, click here.
To subscribe to South Jersey Magazine, click here.
To advertise in South Jersey Magazine, click here.
Author:
Matt Cosentino; Photography by Miles Kennedy
Archives
---
Family Fun
Live from the White House
Collingswood
Local Story
Lingering Questions
Still Fresh
Under the South Jersey Sun
Riverside Retreat
Against All Odds
Like a Girl
Going Her Own Way
Fall In
Aiming to Please
Walk of Fame: Natalie Hope Sommermann
Catch of the Day
More...