One of Us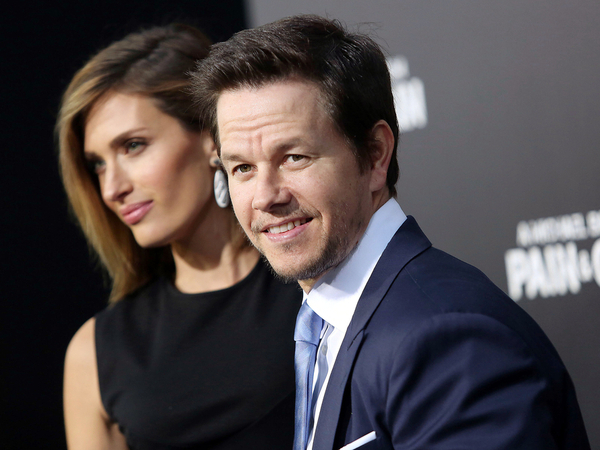 ...From the pages of South Jersey Magazine...
Mark Wahlberg often portrays the reluctant local hero. He is perfectly adept at playing the earnest guy on the big screen who swoops in and helps to save the day, and he does so with a great deal of grace and humility, as well as tenacity and moxie.
A devoted family man, Wahlberg, 45, is a Boston native, who also has close personal ties to Philadelphia and New Jersey. This all started more than a decade ago, with the spirited 2006 Disney sports drama, Invincible, with Wahlberg stepping into the shoes of Vince Papale, another local hero with similar personality traits and a family-oriented perspective on life.
"Mark and I have a common sensibility: Go chase your dreams, and do it respectfully," Papale says. "We bonded quickly during the movie, and that friendship continues today."
Wahlberg told Papale that he wanted to figure out the "true essence of the real life character," so during the film shoot he frequently headed over to the local football games of Papale's young son, Vinnie, and sat down to break bread at their home.
"My wife, Janet, and I were on the set of Invincible every day of the film shoot and Mark could not have been more accommodating to me and my family," recalls Papale, who now resides in Cherry Hill and has become a highly sought after public speaker and raises money for several charities. "Mark has pride, is humble, has guts and treats everyone with respect."
And though Wahlberg may not be originally from this area, he has certainly made it his second home, as he often refers. Since Invincible, he has filmed several other movies in the area—more than native sons Will Smith or Bradley Cooper—including Shooter and M. Night Shyamalan's The Happening. On his rare off days from the set, he was known to pop over to Scotland Run Golf Club in Williamstown to squeeze in a few rounds on the course. He was named an "honorary Philadelphian" by the Greater Philadelphia Film Office and in 2015 he hosted the Festival of Families where he welcomed Pope Francis to town. The
New England Patriots fan even blurted out "Go Eagles!" during those remarks broad- casted to the world live from the Benjamin Franklin Parkway.
Wahlberg's stellar career has included serving as the executive producer of the popular HBO television series, Entourage, which ran for seven seasons, and was loosely based on his climb to movie stardom surrounded by his close childhood pals. He's also produced Boardwalk Empire about prohibition-era Atlantic City and the network's latest hit Ballers, starring Dwayne Johnson.
He has also acted in more than 40 movies, from hard-hitting dramas like The Perfect Storm and Lone Survivor to modern comedies like Ted and Daddy's Home, the former of which has already sparked a sequel, the latter of which is currently filming a sequel. He stars opposite Sir Anthony Hopkins in his latest film, Transformers: The Last Knight, which will be released in June.
More recently, he tackled another difficult leading role in Patriots Day, about a true-life hero during the 2013 Boston Marathon who was a major part of a sophisticated law enforcement manhunt for the two bombers responsible for injuring 264 and the death of three people, including an 8-year-old boy.
Wahlberg, who was also a producer of Patriots Day, says he took on the movie and the highly emotional role of an inspiring police sergeant because of the vital life lessons of patriotism involved. Among the most poignant aspects of that film is the story of Jessica Kensky and Patrick Downes, a young married couple who each lost limbs as a result of the marathon bombing, yet did not let their spirit wane.
Wahlberg says that meeting them was inspiring on a personal level, and something he will never forget. "I find them so inspiring because I don't know if I would have the courage to just move forward and look at life and have that light that they shine so brightly," he explains. "I hope I never have to answer these questions, but it made me think—if I was there on that day, when the explosions went off, would I run to these people, or would I run away in fear; I really don't know."
One thing that Wahlberg is certain of is that he would have done every- thing to protect his loved ones. Family is the key to understanding Wahlberg's motivations and philosophy of life. The youngest of nine children, he is extremely close with his mom, Alma. He is involved in several business ventures, including a reality series about the family burger business, Wahlburgers, in which his brother, Paul, is the chef. Not surprisingly, the fast-casual eatery has a Philadelphia location and food truck, while other local areas like Cherry Hill and King of Prussia are being considered. His other brother, Donnie, also an actor, is best known for the popular CBS-TV drama Blue Bloods. Despite Wahlberg's chaotic film schedule, he says he makes sure to spend time with his tight-knit extended family.
He and his wife, Rhea, are the loving parents of four children: Grace, 6, Brendan, 8, Michael, 10, and Ella, 13. While Wahlberg, who began his career as musician Marky Mark, had a reputation of being a party guy, he admits that he put all of that behind him when he became a family man, who doesn't mind heading to bed by 9:30 p.m. when he is not working on a movie. His ties to Philadelphia did not wane over the years since he made the movie of Papale's life story. So much so that Walhberg brought his family to the City of Brotherly Love for a special showing of Invincible at The Prince Music Theater during that 2015 visit with Pope Francis. The screening was part of a film festival put on for the World Meeting of Families and the happy reunion brought back fond memories for both Wahlberg and Papale. "Being on the set I could see what kind of guy Mark is; instead of going to his trailer he had this Vespa scooter and he would take my children, Vinnie, then 7, and Gabriella, then 10, and drive around the set with my kids on the back," recalls Papale.
"We were so appreciative of Mark's manner and demeanor," he says. "We stay in touch through texting and make sure Mark knows about the milestones in our lives. We truly feel like Mark is a part of our family; there is a great deal of mutual admiration in our relationship." Janet Papale says that as she and her husband have followed Wahlberg's journey as a family man and an actor, they can clearly see how grounded, dedicated and true to himself he has remained throughout the years.
"Mark takes every part that he plays seriously," Janet Papale says. "What all of his parts have in common is that anything he takes on, he does with a passion. He is all in; there is no in between with him."
Wahlberg calls his brotherly bond with Papale perfect from the start. In talking with Papale on the set, he offered these thoughts: "I felt like I've been welcomed as part of the family. One of those magical things, we have so much in common, with our journeys, where we came from, what we made out of our lives, it's like art imitating life."
Wahlberg says he also has important values to pass on to his four children. So what is important to him as their father? "It is major that my children are well-mannered, kind, and grow up to be good, caring people."
Being a "fix it man" is his overall approach to life and his attitude. "If there is a problem, I just gotta figure it out. I just gotta fix it. I do whatever it takes in order to get the job done."
While he juggles a lot of roles—entrepreneur, actor, producer and family man—Wahlberg says he knows how to keep his priorities straight. So what is his most important role?
"Being a good husband, a good father, a good son, friend, uncle and neighbor. Those are the important things that I focus on. I know that if I succeed in business, but I fail at being a parent or a husband, then I've done it all for nothing. So I just try to do the best that I can in everything that I do," he says.
He claims if the movie roles, fame and opportunities that come with being an A-list actor all went away, he would still be happy, because of the extraordinary journey he has taken.
"There have been things I was able to experience and so much that I learned along the way," Wahlberg says with a wide smile. "I have been fortunate enough to have had such rich experiences with what I am doing now; with my work in front of the camera, and with my kids. I have to say that I truly have no regrets."
Published (and copyrighted) in South Jersey Magazine, Volume 14, Issue 1 (April, 2017).
Article continues below
---
advertisement


---
For more info on South Jersey Magazine, click
here
.
To subscribe to South Jersey Magazine, click
here
.
To advertise in South Jersey Magazine, click
here
.
Author:
Debra Wallace
Archives
---
A TALE OF THREE WEDDINGS
Timber Creek's Leary heads to Illinois
The Weekender
Hometown Flavor
Hoop Dreams
Symon Says
Food & Drink: Raise a Glass
Off the Ice
Rewarding Work
Dig This
The Berlin Cemetery
A Southern Mansion
Fire on the Morro Castle
Pine Barrens Fire of 1936
The Legacy of Hezekiah Bradley Smith
More...