44th Annual Diamond Classic to Get...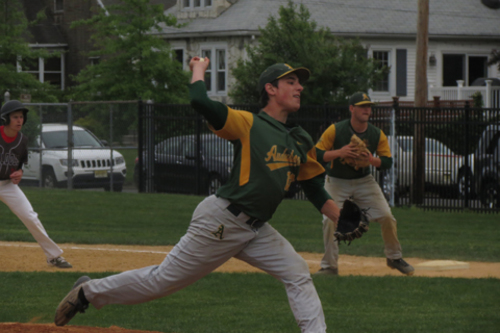 44th Annual Diamond Classic to Get Underway on Saturday
The top area high school baseball teams are ready to square off in what is one of the top tournaments for any sport in South Jersey.
The 44th annual Joe Hartmann Diamond Classic begins on Saturday. Hartmann is the former head coach of Eastern, who began the tournament and is still running it.
This single-elimination tournament often gives the winner a good argument for being ranked No. 1 in South Jersey. Not all Diamond champs finish on top of the ratings, but it's certainly nice to have on the resume.
Eastern is the defending Diamond champion and will be back to defend its title. In fact the Vikings are one of five Olympic Conference teams.
Besides the Vikings, Washington Township and Shawnee represent the Olympic Conference American Division while Bishop Eustace and Cherry Hill West are from the National.
The small-school Colonial Conference earned three bids – Audubon, Haddonfield and Haddon Heights.
The 10 division leaders as of Sunday's cutoff date earned berths as well as six at-large teams. There is one stipulation to that rule. A team must play six games in its division. For instance, Audubon is leading the Colonial Liberty, but hadn't played six games, so the Green Wave earned a spot as the No. 3 at-large squad.
While there are so many great matchups, the question is always how coaches will use their top pitchers. Some might save them for conference games. Others like to go for the Diamond from the beginning. Still more, might use an ace the first week, but not after that.
The second round is Saturday, May 20 while the semifinals and finals are the next day.
And on May 22, the high school state tournament begins. So teams with deep pitching, usually play deep into the second week.
One of the top opening round pairings finds Audubon against Gloucester Catholic, 10:30 Saturday at Hammonton.
Gloucester Catholic is the consensus top team in South Jersey. Audubon has a strong pitching staff left by senior Andrew Fehr (5-0, 0.80 ERA).
No matter who wins the Diamond, playing in the tournament is a great state tournament tune-up for any team. The tourney plays with speedup rules, which quite frankly would work well in any game.
Either way, it's high intensity baseball, giving a playoff feel as the actual playoffs are right around the corner.
Here is the schedule:
Diamond Classic Pairings.
All first-round games on Saturday
At Maple Shade
Maple Shade vs. Bishop Eustace, 10:30 a.m.
Eastern vs. Vineland, 1 p.m.
At Deptford
Haddon Heights vs. Shawnee, 10:30 a.m.
Cherry Hill West vs. Cinnaminson, 1 p.m.
At Hammonton
Audubon vs. Gloucester Catholic, 10:30 a.m.
Holy Spirit vs. Hammonton, 1 p.m.
At Washington Township
Washington Township vs. St. Joseph's
St. Augustine vs. Haddonfield, 1 p.m.
Photo By Marc Narducci: Audubon's Andrew Fehr?
© SouthJersey.com 2017. All rights reserved. This article or parts thereof may not be reprinted or reproduced by any other party without the express written consent of SouthJersey.com. For more information, please call 856-797-9910.
For more Local Sports features, visit our South Jersey Sports page.
Article continues below
---
advertisement


---
Author:
Marc Narducci; Photo by Marc Narducci
Archives
---
Can't Hack It
Filling a Critical Void
Flyers reshape team
Power 50
A strong showing by South Jersey products in the MLB Draft
Cryptocurrency: Seeing Through the Hype
(Almost) Business as Usual
High school football teams keep a healthy balance during summer workouts
Putting the Success in Succession
Phillies' Realmuto is heating up
South Jersey pitcher is 37th pick in MLB draft
Mainland grad fully enjoys MLB draft
Millville's Kenndy moving up the minor league ladder
Phillies not in a bad position at the All-Star break
Memorable season for Bishop Eustace baseball
More...