Controversial Dunes Are Coming To...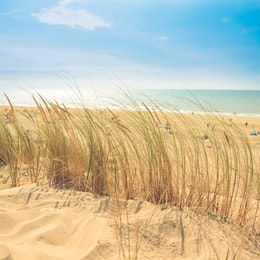 Controversial Dunes Are Coming To Margate, Behind Schedule
MARGATE, NJ (CBS) — The dunes are coming to Margate a bit later than expected and at a time local officials are not thrilled about.
Mayor Michael Becker was among those who unsuccessfully fought the Christie Administration's bid to install a dune network along the state's shoreline.
Work was supposed to start in early July, but delays in neighboring Ventnor have pushed Margate's start date back to mid-August. Prime summer season. Becker would just as soon see the work begin after Labor Day.
"I would love to see that," Becker told KYW Newsradio. "I don't know how realistic it is, but that would make me very happy."
Many in the shore town remain convinced the dunes are unnecessary. Becker continues to drive that point home in ongoing discussions with state Department of Environmental Protection.
"We don't think that their drainage system is going to work but the only way to find that out is to let them do what they have to do and we'll find out next year," Becker added.
He says residents are resigned to those dunes going up…like them or not.

Author:
http://philadelphia.cbslocal.com/2017/06/24/controversial-dunes-are-coming-to-margate-behind-schedule/
Archives
---
South Jersey Biz Digital Edition
Man Accused Of Trying To Kill Toms River Police Detective
School Bus Driver Charged In Crash That Injured 8 Students In South Jersey
Man Gets 40-Year Sentence For Killing Couple In Their Camden Home
Police Searching For Man Who Allegedly Sexually Assaulted Woman In Camden Home
Gov. Murphy Says Bill To Legalize Recreational Marijuana In NJ Short On Votes
Lindenwold Man Sentenced For Shooting Camden County Metro Officer In Leg
1 Dead, 3 Injured In Shooting At Camden After-Hours Club
Camden City Council Puts Brakes On Limiting Roadside Memorials After Hearing From Grieving Families
Increased Security At Clearview Regional Middle School After Bomb Threat Discovered In Bathroom
Homeless Veteran Johnny Bobbitt Pleads Guilty In State Court For Role In GoFundMe Scam
Driver Killed In Single-Vehicle Crash After Truck Found Overturned On Field Near High School In Woolwich Township
2 Dead In Multi-Vehicle Crash In Gloucester County During Winter Storm
Prosecutors Probe Slayings Of 2 Shot In Idling Car In Camden
Gloucester County Dealing With Recent Spike In Hepatitis A Cases
More Articles