Cleanup Continues In South Jersey In...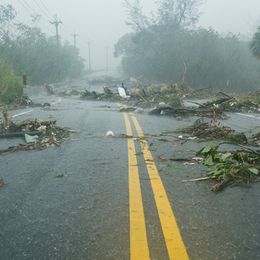 Cleanup Continues In South Jersey In Wake Of Powerful Storm
PHILADELPHIA (CBS) — A couple of South Jersey communities are still cleaning up after a nasty storm with straight-line winds took down trees and power lines.
There were winds of about 75 miles-per-hour in the Browns Mills part of Pemberton Township, Burlington County on Saturday. National Weather Service Meteorologist Mitchell Gaines says the cause: not a tornado, but a microburst.
"Basically what a microburst is, is basically a push of wind that comes from high up in the atmosphere down to the surface," Gaines explained. "Maximum wind speeds were around 75 miles an hour which is consistent with the considerable amount of downed trees and power poles."
There was a spread out path of damage, as opposed to a narrow path, which would indicate a tornado, Gaines says. There was also serious damage in Camden County, hardest hit was around Collingswood and Haddon Township. Despite trees crashing into homes and cars, no one was hurt.
And there weren't any twisters here, but the National Weather Service confirms a pair of tornadoes in Howell, Monmouth County. They were EF0 on the scale, which is the least severe.
Article continues below
---
advertisement


---
Author:
http://philadelphia.cbslocal.com/2017/06/25/cleanup-continues-in-south-jersey-in-wake-of-powerful-storm/
Archives
---
South Jersey Magazine Digital Edition
South Jersey Man Survives 'Friends' Lighting Him On Fire In Sleep
Man 'Executed' Woman He Met On Marketplace App To Buy Cellphone
Two Families Displaced, Four Townhouses Damaged In Sicklerville Fire
New Jersey Man Gets Life Without Parole In Murders Of Woman, Baby
NJ Mother Who Smothered 3-Month-Old Baby After Heavy Drinking Gets Prison Time
12 Arrested In Trafficking Untraceable 'Ghost Gun' Assault Rifles, Drugs, New Jersey Attorney General Says
3 Confirmed Measles Cases In Lakewood
Nearly $2 Billion Wagered On Sports In New Jersey In Nine Months
Woman Charged With Animal Cruelty After Emaciated Dog Found Eating Carcass Of Another Dog
Search Continues For Killer After 21-Year-Old Woman Fatally Shot Inside Car In Willingboro
Homeless Veteran Johnny Bobbitt, Katelyn McClure Plead Guilty For Roles In $400,000 GoFundMe Scam
Fire Damages Pizza Restaurant In Gibbstown
Serious Injuries Suffered In Multiple-Vehicle Crash On South Black Horse Pike In Gloucester County
Arena Football League Officially Coming To Atlantic City
More Articles