Best of the Best 2017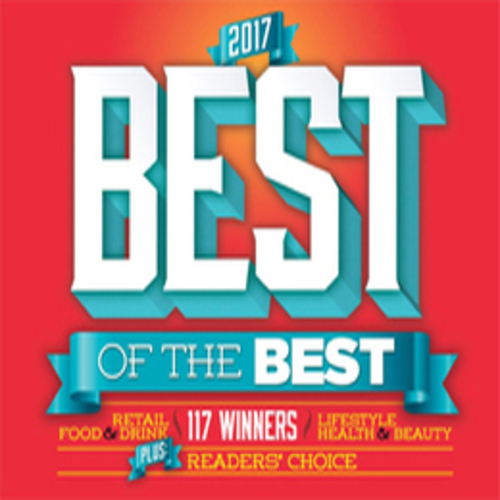 ...From the Pages of South Jersey Magazine...
It's been a year since we last brought you our annual roundup of the finest things from across South Jersey, and let's just say we've been quite busy. As soon as that list was compiled, we began working on this year's adaptation, searching all over South Jersey for the finest foods, spectacular shops and much more. We'll not only tell you where to get that haircut that will have you turning heads, but also where to plan your child's next birthday extravaganza. And our readers also chimed in, nominating their favorite spots to help make this one extraordinary list that showcases the many reasons why we love calling this place home. By Michelle Boyles, Matt Cosentino, Josephine Cusamano, Liz Hunter, Theodora Malison, Kaytlyn Mroz, Peter Proko and Julie Shannon Select Photography by Alison Dunlap
FOOD & DRINK
BURGER
Society of Burgers
The folks at Salad Society provide plenty of healthy salads or wraps for lunch and dinner. But on a cheat day, the neighboring Society of Burgers—from the same owners—offers an enticing selection of burgers as well. Our go-to is Bill's Breakfast Burger, with fried egg, bacon and American cheese top- ping prime Angus beef.
Article continues below
---
advertisement


---
Washington Township, (856) 302-1357, SaladSociety.com
NACHOS
The Pour House
Whether you are grabbing drinks with your co-workers or having dinner with the family, nachos are always a must-order at The Pour House. The Pour House Chili Nachos are covered in their homemade chili, topped with white cabbage, roasted tomato salsa, sour cream and onions, and then finished with white cheddar cheese.
Westmont, (856) 869-4600, PJsPourHouse.com
CANNOLI WITH A TWIST
Cugini Deli
We had been to this solid Marlton food spot to grab lunch but foolishly over- looked the homemade pas- tries until we were stopped in our tracks by an alluring invention known as the cannoli sandwich. Two pillowy ricotta cookies are stuffed with a sinful cannoli filling and then rolled in chocolate chips and dusted with powdered sugar. We don't think we can look at a regular cannoli the same way ever again.
Marlton, (856) 452-5780, CuginiItalianDeli.com
COFFEE
Harvest Coffee Roastery
Roasted right in Historic Medford, this family-owned establishment brings international coffee right into our cups-whether it's a hot coffee, cappuccino or a latte.
Medford, (609) 975-8484, HarvestCoffee.com
DUMPLINGS
Sang Kee Noodle Café
This noodle cafe serves up homemade, melt-in-your- mouth dumplings that come either steamed or pan fried, or in a heaping bowl of soup.
Cherry Hill, (856) 310-2388, SangKeeNoodleCafe.com
BREAD
Dulce Artisanal Pastry
Dulce's bread is worth enjoying the moment it's purchased and slipped into a paper bag—as many locals would agree. Loaves, brioches, baguettes and more are baked fresh daily and go quickly, so if you're looking for their authentic, thin French baguette—baked in the steam oven giving it a crunchy exterior with a fluffy inside—better grab it at 2 p.m. when they're ready for purchase.
Collingswood, (856) 942-0254, DulceCollingswood.com
CINNAMON BUNS
Cake Stand Bakery
Warm, gooey and somewhat sticky—what you'd expect from cinnamon buns, but so much more at this charming bakery. Every bite is packed with an explosion of cinnamon in a warm, sugary pastry and a heavenly cream cheese icing. This treat is only served Fridays and Saturdays, so make sure to get there early.
Voorhees, (856) 229-7384, CakeStandBakery.com
CAKES
Gallo's Bakery
With a knack for creating custom cakes, Gallo's menu is full of decadent sweets that make us wish we had more reasons to celebrate. From classic Italian cakes including tiramisu and a sponge cassata cake, to longstanding favorites from red velvet, chocolate mousse to straw- berry shortcake and adventurous cakes like the piña colada. That said, anyone have a birthday party we can crash?
Cherry Hill, Mount Laurel and Marlton, GallosBakery.com
CHOCOLATES
Michel Cluizel
Even if you're not a fan of chocolate, we believe you will be shortly after stepping into this world-renowned chocolate establishment. The Chocolatrium includes a museum where they offer guided tours to show how their chocolates are made and a retail store filled with pastries, macarons and their melt-in-your-mouth, artisan chocolates—made with pure cocoa butter, bourbon vanilla bean and no artificial flavoring.
West Berlin, (856) 486-9292, Cluizel.us
HANDMADE PASTA
Severino Pasta Company
Since we can't make it to Italy on a weeknight, Westmont is the closest place we can get our forks in some freshly made pasta and homemade sauces. Severino's artisanal pasta comes in all cuts and shapes, from lobster-filled ravioli, cheese tortellini, gnocchi and lasagna sheets that are reminiscent of nonna's cooking.
Westmont, (856) 854-7666, SeverinoPasta.com
DOUGHNUTS
Johnson's Corner Farm
There's a lot to choose from at Johnson's Corner and if we can make one suggestion, it's their doughnuts. While the maple bacon are only avail- able on Mondays, you can always stop by and grab your fill of the very popular apple cider variety. Either way, you'll want to grab a dozen.
Medford, (609) 654-8643, JohnsonsFarm.com
LUNCH SPECIAL
Sal's Pizzaworks
It's hard to find a $5 lunch anywhere these days, which is why the cheesesteak, chips and soda deal at Sal's always draws a crowd.
Marlton, (856) 985-5111, SalsPizzaworks.com
PASTRIES
Summit Cakery & Café
When our sweet tooth is aching and we need a pastry pronto, we head to Summit Cakery & Café. Danishes, French pastries, croissants, cinnamon buns, tea biscuits and more are offered as morning specialties along with mini gourmet varieties of petit fours, éclairs and cream puffs. If the fresh—and oftentimes warm—pastries aren't enough to get you out of the bed in the morning, we don't know what will.
Woodbury Heights, (856) 848-7082, SummitCakery.com
SALADS
Rockhill
Salads are anything but boring at this Cherry Hill hot spot, especially the Buffalo Chicken Salad. Oven roasted buffalo chicken and crumbled bleu cheese lay on top of your choice of chopped lettuce, mixed greens or kale, and Rockhill adds a fresh twist with cucumbers, tomatoes, hardboiled egg and a delicious avocado ranch dressing that's so creamy and delicious, licking the bowl crossed our mind.
Cherry Hill, (856) 424-4455, EatRockhill.com
SMOOTHIES
Heart Beet Kitchen
Vegans and meat eaters unite at this grab-and-go and sit- down cafe, which offers gluten-, dairy- and egg-free food options, in addition to a bevy of flavorful smoothies. From the Not Your Average Joe—banana, espresso, cocoa, almond butter and agave—to the Morning Glory—cherries, orange, banana, agave and milk— they almost double as dessert, leaving us asking for another round—in a mason jar, of course.
Westmont, (856) 240-1106, HeartBeetNJ.com
MILKSHAKES
The Pop Shop
Any establishment that has two full pages dedicated to milkshakes on their menu is a place worth talking about. With three different categories,patrons can choose a Triple Thick Shake in classic varieties like vanilla, chocolate and strawberry or they can be daring and go for one of their Deluxe offerings like the Butterfinger or Girl Scout.
Collingswood, (856) 869-0111;
Medford, (609) 975- 6888, ThePopShopUSA.com
BRUNCH
The Telford Inn
A brunch like no other, The Telford Inn's breakfast buffet from 9:30 a.m. until 1 p.m. boasts an omelet station, Belgian waffle station, pancakes, French toast, any style eggs, bacon and more for a hearty start to your day.
Mantua, (856) 468-0535, TelfordInn.com
HOMEMADE POTATOE CHIPS
While hand-cut fries and onion rings are also on the menu, we like the seasoned, crispy chips as the perfect side at this throwback burger joint.
Washington Township, (856) 589-4215
SUSHI
Fuji
In early 2016 when Fuji's owners decided to sell the restaurant to their longtime sushi chef, somewhat fearful diners were nervous that their beloved sushi spot would be forever changed. Well, not only did the celebrated menu remain, the quality has not slid one bit and Fuji remains one of the most inventive and culinary pleasing restaurants in our area.
Haddonfield, (856) 354-8200, FujiRestaurant.com
RIBS
Carolina Blue
Since reinventing itself as Carolina Blue about nine years ago, the former J.G. Cook's Bar and Grill has become the hot spot for tasty, Southern- inspired barbecue in this area and counts former NBA player Tim Legler as a regular. The ribs are rubbed and smoked over peachwood for six hours, then topped with their own homemade sauce.
Mantua, (856) 582-8586, CarolinaBlueRestaurant.com
BREAKFAST
Kitchen 87
You won't find any white tablecloths in this neighborhood restaurant, but you will find home-cooked food in filling portions. Have your pick of a variety of scratch- made menu items, including English muffins, sausage gravy and even scrapple, along with unlikely surprises like shrimp and grits or vegan tofu scramble. It's well worth the wait on weekends but we'll try to save you a spot in line.
Mount Holly, (609) 261-1700, Kitchen87.com
BAGELS
Westmont Bagels
Ditch the drive-thru chains and hit up this family-owned and operated deli where they are serving up to 30 different bagel varieties—from the classic everything to the unique jalapeño—all boiled and baked on the premises. Paired with over a dozen gourmet spreads, the bagel possibilities are expansive (just like our waistlines).
Westmont, (856) 854-1198, WestmontBagel.com
SMALL PLATES
Cinder Bar
A welcome addition to a growing section of Gloucester County, Cinder Bar pairs a lively bar scene with a dining room fit to bring the entire family. Their creative small plates menu encourages sharing with offerings like fried green beans, empanadas and candied bacon.
East Greenwich, (856) 888-4808, CinderBarNJ.com
FOOD TRUCK
Not Your Mama's Tacos
You never know where this truck will turn up, but we love tracking it down for a creative fusion of flavors like sofrito pork, roasted chickpea or potato and chorizo dished up on a corn tortilla.
Cherry Hill, (609) 972-3756
WRAPS
Melinda's Gourmet Deli
While we love a good sandwich on big loaves of quality bread, sometimes you need to be little lighter on your feet. Luckily, at Melinda's they know that just because you are sacrificing some carbs, doesn't mean you need to sacrifice on taste. Go with the grilled chicken and cucumber offering complete with havarti cheese, tomato, lettuce and a vibrant lemon mayo.
Sewell, (856) 589-2271, MelindasGourmet.com
BEER GARDEN
Cooper House
Save the bridge toll and unwind al fresco with your favorite drink while playing yard games or lounging by the fire pit, all with beautiful views of the Cooper River.
Pennsauken, (856) 333-6653, CooperHouseNJ.com
SUSHI PIZZA
Osaka
If you know us, then you know our love affair with pizza. But some days only sushi hits the spot, and this dish combines the best of both worlds. Built on a base of crispy rice and topped with avocado, thinly sliced salmon or tuna and drizzled with a spicy mayo, this pizza is almost too pretty to eat. Almost.
Collingswood, (856) 858-1888, Osaka720.com
PIES
Pie Lady Café
Don't blame us if you catch us staring at the counter here for long stretches of time. After all, trying to choose just one pie from a menu full of tantalizing options just doesn't seem fair. Blueberry crisp? Apple crisp? Maybe mixed berry crisp? No matter how much one may struggle with their decision, one thing is for sure; when you see that gloriously eye-popping filling spilling out of that beautiful pie crust you'll feel like you nailed it on the head.
Moorestown, (856) 778-7437
MAC AND CHEESE
Rode's Fireside Restaurant
There are many eateries in South Jersey with mac and cheese on the menu, but few can match Rode's version. They blend five different cheeses with bacon, scallions and bread crumbs, and the result is a perfect starter or side for a burger or pulled pork sandwich.
Woolwich Township, (856) 467-2700, RodesFireside.com
AUTHENTIC MEXICAN
Mi Ranchito Mexican Food Store
From the outside, this hidden gem appears to be just a small Mexican grocery, but it's much more, namely a restaurant crafting quintessential Mexican fare like tacos al pastor served on home- made corn tortillas. For something truly authentic, we recommend a quesadilla with huitalacoche—a deli- cacy of corn fungus that will surely change your world- view.
Moorestown, (856) 206-9624, MiRanchitoMexicanFoodStore.com
COOKIES
McMillan's Bakery
One look at the case of cookies inside this fourth- generation bakery transforms us into that lovable blue monster of our youth—and for good reason. These aren't made with your average (pardon the pun) cookie- cutter dough. Each one has its own unique recipe, resulting in a few dozen flavors and textures that all melt in our mouths and have us reaching for more.
Westmont, (856) 854-3064
EMPANADAS
Amigos
Tucked in a non-descript strip mall, the authentic empanadas coming out of this tiny kitchen are the perfect treat. The spinach and cheese or jerk chicken are worthy adversaries, but you can never go wrong with the good old-fashioned beef version. Spiced ground meat, Spanish onions and a bit of tomato sauce are enough ingredients to make these deep-fried pockets of perfection.
Wenonah, (856) 468-2052, AmigosDelivery.com
COOKING CLASSES
Nunzio Ristorante Rustico
One of South Jersey's best chefs, Nunzio Patruno, takes you on a journey across Europe where you'll learn about different regional cuisines and then learn how to replicate some of his favorite dishes. You can even follow Patruno around the Collingswood Farmers Market as you scour for fresh ingredients and learn the nuances of creating these authentic dishes.
Collingswood, (856) 858-9840, Nunzios.net
CUPCAKES
Sweet T's Bake Shop
While the cupcake craze appears to have died down a bit, it hasn't stopped the folks at Sweet T's from continuously blowing our minds with haute handheld treats that make us swoon. From the root beer float that features a root beer cupcake topped with root beer buttercream to the cinnamon dolce that takes a cinnamon cake that is filled with whipped cream and dunked in salted caramel, there's always some- thing to satisfy our sweet tooth here.
Haddonfield, (856) 428-0222, SweetTsBakery.com
HAPPY HOUR
Terra Nova
From 3 to 6 p.m. on any given weekday (and Saturday) you're liable to find us perched at Terra Nova's bar enjoying ourselves. The drink specials like $4 house wines and select draft beers along with $6 martinis are wonderful, but the real star of the show is the half-priced sushi. An Italian wine bar may not scream authentic Japanese, but trust us, these are some of the better rolls you'll find around.
Sewell, (856) 589-8883, TerraNovaWineAndDine.com
STROMBOLIS
Liscio's Bakery
No football Sunday or family gathering is complete without a couple strombolis from this bakery best-known for its bread, but proven to be so much more. You'll find all the usual suspects like cheesesteak, pepperoni and veggie, but you'll also find others like the turkey diablo—pepper turkey, pepper jack cheese and their signature spicy sauce.
Multiple locations, LisciosBakery.com
PRETZELS
Mart Soft Pretzels
A South Jersey institution that has long perfected the art of creating the ideal pretzel—a wonderfully crusty exterior shielding all that doughy delight inside.
Cinnaminson, (856) 829-0012
PANCAKES
Sabrina's Café
Ordering a full stack of pan- cakes at Sabrina's is a bit of a gift and a curse. The gift is that after you choose between buttermilk or whole wheat cakes topped with powdered sugar and cinnamon, you can load it up with anything from candied walnuts with dried cranberries and apricots to M&M's. The curse? Trying to finish the plate.
Collingswood, (856) 214-0723, SabrinasCafe.com
FOOD MARKET
Ceriello Marketplace
From the fresh-made sausages to their own line of signature sauces, oils and vinegars, this place doesn't believe in taking any short- cuts. Whether you're looking for a butcher cut of meat, some prepared foods for dinner or a tasty sandwich for lunch—try the roasted egg- plant flatbread—this place has it covered. Just don't forget to grab some of the daily fresh mozzarella while you're there.
Medford, (609) 953-4330, CerielloMarketplace.com
Cool Treats
TREND 
Arctic Freeze Creamery 
Inspired by a video of Thailand street vendors, the Miller family created Arctic Freeze. With no preservatives, artificial colors or flavoring, Arctic Freeze serves up the freshest rolled ice cream around—on their 25-degree arctic pan—with toppings to boot. 
Collingswood, (856) 858-2847, ArcticFreezeCreamery.com
FROZEN YOGURT 
Kiwi Yogurt 
Family-owned and operated by a brother sister duo, Kiwi has one goal: to provide their guests with the ultimate dessert experience. With 20 flavors of premium, authentic yogurt and over 60 fresh top- pings to choose from, Kiwi Yogurt's door is revolving. 
Moorestown, (856) 780-6452, KiwiFrozenYogurt.com
WATER ICE 
Diane's Water Ice 
A staple in Voorhees for 24 years, Diane's is the ideal spot to cool off with a refreshing water ice, such as Cherry Bordeaux with fresh cherries in almost every bite, on those warm summer nights. 
Voorhees, (856) 751-9704
ICE CREAM 
Cups and Cones 
From traditional favorites like chocolate and butter pecan to more adventurous options like salty caramel pretzel or cannoli, there is always a new homemade flavor to try at Cups and Cones. 
Marlton, (856) 452-5087, CupsAndConesNJ.com
SANDWICHES
BREAKFAST SANDWICHES 
Constellation Collective 
This bakery doles out freshly baked buttermilk biscuit sandwiches on a made- to-order basis. Their standard comes with eggs, melted cheese and crispy bacon, but we'll opt for their fried chicken iteration, which can come with sriracha aioli, a fried egg and homemade pickles. Just be sure you stop by hungry. 
Collingswood, (856) 240-7787, TheConstellationCollective.com
PRETZEL SANDWICHES 
Marie's Sandwich Bar 
With five sandwiches to choose from, our favorite is the Nicky—pastrami, swiss cheese, spicy mustard and pickles, piled high between salty, buttery goodness. 
Haddonfield, (856) 375-2449, MariesSandwichBar.com
HOAGIES 
DiVello's Deli Whether you're eating on their outdoor patio or taking lunch back to the office, you're sure to be satisfied with a signature hoagie from DiVello's, such as the Special Italian or the Sweet & Spicy Maple Turkey. 
Cherry Hill, (856) 428-6561, DiVellosDeliOfCherryHill.com
ROAST BEEF SANDWICHES 
DiNic's Beef
Using its famed family recipe that spans generations, DiNic's roast beef sandwiches are to be admired as much as they are to be devoured. Make ours with extra sharp and spinach. 
West Collingswood Heights, (856) 931-6328, DiNicsNJ.com
GOURMET SANDWICHES 
Home Stretch Deli 
From the slow-roasted short rib with tomato puree and roasted garlic aioli to the smoked ham, brie and honey-infused Dijon mustard, sandwiches here are culinary creations to appease any gourmand. 
Cherry Hill,(856)874-8596, Andreottis.com/Home-Stretch-Deli
PO' BOY 
David and Sons Meats 
We're suckers for a good po' boy and the fried shrimp version here elevates things a notch with roasted garlic mayo and caramelized onions while still paying proper respect to its New Orleans roots. 
Swedesboro, (856) 832-4870, DavidAndSonsNJ.com
PANINI 
Marino's of Mullica Hill 
Mouthwatering grilled flank steak melds perfectly with extra sharp cheddar, red onions, tomato and arugula on sour- dough bread with a black pepper aioli. 
Mullica Hill, (856) 417-3083, MarinosOfMullicaHill.com
RETAIL
CASUAL WOMEN'S CLOTHING
Anthropologie
For those in search of the perfect summer outfit, the right pants or the coziest sweater, this Philadelphia- based retail chain brings the latest in women's wear from brands including 7 For All Mankind, Bailey 44 to emerging designers from all around the world. You'll find all the boho-chic fashion set in a meticulous and artistic presentation that makes shopping all the more fun.
Marlton, (856) 596-4507, Anthropologie.com
HIGH-END WOMEN'S CLOTHING
Tehen
Tucked into a tiny shop- ping center on Route 70, this women's boutique is an offshoot of the Lee Newman brand, which originally focused on menswear when they opened in 1955. Today, Tehen offers designer women's clothing, shoes, handbags and accessories from hundreds of American and European designers.
Cherry Hill, (888) 448-8311, LeeNewman.com
WOMEN'S DENIM
Six Clothing
Owner Erica Brand drew inspiration from Parisian boutiques when she created this Haddon Avenue spot with a curated selection of classic and sophisticated clothing, handbags and accessories. With dozens of denim designers like Tractr, Joe's Jeans and AG to choose from, their friendly staff can help you find the right pair of jeans for any silhouette.
Haddonfield, (856) 216-0666, SixClothing.com
BEAUTY SUPPLY
Bluemercury
Whether you're curious about testing a new facial treatment or simply refilling your tried and true mascara, Bluemercury has everything needed from some of the industry's top brands. Ranging in products from makeup, skincare, bath and body to hair care, customers will find nothing short of exceptional.
Marlton, (856) 810-7606, Bluemercury.com
BRIDAL SALON
Alfred Angelo
More than 80 years ago, Alfred Angelo Piccione and Edythe Vincent Piccione founded Aflred Angelo with a goal of providing brides elegant and affordable wedding dresses, bridesmaid dresses, flower girl dresses and special occasion styles. If you're in a bind, their Angelo Express service can even deliver select styles in just four weeks.
Cherry Hill, (856) 665-5110, AlfredAngelo.com
FASHION ACCESSORIES
Erdon
Owner Donna Sandoz works alongside son Eric and daughter Carli to find cutting- edge looks from European, American and Japanese designers that are one of a kind. Stop by their location in Moorestown Mall to pick up statement jewelry and hand- bags that will have all of your friends talking.
Moorestown, (856) 914-0300, Erdon.co
MENSWEAR
David Wilson Men's Shop
Most men don't like shopping, let alone for clothes. But at David Wilson's they take the guesswork out of the experience by showcasing quality garments that would appeal to any discerning gentleman.
Haddon Township, (856) 858-4146, DavidWilsonMensShop.com
MEN'S GROOMING
Gorshin Trading Post & Supplies
The array of grooming products here includes shaving gels, facial cleansers, artisanal soaps and shampoos—even balm for your beard. But we really love their selection of unique aromatic fragrances that elicit outdoorsy scents you just won't find at those kiosks in the mall.
Haddonfield, (856) 427-6800, Gorshin.com
FLOWER SHOP
Brava Vita Flower & Gifts
Instead of frantically searching online or running from store to store, simply head to Brava Vita when that special occasion arises. They not only offer gorgeous wed- ding arrangements, holiday bouquets and corsages for the prom, but also special gift baskets to be filled with items like candles, chocolates and handmade bags.
Washington Township, (856) 256-2020, BravaVitaFlowerAndGifts.com
GIFT BOUTIQUE
La-Di-Da
If you're in need of that special gift for a special someone, this store offers a great balance of clothes and jewelry—including an extensive collection of both Pandora and Alex and Ani products. You'll also find plenty of accessories and homewares to round out your list and chances are you'll be leaving with something for yourself too.
Moorestown, (856) 222-1778, LaDiDaLaDiDa.com
WEDDING STATIONERY
Papyrus
With a multitude of samples to look over, Papyrus has an invitation suite for every wed- ding occasion, along with a seasoned staff available to guide couples through the process. Marlton, (856) 985-1776, PapyrusOnline.com
BIKE SHOP
Action Wheels
Bringing area cyclists the joy of riding bikes for 40 years, Action Wheels continues to focus on the most important aspect of their business: the customers. The latest Specialized, Haro, hybrid, mountain and road bikes are offered here along with clothing, accessories and parts to make this a one-stop-shop for all of your cycling needs.
West Deptford, (856) 468-5115, ActionWheels.com
SPECIALTY STORE
Chamomile Cottage Soaps & Gifts
There's a lot to love about this gift shop, which sells their very own soap, bath and body care—handmade right in Collingswood. While each product varies, they incorporate natural and raw ingredients including shea butter, argan oil and soy wax, with additional vegan-friendly and gluten-free products also available.
Collingswood, (856) 477-2414, ChamomileCottage.com
TOY SHOP
Wonder World
This shop is every child's dream, as shelves are stocked with the latest toys from Calico Critters, Lego and Playmobil.
Medford, (609) 953-1118, WonderWorldMedford.com
PET STORE
Daminger's Natural Pet Foods
Providing the best organic and natural pet foods, cutting-edge products, the most durable pet toys, competitive pricing and high-quality customer service, Daminger's also has the kind of employees who remember their customers and grab their bag of pet food when they see them pull into the parking lot.
Sewell, (856) 468-0822, DamingersNaturalPetFoods.com
TEEN BOUTIQUE
Dare Boutique
If in search of the perfect prom dress or laid-back date night look, this boutique carries all the Insta-worthy trends millennials love.
Cherry Hill, (856) 424-8300, DareBoutique.us
BLING
FINE JEWELRY 
Haddonfield  Fine Jewelers 
Find the perfect gift for that special someone or restore a treasured family heirloom with help from these experts, who have been a staple on Kings High- way for decades. 
Haddonfield, (856) 427-4465, HaddonfieldJewelers.com
DESIGNER JEWELRY 
Jay Roberts Jewelers
If you're looking for timepieces or statement jewelry, this long-standing Marlton gem continues to be worth a visit. The staff is knowledgeable and well- versed in Breitling, Tag Heuer and Cartier watches, in addition to the latest offerings from Tacori, David Yurman and more. 
Marlton,(856)596-8600, JayRobertsJewelers.com
BRIDAL JEWELRY 
David Arlen Jewelers 
Whether you're planning your big day or the second largest leading up to it, David Arlen Jewelers provides the selection and expertise from GIA-trained staff needed to design the perfect piece. With state- of-the-art 3D computer imaging for customers to preview their one-of-a-kind creation, it's no wonder they remain the best of the best. 
Hainesport, (609) 914-0404, DavidArlen.com
CUSTOM JEWELRY 
Spivak Jewelers 
Dubbed as South Jersey's most trusted jeweler, Spivak Jewelers is a family- owned and operated business with all of the sparkle necessary to make each trip unforgettable. Through a one-on-one consultation you'll be able to work with designers to see your vision come to life from the initial sketch to the computer rendering to being able to wear it every day. 
Cherry Hill, (856) 281-9677, SpivakJewelers.com
HEALTH & BEAUTY
BODY TREATMENT
Float Therapy
Welcome to the new frontier of stress-relief. Floatation therapy is the ultimate way to unplug from our busy, screen-addicted lifestyles and it's as simple as floating in a shallow pool of salinated water in an environment free of noise and distractions. Treatments leave our bodies feeling restored but more than that, it's a place where we can finally hear ourselves think.
Sicklerville, (856) 875-1111, FloatJersey.com
DAY SPA
Toppers
One of the leading spa destinations in the country is right here in your own backyard. Massage therapy, facials, body, nail and hair treatments are all performed in a tranquil setting to transport you to a world away from your daily stressors.
Marlton, (856) 596-3500, ToppersSpa.com
BARBERSHOP
Michael Alan Fine Barbers
Whether you're a gentleman in need of a proper haircut or looking for a straight razor shave, Michael Alan's is your place.
Mount Laurel, (856) 581-4342, MABarbers.com
TRAINERS
Smart Bodies
They'll push you to your limits while giving you the confidence to not only achieve your goals, but continue to set new ones.
Marlton, (856) 983-2625, SmartBodiesFitness.com
FITNESS CLASSES
Life Time Fitness
What some consider to be a resort for fitness, Life Time offers members a wide variety of classes fit for every level, alleviating fears of feeling uncomfortable or out of place. Whether you're looking for group sessions for yoga, pilates, indoor cycle or kickboxing, there's almost too many classes to take in just a week—and that's not a bad thing.
Mount Laurel, (856) 813-3100, LifeTimeFitness.com
SPINNING
Upcycle
Whether you are a seasoned cyclist or looking to change your workout routine, Upcycle caters to all and delivers high-intensity work- outs to get you pumped up and ready to ride. As soon as you get onto the bike, prepare to burn quite a few calories and get ready to sweat.
Collingswood, (856) 477-2724, UpcycleNJ.com
HAIR
HAIRCUT
Thriv Salon & Spa
Mastering the craft behind a superb haircut can be a daunting task—but for the stylists at Thriv, providing outstanding hair styles and customer satisfaction is embodied in their salon philosophy. All stylists undergo continuing education to remain a source of expertise for clientele to achieve results nothing less than beautiful.
Cherry Hill, (856) 751-0014, ThriveSalon.com
COLORING
Le Reve Salon & Barbershop
Upon entering this enchanting salon garnished with pearly white marble counter- tops, gold starburst lamps and a wall of flowers, it's easy to see they're on trend with more than just hair. Thanks to the team of professionals at Le Reve Salon & Barbershop, Instagram-worthy balayage, subtle shadow root or a pristine head of highlights is only one appointment away.
Cherry Hill, (856) 888-2436, LeReveSalonBarbershop.com
BLOW OUTS
Suede Salon & Spa
Located in the Promenade, this full-service salon prides itself on its highly talented staff who are continuously being educated in the latest beauty techniques and trends from cut and color to waxing and makeup services. For a quick fix, their blow out and conditioning treatment pairing will leave your locks looking lush and healthy to boot.
Marlton, (856) 985-0700, SuedeSalonSpa.com
KERATIN TREATMENTS
Louis Christian Robert John
Summer sun and fun can wreak havoc on your hair leaving you with tangles, frizz and breakage. This Cherry Hill salon offers two types of keratin treatments to restore protein and healthy shine.
Cherry Hill, (856) 751-2233, LouisChristianRobertJohn.com
UP-DOS
Salon Joseph Kenneth
There isn't an updo the Joseph Kenneth team can't do, whether it's for a wedding, prom or any other special event. In fact, they're known to get creative—just ask them about their "magical fairy updo."
Marlton, (856) 985-3000 SalonJosephKenneth.com
BEAUTY
MANI/PEDI
Rizzieri Salon & Spa
While a mani/pedi may be low on the list of abundant services they provide, Rizzieri sure does know how to make it unforgettable. From the moment you walk into their relaxed atmosphere, the customer service goes above and beyond with nail technicians who make you seem like a life-long friend rather than a customer.
Moorestown, (856) 985-1225; Voorhees, (856) 985-5500; Washington Township, (856) 582-3750, Rizzieri.com
EYEBROWS
Tranquility Salon
Tranquility Salon offers extraordinary brow waxing in a luxurious—and tranquil—spa setting, guaranteed to last up to two weeks. With its Victorian-style architecture and natural lighting, the name truly speaks for itself.
Multiple locations, (856) 596-2500, TranquilitySalon.com.
MAKEUP
Caryn and Co. Salon
The expert makeup team at Caryn and Co. will have you looking your best and they do it with ease thanks to an understanding of when to get dramatic and when to tone things down a notch.
Moorestown, (856) 235-0090 and (856) 437-6612, CarynCoSalon.com
FACIALS
In the Village
With two locations to serve you, In the Village replenishes your skin with three types of facials to choose from and paves the way toward much needed relaxation.
Mullica Hill, (856) 223-1774; Woolwich, (856) 241-1218, InTheVillage.com
WAXING
Christopher Moore Salon
Searching for a wax service and trusting an esthetician with your brows or bikini wax can be overwhelming. Luckily, this full-service salon offers waxing services spanning the whole gauntlet from face down to legs. What's more, simple brow tweezing is also available, in addition to a customized wax to better suit your needs.
Sewell, (856) 553-6153, ChristopherMooreSalonNJ.com
LIFE-STYLE
PLAYGROUND
Build Jake's Place
Jake's Place was built in honor of Jacob Cummings-Nasto, a little boy from Pennsauken who loved to visit play- grounds before passing away at 21/2 years old from a rare cardiac condition. This accessible playground contains plenty of ramps and a non-latex rubberized surface, so children and adults with wheelchairs and other assistive devices can play side by side with able-bodied kids.
Cherry Hill, (856) 662-4418, BuildJakesPlace.org
ELITE CLIMBING PARK
Washington Lake Park
From scenic walks on the wooded trails and pickup basketball games to family movie nights at the amphitheater, the largest municipal park in the state has something for everyone.
Washington Township, (856) 589-6427
PHYSICAL CHALLENGE
Elite Climbing
When the machines at the gym start to feel a little too routine, challenge your body—and mind—while scaling an indoor rock wall at this gym where kids and adults are welcome. Instructors are patient and other climbers are always willing to lend an encouraging hand and a round of applause when you get to the top. We can't even remember the last time the elliptical congratulated us.
Maple Shade, (856) 273-1370, EliteClimbing.com
DATE NIGHT
Pinsetter Bar & Bowl
No matter if it's your first date or your 101st, there is something nostalgic and sort of romantic about bowling. Pinsetter does half the work for you by dimming the lights and serving up cocktails and craft beers in an up- scale modern atmosphere, so now all you have to do is toss a few gutter balls to let her win.
Merchantville, (856) 665-3377, PinsetterBowl.com
FAMILY ENTERTAINMENT
The Funplex
Whether you'd prefer to spend the day racing down thrilling water slides or putting along the mini golf green, this unique and local venue has something for every family.
Mount Laurel, (856) 273-9666, FunplexMountLaurel.com
TEEN PARTY VENUE
Sky Zone
We can't think of anything much better for your teen's next party than a venue called the original home of "wall-to-wall aerial action." Attractions include grandiose trampolines, a multicolored foam zone and games such as ultimate dodgeball and SkySlam for the athlete within. Teens (and parents) are guaranteed a great time, and even greater heights.
Maple Shade, (856)230-7090, SkyZone.com
READER'S CHOICE

2017 BRUNCH
Catelli Duo, Voorhees and Moorestown
BUSINESS LUNCH
Allora, Marlton
BYOB
Tarantella, Medford
CANDY/CHOCOLATES
Duffy's, Haddonfield and Gloucester City
HAPPY HOUR
Max's Seafood Café, Gloucester City
APPETIZERS
Redstone, Marlton
HIBACHI
Akira 2, Moorestown
ICE CREAM
Leo's Yum Yum, Medford
ITALIAN RESTAURANT
Illiano's Cucina, Medford
MEXICAN RESTAURANT
Distrito, Moorestown
PASTRY SHOP/BAKERY
L&M Bakery, Delran
ROMANTIC RESTAURANT
ChopHouse, Gibbsboro
SEAFOOD RESTAURANT
Two Fish, Haddonfield
STEAKHOUSE
Chubby's Steakhouse, Gloucester City
SUSHI
Sagami, Collingswood
CIGAR SHOP
Heritage Cigar, Marlton
JEWELRY
JG Kronenberger, Medford
MENSWEAR
Lee Newman, Cherry Hill
PROM WEAR
Marlene's Dress Shop, Collingswood
WOMEN'S CASUAL CLOTHING
South Moon Under, Marlton
FACIAL
Ageless Skin Laser, Washington Twp.
GYM
Future Fitness, multiple locations
HAIR STYLING
Anthony J Hair Studio, Sicklerville
MAKEUP
Makeup Bar, Cherry Hill
SPA
Vir Tu, Moorestown and Washington Twp.
Published (and copyrighted) in South Jersey Magazine, Volume 14, Issue 4 (July, 2017).
For more info on South Jersey Magazine, click here.
To subscribe to South Jersey Magazine, click here.
To advertise in South Jersey Magazine, click here.
Author:
Michelle Boyles, Matt Cosentino, Josephine Cusumano, Liz Hunter, Theodora Malison, Kaytlyn Mroz, Peter Proko and Julie Shannon
Archives
---
Tasty Takeout
South Jersey's Best Pizza!
Winning Dishes
Food & Drink: Chef's Table
For Starters
Perfect Pies
Bread Winners: The 50 Best Sandwiches in South Jersey
Top Shelf
Morning Glory
Best of the Best 2015: Food & Drink
Best Burgers
More Articles