Big changes in SJ Football Group Pairings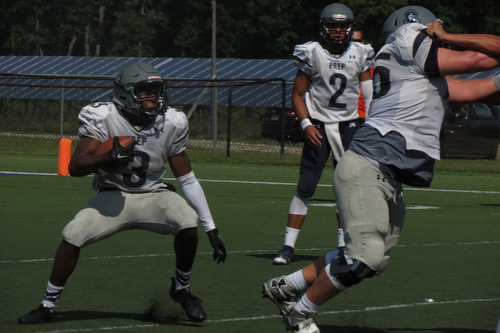 The New Jersey Interscholastic Athletic Association has come out with the Group pairings for all sports and looking at the football pairings, there are some significant changes.
The biggest change has Timber Creek moving from South Jersey Group 4 to South Jersey Group 3. Considering that Timber Creek is the two-time defending South Jersey Group 4 champion, this significantly affects two Groups.
First off, no matter what Group Timber Creek would have been in, the Chargers would be the preseason pick to win.
The Chargers will be ranked among the top three teams in South Jersey this preseason.
Timber Creek is led by record-setting quarterback Devin Leary, who threw for a state record 48 TD passes last season.
Coach Rob Hinson's team will be lighting up the airways with passes, but they also will benefit from the transfer of all-South Jersey running back Kyle Dobbins.
Last season for St. Augustine, Dobbins rushed for 1,282 yards (7.7 avg.) and 17 TDs. Dobbins has already accepted a scholarship to Temple.
What people will find out is that Dobbins not only can he run the ball efficiently, but he will be a major addition to the already proficient passing game.
Timber Creek's best competition in Group 3 will likely come from Delsea and Woodrow Wilson. Delsea had its streak of four straight SJ Group 3 titles snapped in last year's 20-7 championship loss to Lacey Township.
Wilson has several college prospects led by senior tight end-defensive end Travon King.
As for Group 4, another significant change comes with Lenape moving from South Jersey Group 4 to South Jersey Group 5.
Last year Lenape went 11-1, losing only to Timber Creek, 31-10 in the South Jersey Group 4 championship. The Indians should be a major factor in Group 5. Running back JoJo Kellum, could be among the best in South Jersey. Senior quarterback Mat Lajoie gives the Indians a pass-run dimension.
Maybe the biggest winner in the realignment is Shawnee.
The Renegades have remained in South Jersey Group 4 and would have been a contender even if Timber Creek and Lenape remained there.
Now with those teams out, coach Tim Gushue's Renegades appear to be the SJ Group 4 favorite. The Renegades will have one of South Jersey's better defenses, led by senior linebacker Ryan Parris, who had 138 tackles last season.
Of course, this is only the second week of August and a lot can happen, but these are the major moves in the Group alignment that could significantly affect the playoff competition.
Article continues below
---
advertisement


---
Author:
Marc Narducci
Archives
---
More Articles