Girls Soccer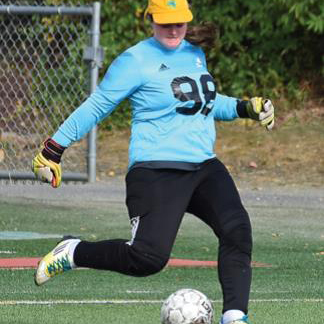 BISHOP EUSTACE Crusaders
PLAYERS TO WATCH: Juniors Sara Beidleman and Sammie Sorensen have been varsity contributors since they were freshmen and will look to lead the way for Bishop Eustace now that they're upperclassmen. Beidleman, a forward, had seven goals and nine assists in 2016 to make the all-conference first team, while Sorensen, a midfielder, contributed three goals. Senior Molly Monaghan and junior Kat Soanes will also have an impact at striker and key players in the midfield are senior Brianna Montinard and junior Olivia Hansen. Senior Lizzie O'Dee, an all-conference second-team selection, headlines a defense that also features seniors Morgan Hull, Erin Klemenz and Tallulah Manalo-LaManna and junior Brittany Pickering. Sophomore Nellie Manalo-LaManna is also back after earning the starting goalie job as a freshman. Other promising sophomores are forward Carli Davy and midfielder Kendyl Drayton.
OUTLOOK: A talented crop of veterans should help the Crusaders improve on last year's 7-12-2 season, which ended in the South Jersey Non-Public A quarterfinals. Former Delran star player Boo Schubert, who went on to play collegiately at Florida and Rutgers, moves from assistant to head coach to replace Lindsay Finnegan, who stepped down after last season.
CAMDEN CATHOLIC Fighting Irish
PLAYERS TO WATCH: Danielle Rooney erupted for 16 goals and six assists in a breakout sophomore season and is back to spark Camden Catholic. The junior forward garnered allconference first-team accolades. Midfielder Maggie Bednarek (six goals) and goalie Kate Deutsch (141 saves) are senior leaders who both made the all-conference second team. Sophomores Haley Mylotte and Hannah Romani and junior Colleen Crawford will contribute in the midfield and important pieces of the defense are senior Madison Rooney and junior Erin O'Callaghan. Other returners expected to have an impact are seniors Shannon McHugh, Kadijah Nurudeen and Ashley Santos, junior Bella Paolini and sophomores Eva Meldrumand and Isabella Testa.
OUTLOOK: The Fighting Irish made big strides in 2016 and finished with a 7-14 record. They have a chance to be even better this fall under new head coach Cathy Johnson, an assistant the last two years under Jim McBride.
CHEROKEE Chiefs
PLAYERS TO WATCH: Cherokee has a tradition of producing outstanding defenders, and senior Meg Waninger fits the mold. Last year she made the all-conference second team as an outside back, and she will anchor the unit after the graduation of Taylor Koester and Izzy Therien. Seniors Morgan Westerby and Sarah Weiner and sophomore Emma McMillan also hope to have an impact on defense and senior Katie Parker could take over as the starting keeper. Senior Cecelia Ghaly led the team with five goals in 2016 and is a key player in the midfield along with seniors Tori Hampton and Angela Harris and sophomore Liv McMillan. Junior Maddie Weaver is another talented midfielder who missed last season with an injury. Junior Brianna Bocelli will be counted on to score goals up top, and other returning contributors are seniors Julia Kasinski, Kasey Mansfield and Rosaleigh Moore and sophomore Claire Mulholland.
OUTLOOK: The Chiefs lost to Eastern in PKs in the South Jersey Group IV quarterfinals to finish with an 8-9-2 record. Don't be surprised to see them bounce back with a strong season under new head coach Megan Boland, who replaces Andy Clapperton.
CHERRY HILL EAST Cougars
PLAYERS TO WATCH: Senior goalie Sam Bourne is coming off a strong junior season that landed her on the all-conference second team, and her stellar play in net should help Cherry Hill East stay competitive this season. Senior Nicole Hammerquist solidifies the defense in front of Bourne along with juniors Natalie Hay and Claire McFadden, and senior Samantha Fry is another important piece of the defense who was sidelined last year. Juniors Lexi Schaffer and Ronnie Schaffer and senior Jordan Tort return in the midfield, while senior Kayla DeGuzman is expected to be a major factor on offense after missing last season with an injury. Speedy sophomore Bella Rossetti is another talented player up front.
OUTLOOK:The Cougars have some key players back in the fold and steady improvement throughout the season can be expected.
CHERRY HILL WEST Lions
PLAYERS TO WATCH: Senior midfielder Gabby Angelucci is coming off a solid season in which she made the all-conference second team and leads the returners for Cherry Hill West. Sophomore Katrina Vyzaniaris is coming off a promising freshman campaign and is another key player in the midfield along with junior Madeline Sweeney. The Lions must replace all-South Jersey and all-conference firstteam goalie Natalie Eberhardt, but veteran defenders are seniors Katie Begley, Melissa Marini and Alana Mitnick.
OUTLOOK: The Lions' 4-13-2 season ended with a shootout loss to Delsea in the South Jersey Group III playoffs. They hope to add a few more wins and get another crack at the playoffs this fall.
CLEARVIEW Pioneers
PLAYERS TO WATCH: Clearview has a talented returning core led by seniors Julia Michael and Kayla Grossman, who each had nine goals and four assists to make the allconference first team. Juniors Liz Bonomo (six goals, four assists) and Rachael Hollywood (five, nine) are other playmakers. Senior Vivianna Caamano, an all-conference first-teamer, anchors the defense and also contributes to the attack. Sophomore McKenna Dalfonso emerged as the starting keeper as a rookie and had a solid season. Other returners who will leave their mark include seniors Sarah DeAngelo, Carley Brosovich, Sydney Paz and Joanna Bakey, juniors Mya Bocchicchio and Joslyn Wilson and sophomores Leah Bocchicchio and Olivia Kedziora.
OUTLOOK: The Pioneers posted a 12-8-1 record— doubling their win total from the year before— and reached the South Jersey Group IV quarterfinals. Count on another successful season in 2017.
EASTERN Vikings
PLAYERS TO WATCH: It's a new era at Eastern following the graduation of star forward Amirah Ali, who is the program's all-time leader in goals and assists. But there is plenty of talent remaining, including sophomore midfielder Kelli McGroarty, who burst onto the scene last year with 12 goals and 18 assists to earn all-South Jersey third-team and all-conference first-team honors. Other returning playmakers are sophomore forward Francesca DiColandrea (eight goals, five assists) and sophomore midfielder Sara Brocious (six goals), who made the all-conference second team. Senior backs Madison Tyree (back from an ACL injury) and Lexi Friedant and senior keeper Mikayla Ronczka—another all-conference second- teamer—lead a defense that recorded 12 shutouts. Senior forwards Kate Lesniewski and Maria Kokolis, sophomore defender Emma Bitar and senior defender Amanda Farnsworth are other key returners. Promising freshmen Nicolette Scarduzio and Riley Tiernan—the younger sister of former Eastern star Madison Tiernan—will fight for a roster spot and playing time.
OUTLOOK: The Vikings had yet another successful run in 2016, compiling a 15-4-4 record, earning at least a share of the Olympic Conference American Division title for the fifth year in a row and reaching their fifth sectional final in six years. While there's no replacing Ali, expect another memorable campaign this fall.
GLOUCESTER CATHOLIC Rams
PLAYERS TO WATCH: Gloucester Catholic debuted a stellar freshman class last fall and is excited to see what those players can do as sophomores. The group includes all-conference second-teamer Caitlyn Cordery, who had eight goals and five assists, as well as Alexis Godby, who also scored eight goals to share the team lead with Cordery. Alyse Capizzi is another sophomore who gained experience in goal and should take over as the full-time starter. As for the veterans, senior defender Jordan Romano leads the way after garnering all-conference second-team accolades and senior Mia Lugiano is a key piece of the offense. Other contributors include seniors Megan McGonigle, Morgan Burman, Kelly O'Donnell and Emma Holian and juniors Lindsay Bishop and Erin Francis.
OUTLOOK: The Rams' 8-10 season ended with a loss to Paul VI in the first round of the South Jersey Non-Public A playoffs. With so many talented players back on the roster, look for them to contend for a winning record in 2017.
HADDONFIELD Bulldawgs
PLAYERS TO WATCH: Haddonfield is loaded with returning talent from last year's run to the state final. Junior forward Madie Bee, one of the best finishers in South Jersey, exploded for 31 goals and seven assists as a sophomore to make the all-South Jersey and all-conference first teams. Junior Nic Green is another gamechanger who roams the midfield. She had three goals and nine assists on her way to all-South Jersey second-team and all-conference first-team honors. Two other juniors to keep an eye on are Sophia Schwab, the anchor of the backline who made the all-conference first team, and midfielder Wayden Ay, who scored six goals last year. The solid senior class includes midfielder Isabella Nugent—an all-conference secondteamer who had three goals and led the Bulldawgs with 10 assists—as well as forwards Julia Parker and Casey Clarke, midfielders Ellie Kriebel and Lizzie Mulvenna and defender Annie Stanton, an all-conference second-teamer. Sophomore Maya Olimpio started in goal as a rookie, and other talented sophomores are forwards Rachel Bonnett (10 goals) and Jordan Siok (eight goals, eight assists).
OUTLOOK: The Bulldawgs' sensational 2016 season featured a 25-2 record, the South Jersey Group II championship and a tough 1-0 loss to Parsippany Hills in the state final. They have the potential—and hunger—to make another run this November.
KINGSWAY Dragons
PLAYERS TO WATCH: Kingsway's strong nucleus is paced by senior forward Maddie Batra, who has been a varsity starter since her freshman year. Last season she had nine goals and eight assists and was rewarded with a spot on the all-conference first team. Junior Julia Evernham also scored nine goals to go with five assists, and other proven scorers are seniors Kylie Anicic and Alexa Evernham and junior Samantha Emmi. Senior goalie Mauri Jackson recorded five shutouts and made the all-conference first team, and returning defenders are senior Haley Silva and junior Alyssa Brown. Junior Maddie Collins returns in the midfield and other contributors include senior Carissa Britton and juniors Sami Federico and Alyssa Palmucci.
OUTLOOK: The Dragons went on a nine-game winning streak toward the end of last season to earn a share of the Tri-County Conference Royal Division title. They dropped a close game to Cherokee in the first round of the playoffs and finished with a 13-6 record. With several key veterans back they hope to contend in the division again.
LENAPE Indians
PLAYERS TO WATCH: Senior midfielder Bella Hovis is coming off an impressive junior season and leads the returners for Lenape. She had six goals and seven assists to make the all-South Jersey third team and all-conference first team. Junior Maggie Horn is also a key player in the midfield. Junior forward Katie Quinn scored six goals—despite having her season cut short by a broken foot— and made the all-conference second team, while juniors Peyton Warrick and Sude Yalcin are other talented players up top. Junior Shannon Mulroy is an excellent keeper who has been starting since her freshman year, and her experience will be important with the Indians breaking in a new defense in front of her.
OUTLOOK: The Indians' memorable month of October included the South Jersey Coaches Tournament championship, which was their ninth title in 10 years and 13th overall. They finished with an 11-6-3 record after falling to Shawnee in the first round of the playoffs. This is a strong program year in and year out, and this fall should be more of the same.
MOORESTOWN Quakers
PLAYERS TO WATCH: Moorestown graduated leading scorer Quinn Nicolai, a two-time all-South Jersey selection, but there is a lot of young talent to be excited about. That includes junior forward Rylee Brown, a varsity player since her freshman year and a proven finisher up top, along with her twin sister Maggie Brown, who returns after missing a big chunk of last season with an injury. Sophomore Grace Hurren started at center midfielder as a freshman and will be another important playmaker for the Quakers. Senior Robin Panzarella and juniors Isa Arvello and Jillian Calhoun are other key returners at forward and in the midfield. Senior Emily Bretschneider headlines the defense and seniors Nina Locatell and Ava Frantz and junior Julia Dalmass also return on D. Sophomores Catriona Sims, Nicole Quintero and Hannah Weinstein will compete in goal. Other returners are seniors Natalie Voiro, Emily Brooks and Alex Hubler and sophomores Ciara Imhotep and Elizabeth McGee.
OUTLOOK: The Quakers went 14-5-1, tied for second in their conference and reached the Central Jersey Group III semifinals in 2016. They have the talent to be in the conference race again and go on another playoff run.
MOORESTOWN FRIENDS Foxes
PLAYERS TO WATCH: Almost the entire roster is back for Moorestown Friends, which graduated just two seniors from last year's team. Headlining the returners is senior forward/midfielder Kieran Lees, who enters her final season with 53 career goals. She had a team-high 17 goals and seven assists last year to make the all-league first team and allcounty second team. Senior Alexis Kasper had 10 goals and five assists and made the all-league first team, and other offensive playmakers are senior forward Alyssa Runyan (two goals, seven assists) and sophomore midfielder Bella Runyan, who exploded onto the scene with 12 goals as a freshman. Junior Micaela Coll was an all-league honorable mention choice and leads the defense along with junior Courtney Tarter. Seniors Chloe Chen and Gwen Gignac are other returning defenders in front of senior goalie Anna Goula. Senior Chloe Jones is an important player in the midfield and sophomore forward Megan Schweiker showed promise as a rookie. Other contributors include senior Alexis Watson and junior Meghan Roberts.
OUTLOOK: The Foxes compiled an 11-6 record and ended their season in the South Jersey Non-Public B quarterfinals. With a talented cast of veterans, theyhope to reclaim the sectional title they won in 2014 and 2015.
PAUL VI Eagles
PLAYERS TO WATCH: A solid Paul VI defense that allowed just 30 goals all season brings back several key pieces, including senior back Lauren Calabria and senior goalie Rylee Milligan, who both made the all-conference first team. Senior Melanie Raggozino is another returning starter on defense and seniors Jackie Schultz, Hannah Marsh and Moira Leary are experienced backs as well. Senior forward Ava Albergo, who will continue her career at Philadelphia University, had eight goals and four assists to make the all-conference second team. The offense should also get a boost from the return of junior forward Alyssa Carfagno, who missed last season with a torn ACL after scoring nine goals as a freshman. Junior Kristin Spering will contribute offensively, and juniors Jarah Barquero and Melanie Benish are two other players returning after missing the year with injuries. Other returners include seniors Jillian Badgley, Gabrielle Marra and Alexis Postiglione, junior Jessica Bizzoco and sophomore Lindsey Shannon. Several freshmen could possibly challenge for varsity spots too.
OUTLOOK: The Eagles went 11-9-2 in 2016—finishing with five more wins than the year before—and reached the South Jersey Non-Public A semifinals. Despite several big losses to graduation, they have the potential for another winning season.
SENECA Golden Eagles
PLAYERS TO WATCH: Seneca suffered huge losses to graduation, including three all-conference first-teamers, but does have several important returners back in the fold. That includes senior midfielder Alexa Brown, an all-conference second-teamer who was second on the squad with eight assists last year. Seniors Olivia O'Connor, Julianna Kaiser and Olivia Spector are also contributors in the midfield and sophomore Madeline Daecher will look to make an impact as well. Allconference second-team selection Grace Heineman and fellow seniors Hannah Packard and Julia Capoli are veteran defenders. Other players looking to take on bigger roles are seniors Kayla Hay and Lauren Mosser and juniors Lexie Reidenbaker, Rachel Dorn, Alyssa Fox and Cassidy Spillis.
OUTLOOK: The 2016 season was memorable in several ways, as the Golden Eagles went 15-8-1 and claimed the South Jersey Group III crown for the second sectional championship in school history. They also shared the Olympic Conference National Division title, the program's first. Ron Jensen retired as head coach after the season, but new coach Matt Abate will look to continue the winning tradition.
SHAWNEE Renegades
PLAYERS TO WATCH: Shawnee said goodbye to a terrific senior class yet again, with six all-conference players graduating, including Burlington County Player of the Year Dana Goldstein. It will be interesting to see a new crop of leaders emerge, including midfielder Morgan Raley, who had four goals and five assists as a sophomore, and fellow juniors Cameron Morgan and Haley Benson. Defender/midfielder Lea Tarzy led the team with 13 assists and is one of several sophomores who contributed as freshmen. That group also includes Madison McCready, Alexandra Kornafel, Alexa Endres and Kiley Endres. Senior leadership will come from Erica Barr, Brianna Chalenski, Hannah DeBerardinis, Jenna Mesisca, Maddie Welsh and Jenny Ewing.
OUTLOOK: The Renegades' 17-4-1 season included a piece of the Olympic Conference American Division title and semifinal berths in the Coaches Tournament and South Jersey Group IV playoffs. It might be unfair to expect that kind of success in 2017, but don't overlook Shawnee, either.
WASHINGTON TOWNSHIP Minutemaids
PLAYERS TO WATCH: Midfielder Emily Gray, who led Washington Township with 18 goals and 24 assists last year, will be spending her senior season with an academy team. Despite that tough loss, the Minutemaids bring back nine starters and 16 letterwinners. Junior forward Natasha Munro is a proven finisher who had 11 goals and eight assists on her way to all-conference first-team honors, and junior midfielder Milana D'Ambra added three goals and four assists to make the second team. Senior midfielders Rachel Keller and Alexa Liss and sophomore forward Giovanna Castorina are other key pieces of the offense. Senior Breana Winder, an all-conference first-team selection, and junior Julianna Capano, an all-conference second-teamer, lead the defense along with junior goalie Jordynn Stallard, who earned all-conference second-team honors. Other contributors are seniors Angelina Mowad, Brooke Hengy and Sophia Spadano and juniors Kristen Guthier and Megan Slough.
OUTLOOK:The Minutemaids earned a share of the toughest division in South Jersey, the Olympic American, and also finished second in the South Jersey Coaches Tournament last fall. They finished with a 16-4-4 record after a close loss to Shawnee in the sectional quarterfinals. Expect Township to be one of the top teams in the area again.
To see a complete list of our Fall Sports Schedules, click here to go to our digital edition 
Published (and copyrighted) in Suburban Family Magazine, Volume 8, Issue 5 (July, 2017). 
Article continues below
---
advertisement


---

For more info on Suburban Family Magazine, click here. 
For information about advertising in Suburban Family Magazine, click here. 
To find out where to pick up your copy of Suburban Family Magazine, click here. Author:

Matt Consentino
Archives
---
More Articles