Hoskins on a record tear to begin his Phillies career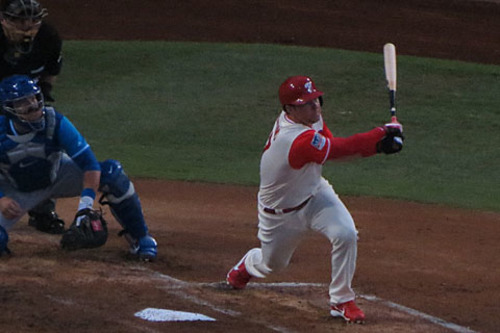 It was a pitch low and away and one in which making contact would be difficult, yet Rhy Hoskins was able to do more than just meet the ball.
The 24-year-old Phillies rookie bent low and with great dexterity and strength, sent a changeup, well below the strike zone fom Chicago Cubs righthander Kyle Hendricks into the left field seats.
His two-run homer was the lone bright spot of the Phillies 17-2 loss on Saturday to the Cubs
Hoskins, for anybody not following the Phillies, has revived a sagging team. Many who had tuned out the Phillies because among other things, they have the worst record in baseball, have been drawn back due to Hoskins exploits.
During Sunday's 6-3 win over the Cubs, Hoskins crushed his 11th home run in his 18th career game. Nobody in the history of the game had gotten to 11 home runs faster.
There were also two other monumental moments. He helped start a triple play by making a shoe-string catch in left field that the Cubs base runners obviously felt wouldn't get caught. The Phillies then doubled and tripled Chicago up on the basepaths.
That triple play was even more impressive, considering Hoskins only played left field for three minor league games, shortly before his call-up to the Phillies. Before that he was strictly a first baseman. And now he's learning the nuances of the left field job on the fly.
He also received his first curtain call after the Sunday home run against the Cubs. Among those cheering were his teammates.
While nobody can expect Hoskins to continue his home run pace, or an OPS of 1.236 to begin the week, it should be noted that he has hit at every level since the Phillies selected him in the fifth round of the 2014 draft as a first baseman out of Sacramento State.
The 6-foot-4, 225-pound Hoskins hit .237 with nine home runs and 40 RBIs in 273 plate appearances in 2014 for short-season Williamsport.
After that introduction to professional baseball, he has been on fire ever since.
In 2015 he batted .319 with 17 home runs, 90 RBI and a .913 while playing for low-A Lakewood and high A Clearwater.
Last season for Double-A Reading he hit .281 with 38 home runs, 117 RBI and a .943 OPS.
This year at Triple-A Lehigh Valley, Hoskins hit .284 with 29 home runs, 91 RBI and a .966 OPS in 475 plate appearances for the IronPigs.
Whenever somebody starts a Major League career on fire such as Hoskins, it has to be kept in perspective.
There have been many players who started their career on fire and fizzled out.
For instance remember Shane Spencer?
He had batted .373 with 10 home runs in 67 at bats as a late-season call-up for the New York Yankees in 1998.
There were many stories at the time about his bright future and he never came close to matching that production and was out of the big leagues after the 2004 season.
Yet Hoskins track record and plate discipline at least gives an indication that he could have sustained success.
It won't match what he is doing now, but in a time when most Philadelphia fans anxiously awaiting the start of the Eagles season, Hoskins has made people pay attention to the Phillies and especially to him.
Article continues below
---
advertisement


---
Author:
Marc Narducci
Archives
---
More Articles