Meat Cutters Compete For Rare Chance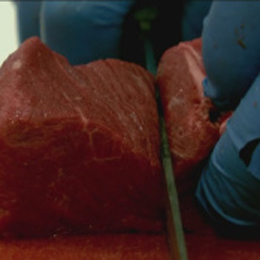 VOORHEES, NJ (CBS) — It wasn't a meat locker, but the Flyers Skate Zone was the coolest place to be for the Texas Roadhouse meat cutting challenge.
Fifteen of the restaurant chain's meat cutters in New Jersey and Pennsylvania got an hour prepare as many high quality steaks from three loins in the least amount of time.
The participants were judged on precision, speed and accuracy. If the cut didn't make the grade they were tossed from a participants final count.
Ken Cohen, Managing Partner Texas Roadhouse Sicklerville was among officials monitoring the weight of the competitors steaks.
"What I'm looking for is to make sure that the cuts that they make are, their weights are exactly what they need to be," he said. "If they are doing 8 ounces sirloin I have to make sure the scale says 8 ounces. If they are doing 6 ounce fillets I got to make sure that the scale is correct and that their weights are correct."
Fernando Pintor of Turnersville is one of the competitors.
"A little nervous but I think I did a good job," he said.
He did more than a good job he came in first place in the competition.
There were two winners in Tuesday's competition, and both will move on to semi finals in Orlando early next year. They will be given the chance to compete in the nationals in San Diego in the Spring where $20,000 is at stake.
Article continues below
---
advertisement


---
Author:
http://philadelphia.cbslocal.com/2017/09/05/meat-cutters-flyers-skate-zone/ - John McDevitt
Archives
---
More Articles