Eagles Sproles Will be Sorely Missed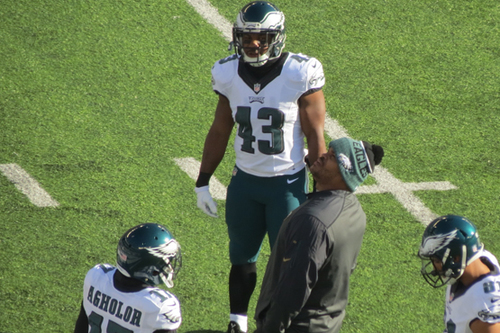 Injuries are part of the game and the winning NFL teams that are still relatively healthy in December are usually playing in January and even beyond.
The NFL season is three-games old and the Eagles have had some tough injuries, none more so than what happened to running back Darren Sproles in Sunday's 27-21 win over the New York Giants.
Eagles coach Doug Pederson confirmed on Monday that Sproles suffered an ACL tear and a broken forearm
Sproles is out for the season and at 34-year-old, one has to wonder if that was his final NFL game.
He was much more than just one of the top punt returners in the NFL and one of the most dangerous third down backs. The 5-foot-6, 181-pound Sproles was one of the toughest players pound for pound in the NFL.
Besides being a dangerous running back, even at his size, Sproles was also an excellent blocker, with an ability to pick up the blitz.
Pederson suggested on Monday that second-year running back Wendell Smallwood and rookie Corey Clement of Glassboro High and the University of Wisconsin, would have a more prominent role in light of Sproles' season-ending injury.
"I think Wendell on third down specifically, Corey, as well, they're going to have to step up and assume that role," Pederson told reporters. "It's always been the next-guy-up mentality, and that's kind of where we're at right now."
That doesn't mean it will be easy to replace somebody whose outstanding professionalism was such a positive influence on his teammates.
"He's a great leader, well-liked on this team and in this locker room and in this community," Pederson said about Sproles. "He's a lot of energy, and that's hard to replace. It's hard to replace. And so guys are just going to have to rally and pick up that spot and move forward."
With so many injuries, teams don't have time to dwell on the players not available.
Still, this is as good a time as any to reflect on Sproles career. He likely won't end up Canton, but if this is it, then it has been quite a ride.
Here are some of his accomplishments.
*Sproles is eighth all-time in the NFL in all-purpose yards with 19,155. Here are the players on top of that list: 1. Jerry Rice (23,546 all-purpose yards), 2. Brian Mitchell (23,330), Walter Payton (21,803), Emmitt Smith (21,564), Tim Brown (19,682), Marshall Faulk (19,190) and Steve Smith (19,180).
Had Sproles not been hurt, he would have likely been fifth on the all-time list by the end of the season.
*He is a three-time Pro Bowl selection as a return man, all in the last three seasons, 2014 with New Orleans and the next two years with the Eagles.
*Sproles is tied for seventh on the all-time list of punt return touchdowns with seven.
*With 8,350 kick return yards, he is eighth in NFL history.
*Sproles has been to the postseason five different years and participated in 10 playoff games.
There are more, but one should get this point.
He has been a consummate professional and if Sunday indeed was his final game, Sproles will be greatly missed for both his production and professionalism.
Article continues below
---
advertisement


---
Author:
Marc Narducci
Archives
---
More Articles