A Man of Many Faces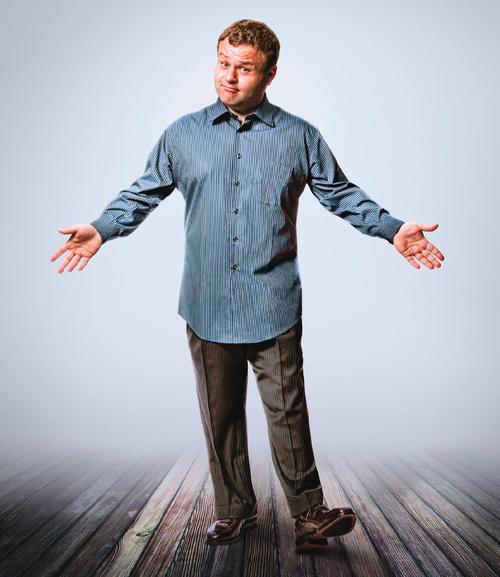 ...From the Pages of South Jersey Magazine...
When he's actually being himself—and not a celebrity like John Madden, Al Pacino or President George W. Bush—Frank Caliendo has a calm and laid-back persona, and it is easy to see that his reputation as one of the friendliest people in comedy is well earned.
But even a brief phone conversation with the master impressionist can zig-zag in many different directions, all of them hilarious. At a moment's notice, Caliendo can start riffing in any number of familiar voices, from Charles Barkley to Morgan Freeman.
Caliendo's love of characters started at a young age and spurred him to a career in show business that has included a five-year run on MADtv and his own show on TBS, Frank TV. He is also well known to sports fans for appearing on the Fox NFL pregame show for 11 seasons before moving to ESPN in 2015.
But Caliendo's favorite creative outlet remains the stage and a bustling standup career that blends sports and pop culture. His latest tour returns to Borgata's Music Box in Atlantic City on Oct. 28.
In between rapid-fire impressions, South Jersey Magazine spoke to Caliendo about why Borgata is always a regular stop for him, why he refuses to take sides in politics and his memorable meeting with President Donald Trump.
SOUTH JERSEY MAGAZINE: You've played Borgata many times over the years. Is the Music Box a room you feel comfortable in and are you excited to return?
Article continues below
---
advertisement


---

FRANK CALIENDO: Yeah, it's fun. I enjoy the room itself and there are lots of good people there. I tend to go to places where I enjoy the audiences and they have a nice venue. With the casino and everything they have a lot of sports fans, and those are a lot of my fans, especially on the East Coast. So it works out really well and I have fun there.

SJM: You're a Midwest guy who now lives in Arizona, but you tour extensively on the East Coast. Do you feel like your comedy resonates here?
FC: I think some it is the sports culture, because that's how so many people do know about me. On the East Coast, people really do live and die by their sports teams. But also, the Midwest isn't that far off from the East Coast style of humor. The East Coast is just a harsher version of the Midwest. When I first started doing comedy in the Midwest I learned to do it one way, and I found when I got to the East Coast you just do it slightly meaner, louder and faster. Whereas in California if you get too loud and fast they say, 'Settle down.' You can really feel that difference, and I just took to it. I'm also very sarcastic and there's a lot of sarcasm on the East Coast.

SJM: You also have the Italian name, which plays well here. FC: You're right, that doesn't hurt.

SJM: Do you get to enjoy the casino at all or is it just a business trip for you?
FC: I'll probably just be in and out. I have all kinds of things going on with football season. I'm coaching my son in flag football and my daughter has gymnastics meets, so I just try to get home as fast as possible.

SJM: You have a good relationship with WMMR's Preston and Steve Show and appeared at an event for them recently at Subaru of America in Cherry Hill. Do you like something like that where you can interact freely with your fans, as compared to the big shows you're usually doing?
FC: Yeah, it was cool and everybody was really nice. I remember it well because the guy who ran the car dealership knew a guy in Cleveland who we bought a house from, because my wife is from Cleveland. Those are always fun; whenever you're out of the studio and doing live stuff, there's always weird stuff going on, so you can comment on it and it gives you more to talk about.

SJM: Obviously President Trump's election has provided you with plenty of material. Were you pulling for him last year for that reason?
FC: I don't know. There are so many people doing Trump impressions now and most of them are mean. Mine is silly, because that's where I come from. I never really think about that stuff. I guess in a way, maybe [I was rooting for him], but if Hillary [Clinton] won then that would have meant Bill was around more, and he's just as goofy [as Trump]. So I just go with the flow; I don't root for anybody in any way, shape or form.

SJM: Is your show always evolving from week to week based on what's happening with the president?
FC: Yeah, but I try not to get into the political stuff. There's political stuff he does that you can rip, and then there's just stuff he does normally that you can make fun of. That's the way it is with just about anybody. A [Stephen] Colbert is going to go after things that are politically charged and things that fit his beliefs. I stay away from all of that, because people who like me like that I don't jump on one side or the other. It's all just being silly.

SJM: I guess people can get angry with you if you take the conservative or liberal side during a show.
FC: Sure. I've had instances at the same show where one person says, 'You must really like that president,' and somebody else says, 'You hate that guy, don't you?' People see what they want to see. It's like Twitter.

SJM: Alec Baldwin just won an Emmy for impersonating President Trump on SNL. Do you like to follow other people who have this talent, or does it get competitive?
FC: I didn't even know he won. The only thing I saw was Kate McKinnon winning for doing Hillary. It's amazing to me that the people playing presidential candidates on Saturday Night Live are the ones who win Emmys. It seems kind of odd to me.

SJM: Have you heard any feedback from the president about your impression of him?
FC: I did a sketch with Trump years ago and he liked it. He was totally different off camera than he was on. He was like a used car salesman from the '70s on TV, and off camera he was self-deprecating. That was the weirdest thing to me. It was like he was putting on a mask and becoming a character.

SJM: How did impressions start for you? Did you realize you had this talent at a young age?
FC: It was from watching Saturday Night Live and In Living Color and watching those guys do characters more so than impressions. You know, Damon Wayans doing the bum, 'My name is Anton.' Or Jim Carrey saying, 'Let me show you something.' I always thought those kinds of characters were cool. I loved impressions, but usually people would just repeat lines from movies. I tried to find ways to make them characters, a lot more like Dana Carvey. Carvey is one of those guys who I think is super incredible. He doesn't just do an impression, he turns it into a character who has its own point of view and is fun to watch.

SJM: So many people think they can do impressions even if they can't. Do you get a lot of people coming up to you on the street and trying out their impressions?
FC: Yeah, people will say, 'I really love the way you do Yoda,' and I'm thinking, 'Anybody can do Yoda.' But that's the way they break the ice for them to do their voices for me.

SJM: It seems like you're enjoying yourself more with certain impressions, like John Madden or Al Pacino or ESPN's Jon Gruden. Do you have favorites?
FC: Yeah, some are just more fun. It's funny because I know Gruden so well now. He'll text me at 5 in the morning, which I think is lunchtime for him. He'll say [in Jon Gruden's voice], 'I just did a commercial man, I had a blast. It was like being you man.' And I'll say, 'Go to sleep, it's 5 a.m.' When you meet the people, it makes it more fun. When they haven't seen the impression live, it's kind of like a magic trick and they're kind of amazed by it.

SJM: You had the long run on Fox Sports and now you make appearances on ESPN. Did that just originate from your love for sports?
FC: Yeah, that's what I grew up with. I didn't grow up around theater or anything like that. My dad was a minor-league baseball player before I was born, and we just grew up playing football, basketball and baseball as kids in the driveway and backyard. I've had a lot of fun with that. It was what I knew, so it was the route I took. Nobody was doing sports comedy at the time, only Jimmy Kimmel on Fox. Now it's everywhere and there are even comedy Twitter feeds. It's become its own business.

SJM: I saw video of you taking batting practice recently before an Arizona Diamondbacks game. How did you do?
FC: I couldn't walk the next day, but it's always good to go take some rips. I hadn't swung a bat in two years and I paid for it. I go every few years, and it's amazing how every time I go, the ball travels less off the bat. You lose a lot of pop [as you get older]. I tried to run a 40-yard dash the other day at my son's football practice, and that was stupid. I tore my ACL years ago in my left leg, and that leg doesn't even work anymore. It looks like I'm galloping.

SJM: Speaking of your kids, you've appeared on the popular Disney show Liv and Maddie. Was that with your children in mind?
FC: Yeah, I did that because it was my daughter's favorite show. She actually directed one scene in the episode and got to say 'Action.' She was there and she has all the scripts to prove it.

SJM: You appeal to a wide range of people, and I'm sure you'll see all ages in the audience during your show at Borgata. Do you take pride in that?
FC: Sure. I'm not for one specific group. Sometimes that hurts me, but I can only do what I think is funny. I've been in too many TV situations where they want you to do what they think is funny. But if I don't find it funny and interesting, I don't really want to do it.

SJM: Are you proof that nice guys can succeed in comedy?
FC: You just think that because you don't know me very well. You should ask the refs in the flag football games if I'm nice.

Published (and copyrighted) in South Jersey Magazine, Volume 14, Issue 7 (October, 2017). 
For more info on South Jersey Magazine, click here. 
To subscribe to South Jersey Magazine, click here. 
To advertise in South Jersey Magazine, click here.

Author:

Matt Cosentino
Archives
---
More Articles