Where are the Eagles' challengers?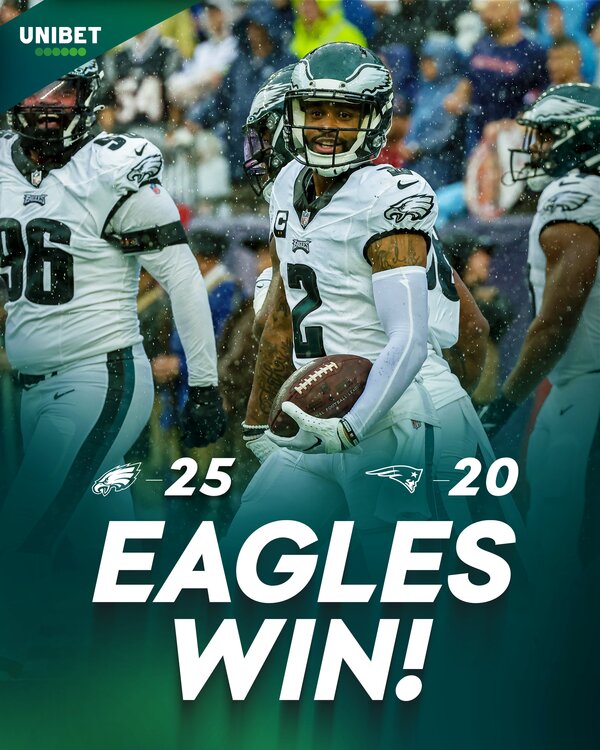 Just six games into the season and we can easily identify the Eagles most difficult opponent – overconfidence.
If the Eagles (5-1) can stay relatively healthy, and they have already withstood some key injuries, it is hard to see any team in the NFC and maybe the NFL, that is better than they are.
One team that seemed to be the Eagles top NFC challenger was Green Bay, but the Packers suffered the worst of hits when quarterback Aaron Rodgers broke his collarbone. It's been reported that he could be out for the season, but nothing definitive yet.
It was his right throwing shoulder.
Here are the teams in the NFC that supposedly are the best challengers to the Eagles and all of them seem to have many more flaws than the Birds.
Seattle (3-2). The Seahawks have a vaunted defense, but this is a team that allowed 33 points in a 33-27 loss at Tennessee. The offensive line continues to be a problem as quarterback Russell Wilson is running for his life. Still, this is probably the Eagles biggest challenger. The Eagles visit Seattle Dec. 3 and that game could be for home field advantage in the NFC playoffs.
Washington (3-2). The Eagles won the opening game against Washington, 30-17 at FedEx Field and now host the Redskins on Monday night. Washington is coming off a 26-24 victory over winless San Francisco, a less than inspiring win, although the 49ers are playing everybody tough. If the Eagles win on Monday night, then the Redskins hopes of winning the NFC East will be virtually over.
Dallas (2-3). Coming off a bye, the Cowboys have already lost as many games as they did a year ago. The defense has allowed 37.3 points per game in Cowboys' three losses. Dak Prescott and the offense don't look as sharp as last season. Dallas still has two games left with the Eagles, but one has to wonder if the regular season finale on New Year's Eve at Lincoln Financial Field will have any meaning. The Eagles could have long clinched the division by this time.
Minnesota (4-2). Former Eagle QB Sam Bradford is hurt and even when he was playing, he wasn't effective. Journeyman Case Keenum has been surprisingly effective, with a fairly impressive 93.1 passer rating. In addition, Teddy Bridgewater, who suffered a gruesome knee injury last preseason, is returning to practice. The defense remains strong, but whether the offense has enough weapons, especially with rookie Dalvin Cook out for the season with a torn ACL, remains to be seen. Like Seattle, Minnesota can't be counted out mainly due to its defense.
Green Bay (4-2). Brett Hundley threw three interceptions in relief of Rodgers during Sunday's 23-10 loss at Minnesota. Rodgers was simply the best player in the NFC if not the NFL and replacing him will be virtually impossible. One has to wonder if the Packers can even make the playoffs now.
Carolina (4-2). The Eagles 28-23 win Thursday in Carolina was arguably their most impressive win of the year. What was most impressive is that the Eagles were able to overcome some questionable calls. They were penalized 10 times for 126 yards while the Panthers were whistled one time for one yard. QB Cam Newton, at times has looked like his former MVP self and other times has struggled. Against the Eagles struggled mightily, completing 28 of 52 for 239 yards, one TD, but three interceptions. The Panthers, who used to be known for their ground game, can't run the ball. They should improve offensively when tight end Greg Olsen returns from a broken foot, but right now, the Panthers, who already won at New England this season, are too inconsistent but can't be discounted as a challenger to the Eagles down the road.
New Orleans (3-2) The Saints have won three in a row after losing their first two games to Minnesota and New England. Drew Brees, with a 103.2 passer rating, is still lighting it up, but the defense leaves a lot to be desired. This is an interesting team that catches a break by getting to play at Green Bay this week in the Packers first game without Rodgers.
Atlanta (3-2) The defending NFC champs have lost two in a row and last year's MVP Matt Ryan has thrown six touchdowns and six interceptions. The Falcons have three straight road games at New England, the New York Jets and Carolina and we will know after this stretch if they are contenders or suffering too much from a Super Bowl hangover.
LA Rams (4-2). While QB Jared Goff has shown improvement under first-year coach Sean McVay, it's doubtful any team would have drafted him head of the Eagles Carson Wentz at this point. (Goff went No. 1 and Went No. 2 in the 2016 draft). This season Goff has eight TD passes, three interceptions and a 93.2 passer rating. Can he keep it up? The Rams two losses were to Seattle and Washington by a total of 13 points, so they have been competitive in every game and are vastly improved, but much more work has to be done.
Article continues below
---
advertisement


---
Author:
Marc Narducci
Archives
---
Planning for the Unpredictable
A Chain Reaction
South Jersey H.S. Football Games of the Week
Leading Business Attorneys 2021
South Jersey High School Girls' Soccer Preview
On the Right Track
No Easy Games For The Eagles
Eastern and Cinnaminson are top girls' and boys' seeds in South Jersey Soccer Coaches Tournament
Healthy People, Healthy Business
South Jersey highschool football games of the week
Best of Home and Garden
Back to School
Ready to Take Flight
Bishop Eustace's Danny O'Rourke a model of stability
Who's Who in Real Estate
More...