Winning Dishes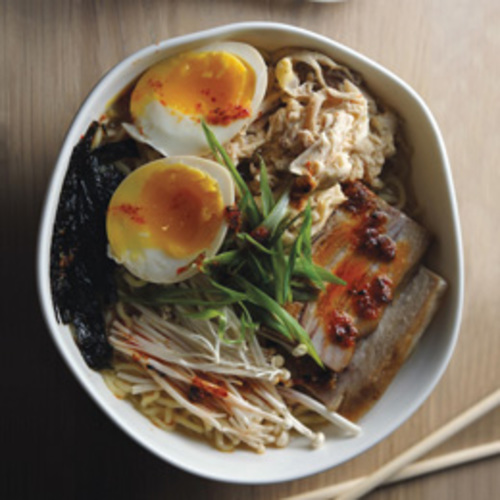 ...From the Pages of South Jersey Magazine...
ATLANTIC CITY HAS LONG BEEN A DESTINATION for gambling, entertainment and, of course, fine dining. But in recent times, the city has renewed its stake as a food destination, thanks to a collection of new restaurants and familiar favorites—not to mention plenty of culinary star power—that are helping change the way folks think about casino dining. Sure, there are still the buffets and the walk-up noodle bars, but more and more the dining scene in A.C. is taking new shape and cementing itself as one of the country's great food towns with modern spaces and inventive dishes. We ate our way from the Boardwalk to the marina and chose the meals (and a few drinks) that we feel showcase the best the city has to offer and found our luck is much better at these tables.
PHILADELPHIA STYLE STRIP STEAK
Bobby Flay Steak, Borgata
???? This whimsical homage to our area's beloved sandwich has been one of our favorite dishes for years now. The perfectly cooked steak can stand on its own, but the real fun comes by way of a silky provolone cheese sauce and sweet caramelized onions.
CHICKEN AND PORK RAMEN
Article continues below
---
advertisement


---

Okatshe, Tropicana
???? Ramen bowls—not just for college students—are one of the more complex comfort foods when done right, and at this Japanese restaurant, chef Jose Garces gives the dish a bit of culinary elegance. We love this version with a chicken and dashi broth, setting the stage for an amalgamation of poached chicken, marinated pork belly, vegetables, nori and egg.

PORK CHOP SICILIAN
Martorano's, Harrah's
???? Chef Steve Martorano prides himself on creating a menu of familiar favorites, and he doesn't disappoint with this 16-ounce center cut chop coated in a white wine and butter sauce. Mushrooms and peppers bring an earthiness to the plate while olives and capers give it a hit of salt.

DEVILED EGGS
Gordon Ramsay Pub & Grill, Caesars
???? A chef with multiple Michelin stars to his credit, Gordon Ramsay is known for taking traditional food to new heights. That is precisely what you'll find with an order of these organic deviled eggs finished with Maine lobster and caviar.

FRIED LOBSTER MAC AND CHEESE
Vic & Anthony's, Golden Nugget
???? Just when we thought we were over the whole lobster mac and cheese trend, this dish came into our lives. A deep-fried 5-ounce Maine lobster tail sits triumphantly atop corkscrew pasta coated in a sinful lobster cheese sauce for a unique take on a steakhouse staple.

BOURBON BROWN SUGAR GLAZED BEEF SHORT RIBS
Guy Fieri's Chophouse, Bally's
???? Served with a cannellini ragu and mixed vegetables, these short ribs are meaty, tender and get a lift thanks to the well-seasoned glaze. As if that weren't enough, the dish also comes with blackened day boat scallops for good measure.

FILETTO DI MANZO
Capriccio, Resorts
???? One of the most coveted cuts of meat, filet mignon's reputation precedes itself. Here, an 8- ounce filet is delightfully seasoned and skillfully prepared, topped with a green peppercorn sauce, garnished with red pepper and onion and plated alongside smashed olive oil potatoes.

SUSHI
Izakaya, Borgata
???? Chef Michael Schulson spent years living in Japan mastering the art of its cuisine and it all starts with his impressive array of ultra-fresh sushi and sashimi. You'll find the basics like spicy tuna and California rolls, but this is the place to get outside of the box with standouts like fluke with spicy daikon or golden eye snapper with a citrus chili paste.

LONG BONE OSSO BUCCO MILANESE
Il Verdi, Tropicana
???? Served over a bed of saffron-parmesan risotto, this veal shank is braised low and slow and is tender as baby fat, falling apart at even the slightest touch of a fork.

SMOKED SALMON PIZZA
Wolfgang Puck American Grille, Borgata
???? This decadent wood-fired pizza is one Wolfgang Puck first introduced at his iconic Beverly Hills hotspot Spago in 1982. Salmon that has been smoked in-house finds harmony with a dill crème fraîche, fresh chives and caviar. One bite and you'll instantly know why this menu item has stood the test of time.

BLACK SESAME CHEESECAKE
Buddakan, Caesars
???? Stephen Starr restaurants are known for their inventive, if not mouthwatering, desserts and this sweet finale is no exception. The standard New York cheesecake is reimagined with a chocolate sesame sauce and a toasted marshmallow ice cream only adds to the quirky nature of this dessert.

HOT CHOCOLATE LAVA CAKE
Chart House, Golden Nugget
???? Few things are as enticing as cutting into this warm chocolate cake and seeing the Godiva liqueurinfused center spill out onto the plate. Served with ice cream (sub the vanilla for peanut butter), crumbled pieces of Heath bar and generous amounts of chocolate sauce, this is a great encore to any special evening.

DUCK CONFIT TACOS
Veracruz, Harrah's
???? Succulent duck cooked in its own fat is enough to get our attention, while the pineapple pico de gallo and pickled onions add an acidic element that brightens everything. Sounds rather simple? Yes, but these tacos are far from pedestrian.

MACARONS
Borgata Baking Co., Borgata
???? Pastry chef Thaddeus DuBois once served up sweet treats for President George W. Bush while working in The White House kitchen. Lucky for us, he's traded D.C. for A.C. His French macarons are light and airy and come in a variety of flavors that make it hard to choose just one. But … if we have to, we'll go with the coconut.

FILETO DI BRANZINO
Grotto, Golden Nugget
???? A tantalizing tomato-fennel broth sets the stage for this plate that also features tender Swiss chard and wonderfully cooked Mediterranean sea bass, which is topped with a fennel salad to bring synonymous balance to the dish.

CONTROFILETTO CURATO
Betty's Back Room, Caesars
???? A somewhat secret hideaway inside Nero's Italian Steakhouse, Betty's Back Room features its own standout menu that is reminiscent of A.C.'s storied past. Our go-to order is this dry aged, 24-ounce center cut sirloin steak served simply with mushrooms and steak fries.

PAPAS RELLENAS
Cuba Libre, Tropicana
???? These highly addictive potato croquettes are stuffed with a beef hash and set in a pool of a sweet and spicy pepper sauce, covered in a creamy cheese sauce and garnished with crispy onion straws.

COCONUT PARFAIT
Olón, Tropicana
???? A dessert that looks like it could hang in a museum; this is one you won't soon forget. The coconut pairs nicely with a pistachio cream and tiny mango pearls add some tropical notes.

PACCHERI LOBSTER FRA DIAVOLO
Angeline by Michael Symon, Borgata
???? Wide tubes of fresh pasta are coated in a fiery tomato sauce and tossed with chunks of meaty lobster for a simple-yetsophisticated dish that packs plenty of heat without being overpowering. You'll want to savor every forkful.

BLUE-SABI CHICKEN SANDWICH
Guy's Bar-B-Que Joint, Bally's
???? Guy Fieri takes the traditional buffalo chicken sandwich and gives it his own stamp with this creation that consists of pulled chicken that's been dry rubbed and smoked, hot sauce, blue cheese crumbles and Fieri's own bluesabi sauce—a mixture of wasabi powder, blue cheese, sour cream, mayo, Worcestershire, white wine vinegar, Tabasco and buttermilk.

GLAZED DOUGHNUT ICE CREAM SANDWICH
Old Homestead, Borgata
???? Scoops of coffee and vanilla ice cream are drizzled with butterscotch before being nestled in between a halved doughnut, topped with whipped cream and finished with chocolate sauce and chocolate shavings for an indulgent dessert that feels right at home at this upscale steakhouse.

FRIED CHICKEN BENEDICT
Coastal Craft Kitchen & Bar, Harrah's
???? In a dish that would appear straight out of low country, this clever brunch offering starts with chicken thighs that have been brined in buttermilk and fried. The crispiness of the juicy chicken and the runniness of the eggs make for compatible partners, but the homemade buttermilk biscuits and the spiced-up Hollandaise bring everything full circle.

MILKSHAKES
AC Burger Co., Harrah's
???? You can order a standard shake here, but where's the fun in that? Instead, opt for one of the more creative selections that come topped with everything from York Peppermint Patties, cinnamon pastry and an ice cream sandwich. Excessive, opulent and downright delicious.

COCKTAILS
These lucky libations are a sure thing
? ? ? ?

SUNBURN
Sunroom Lounge, The Water Club
This vibrant cocktail features mango vodka mixed with Grand Marnier and Domaine de Canton to create a well-balanced flavor profile and mouthfeel.

FLIGHT OF THE CONDOR
Bar Olón, Tropicana
This stylish libation is a lesson in modern mixology. Pisco, a brandy with origins in Peru and Chile, is combined with roasted pineapple, lime and egg white; the latter of which gives the drink a silky texture and added layer of dimension.

Published (and copyrighted) in South Jersey Magazine, Volume 14, Issue 8 (November, 2017). 

For more info on South Jersey Magazine, click here. 
To subscribe to South Jersey Magazine, click here. 
To advertise in South Jersey Magazine, click here.

Author:

Peter Proko
Archives
---
Best of the Shore 2017
More Articles