South Jersey Football Playoff Preview: Friday Games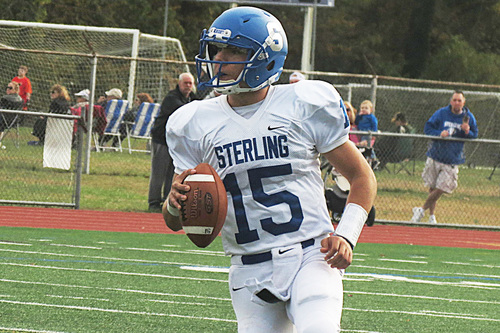 It's the opening of the playoffs in South Jersey football where teams need to win three games to a sectional title. Here is a look at all of the Friday games involving teams from the seven-county South Jersey area.
All Friday games begin at 7 p.m.
SOUTH JERSEY GROUP 5
No. 8 seed Vineland (7-1) at No. 1 Lenape (7-1). Vineland has not played a strong schedule (no fault of the Fighting Clan). Last week Vineland suffered a 14-0 loss to the best team it has faced, St. Augustine. Still, this might be the most dangerous No. 8 seed in South Jersey. Lenape will rely on a ground game led by senior JoJo Kellum, who has rushed for 1,107 yards (9.7 avg.) and 21 TDs.
No. 5 Cherokee (6-2) at No. 4 Howell (8-1). Howell is guide by Luke Sinkhorn, the former head coach at New Egypt. Quarterback Edwin Morales III has completed 71.1 percent of his passes for 1,654 yards and 20 touchdowns and has run for 651 yards (8.3 avg.) and seven scores. The Rebels' only loss is to 9-0 Manalapan. Cherokee won the WJFL American Division with last week's 24-17 win over Williamstown. Senior QB Jack Walters has completed 59.3 percent of his passes for 1,297 yards and 10 TDs.
No. 6 Williamstown (4-4) at No. 3 Millville (8-0). This is a regular season rematch with Millville winning 28-17 on Sept. 29. Millville is the defending SJ Group 5 champion and has won nine in a row and 16 of 17 dating back to last season. Williamstown has played a difficult schedule, losing the past two weeks to Timber Creek and Cherokee.
No. 7 Eastern (5-4) at No. 2 Rancocas Valley (7-1). Eastern, which is probably a year ahead of schedule under first-year coach John Doherty, has slumped after opening the season 4-0. The Vikings will no doubt be the underdog against an RV team that suffered its first loss in last week's 30-24 defeat at Group 2 contender Camden. RV senior Iverson Clement has rushed for 897 yards (6.3 avg.) and nine TDs.
SOUTH JERSEY GROUP 4
No. 8 Pennsauken (3-5) at No. 1 Moorestown (8-1). After going 5-5 last year, Moorestown is among the most improved teams in South Jersey after going 5-5 last year. The Quakers have won four in a row since their only loss, 30-20 to SJ Group 3 qualifier Woodrow Wilson. Pennsauken is looking to regain momentum after losing four of its last five following last week's 13-12 loss to Seneca.
No. 5 Absegami (4-4) at No. 4 Shawnee (5-3). Forget about the seed, Shawnee is a very dangerous team and has the ability to win Group 4. QB Colin Wetterau has completed 105 of 170 for 1,655 yards and 15 TDs, while North Carolina State commit Daevon Robinson has 32 receptions for 477 yards and 5 TDs. Absegami is riding a three-game winning streak following last week's 34-27 win over Mainland.
No. 6 Hammonton (3-6) at No. 3 Central Regional (7-2). Hammonton got in by playing a difficult schedule in the WJFL American Division. The Blue Devils have lost six of their last seven. Central Regional, which opened its season with OT wins over Southern and Toms River East, has won four in a row.
No. 7 Highland (4-4) at No. 2 Burlington Twp. (6-2). Burlington Township is well rested after having a bye last week. The Falcons leading ground gainer is sophomore Semi Robertson who has gained 600 yards (4.1) avg. and eight TDs. Senior Kedin Pegram is a big-play performer with 15 receptions for 335 yards and four TDs. Highland is coming off a 10-0 loss to Bishop Eustace. The Tartans have been in every game this season, with the biggest margin of defeat, a 29-14 loss to SJ Group 2 qualifier Sterling.
SOUTH JERSEY GROUP 3
No. 8 Seneca (3-5) at No. 1 Timber Creek (8-0). Seneca needed a 13-12 win over Pennsauken to earn the eighth and final playoff spot. Timber Creek is the two-time defending SJ Group 4 champion. Last week QB Devin Leary set the state career record with his 97th TD pass. The Chargers have the current longest win streak in South Jersey, 24 games.
No. 5 Ocean City (6-2) at No. 4 Delsea (6-3). Delsea has been to five consecutive sectional finals, winning four straight Group 3 championships before losing 20-7 to Wall in last year's title game. Junior fullback Aidan Borguet is among the top running backs in South Jersey. He has gained 1,659 yards (11.4 avg.) and 22 TDs. Ocean City, which went 6-4 last year, had its five-game win streak snapped with last week's 46-7 loss to unbeaten St. Joseph.
SOUTH JERSEY GROUP 2
No. 8 Pleasantville (7-1) at No. 1 West Deptford (7-1). In 2015 Pleasantville was 0-10 and now the Greyhounds are in the postseason, facing the defending SJ Group 2 champs. West Deptford, which has been banged up, still shouldn't relinquish its title easily. Junior Ken Lim, who missed about a month due to injury, returned for last week's 49-0 win over Collingswood. He has rushed for 761 yards (9.8 avg.) and 8 TDs.
No. 5 Willingboro (7-2) at No. 4 Cedar Creek (7-2), Saturday: Willingboro is hot, having won seven in a row. Cedar Creek lost to West Deptford in last year's sectional final. Last year Cedar Creek beat Willingboro, 27-26 in the semifinals. Group 2 is so deep that nobody would blink if either of these teams advanced to the final.
No. 6 Haddonfield (5-3) at No. 3 Sterling (7-1), Friday: These two teams just met on Saturday with Sterling winning 37-19 as senior C.J. Barrett completed 8 of 15 for 259 yards and four TDs, giving him 13 TDs passes on the season. He also rushed for 60 yards on 11 carries. Haddonfield is banged up, but junior QB Jay Foley should keep the Bulldogs competitive.
No. 7 Cinnaminson (6-2) at No. 2 Camden (7-1), Nobody wants to face Camden, whose only loss is to Non-Public 3 qualifier Camden Catholic. Senior Najyere Edwards has rushed for 941 yards (7.4 avg.) and eight TDs. Then again, Cinnaminson could be among the most dangerous No. 7 seed. The Pirates are the only team to beat West Deptford and enter the postseason on a five-game win streak.
South Jersey Group 1
No. 6 Woodstown (4-4) at No. 3 Gateway (7-1). Gateway, which just missed qualifying for the playoffs last year and finished 4-6, is among the more improved teams in South Jersey. The Gators only loss was 21-14 to top seeded Paulsboro. Woodstown will benefit from playing a difficult schedule in the WJFL Diamond Division. The Wolverines are coming off a 40-22 loss to high-scoring Penns Grove. QB Cody Wolf is a running threat. He has rushed for 516 yards (6.1 avg.) and seven TDs.
CENTRAL JERSEY GROUP 1 (only including teams from the seven-county SJ area)
No. 8 Asbury Park (5-3) at No. 1 Burlington City (7-1). Burlington City rebounded from a 32-8 loss to SJ Group 1 qualifier Gateway to defeat Riverside, 60-0. It was the fifth tine the Blue Devils have scored 40 or more points. Asbury Park will be dangerous. The Bishops have played a difficult schedule and lost their three games by a total of 10 points
No. 6 Florence (4-4) at No. 3 Bound Brook (7-2). Florence earned a berth with last week's 35-19 win over New Egypt, which also eliminated the Warriors from playoff contention. It's been an up and down season for Florence, which hasn't lost more than one in a row or won more than one in a row.
NON-PUBLIC GROUP 2
Gloucester Catholic (5-3) at Holy Spirit (7-1). The visiting Rams, who had consecutive 0-10 seasons in 2014 and 2015, have bounced back strong. They enter the postseason on a three-game losing streak and face a Holy Spirit team capable of winning it all. Spirit QB Josh Zamot has completed 64.5 percent of his passes for 1,056 yards, 14 TDs and just one interception. He has rushed for 567 yards (6.0 avg.) and 9 TDs.
NON-PUBLIC GROUP 3
No. 5 Camden Catholic (7-1) at No. 4 St. John Vianney (9-0). This is a rematch of last year's first round game that St. John Vianney won 33-13. Senior RB-LB Marcus Hillman has played at a high level on both sides of the ball and has rushed for more than 1,000 yards. St. John Vianney senior QB Haaziq Daniels has completed 64.5 percent of his passes for 1,002 yards and 14 TDs. He has rushed for 477 yards (10.8 avg.) and 7 TDs, while senior Johnny Buchanan has rushed for 1,012 yards (9.8 avg.) and 14 TDs.
Article continues below
---
advertisement


---
Author:
Marc Narducci
Archives
---
Seizing the Opportunity
What's on Your Mind
In the Groove
We're Number One?
Prime Performer
Best of the Best 2021
Land of the Free
Brooklawn fall one game short of an American Legion state title
Can't Hack It
Ben Simmons uncomfortable stay with the 76ers
Filling a Critical Void
Out and About
Flyers reshape team
Power 50
A strong showing by South Jersey products in the MLB Draft
More...