Eagles Should Enjoy a Well-Deserved Bye Week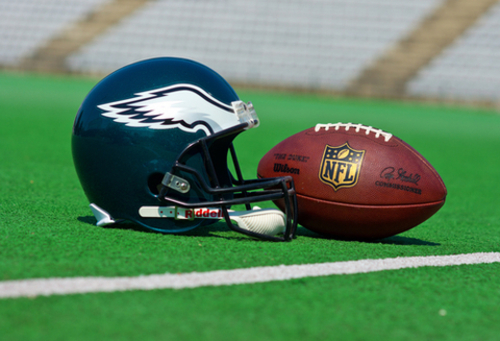 It's easy to get carried away with what the Eagles have done to this point, but past the midway point of the NFL season, they have simply been the best team.
At 8-1, it will be difficult for the Eagles not to earn home field advantage in the playoffs. What has become apparent is the Eagles have zero problems with mediocre teams. Sunday's 51-23 win over the Denver Broncos, was a game that wasn't as close as the score indicated and the score wasn't very close. Denver came into the game with the NFL's top defense and departed giving up more than half a hundred.
The Eagles have a bye week to enjoy their success, but more likely looking at ways to improve. Some might pick apart the schedule, but the Eagles can only play what is in front of them. Yes. They only have one win over a team with a winning record, a Thursday night 28-23 win at Carolina, which is 6-3. There are two wins over a 4-4 Washington Redskins team, and another over a 4-4 Arizona squad, with the other four victories over sub .500 teams.
Yet in today's NFL, there are very few great teams. In the NFC, how many teams can fit the "great description? There are three 6-2 teams, Minnesota, New Orleans and the Los Angeles Rams. Seattle and Dallas are 5-3. Are any of them great?
If the Eagles winning continues, they will have home field advantage throughout the playoffs. Think anybody wants to trek to Philadelphia in January, not only to deal with the Eagles, but their rabid fans?
One game past the midway point, quarterback Carson Wentz has to be the NFL leader for midseason MVP. He has completed 60.5 percent of his passes for 2,262 yards, 23 touchdowns and five interceptions. The only negative is that he has been sacked 23 times, but as mentioned before, much of that is because Wentz often extends plays, and thus has a great chance of being sacked. With a playoff berth virtually assured already, Wentz may want to think about not taking so many chances running the ball.
And the Eagles only got stronger when they acquired running back Jay Ajayi during the week of the Denver game for a fourth-round pick from Miami. He is 24, and has been to one Pro Bowl and is under team control on his rookie contract for next year. The fact that he ran for 77 yards and a TD on just eight carries in his debut at Denver after only being with the Eagles for a few days, was truly impressive. The Eagles now have depth on both sides of the ball. In fact tight end Zach Ertz didn't play against Denver due to a hamstring injury. Ertz, who is having a Pro Bowl caliber season, wasn't missed against the Broncos. The defense keeps improving, especially with the development of cornerback Jalen Mills.
The Eagles are probably one team that doesn't want the bye to come, but they know they need a breather to gear up for a second half of a season, where the only goal is clinching home field advantage throughout the playoffs.
Article continues below
---
advertisement


---
Author:
Marc Narducci
Archives
---
South Jersey Happy Hour Guide
Whole Hearted
Fully Focused
Giant Steps Forward
Defying History
Names to Know
The King of Rambling
6 Tips on a Restart for Your Finances
Staying the Course
A Burning Desire
Getting Personal
On the Home Front
Positive Energy
On the Move
Colleges and COVID-19
More...