For the Love of the Game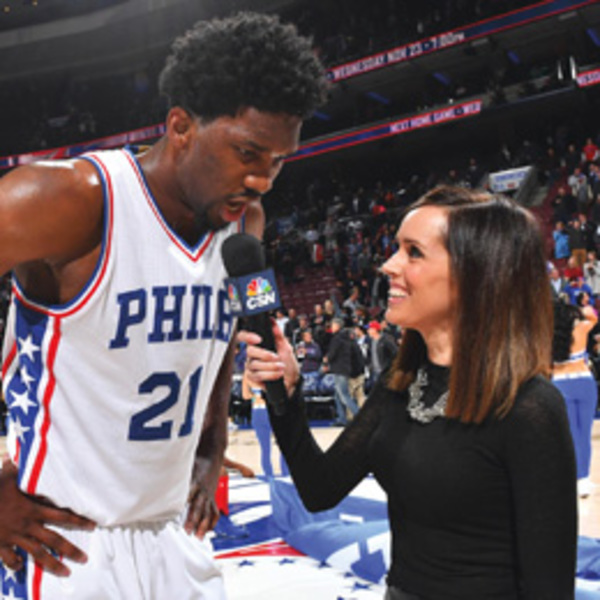 ...From the Pages of South Jersey Magazine...
Molly Sullivan grew up a basketball junkie who would often spend commercial breaks giving faux news reports on the game to her parents. She idolized Larry Bird and Michael Jordan, but also former NBA Inside Stuff host Summer Sanders. And after stints working in public relations and as a TV news production assistant in her hometown, Sullivan finally landed her dream job when she joined NBC Sports Philadelphia (formerly Comcast SportsNet) in 2012 as the Philadelphia 76ers sideline reporter.
Now in the midst of her sixth season covering the team, Sullivan has seen the difficult stretch the team went through the past few years and is excited by what the future holds for the franchise overridden with young, potentially all-star talent. "I used to say anyone can cover a winning team," Sullivan says. "My job was pretty challenging … but, it's pretty rewarding. I've been in the trenches, I travel with the team. I see the hard work, the sweat and the tears when the cameras aren't rolling."
The Las Vegas transplant has found a second home here, saying she immediately fell in love with the area and the fans, especially after meeting Sixers legend Julius "Dr. J" Erving for the first time. "Dr. J turns to me and says, 'Molly, if you can make it in Philly as a player, a reporter, whatever; you can make it anywhere,'" she recalls.
A former standout swimmer for the University of North Carolina, Sullivan spoke to us about moving East, how she works hard to make sure people don't tune her out and why she hopes to inspire the next generation of female broadcasters.
So you're not originally from our area, but it sure seems like you've found a home here.
Article continues below
---
advertisement


---

I love the people. Truly, I was talking the other day to someone, and as cheesy as it may sound I feel like I was built for Philadelphia. I work for the person on the other side of the TV. I've had opportunities to go elsewhere. I moved my parents here [from Las Vegas], they now live in South Jersey. Who retires and leaves Las Vegas?

Aside from going to visit your parents and spending time at the team's training complex in Camden, where else might you be spotted in South Jersey?
We go to the Shore every weekend in the summer. That's our favorite thing to do in the summer. With South Jersey there's something special; it's one big community.

You swam in college at the University of North Carolina, what was that experience like?
The mile was my forte. I won [the] Atlantic Coast Conference [title as a freshman] in it and went to Olympic Trials. On my recruiting trip they took me to a basketball game, the Dean Dome was connected to the pool. I said, 'Where do I sign?' There was something special about the unity of the studentathletes there. When I was swimming, I was often in the training room and then [I would] sneak my way into the basketball arena and if ESPN was setting up, I would be asking questions and getting my own little scouting reports. Basketball is my first love. I'm an only child and all I did growing up was watch the NBA. To be doing what I am doing now is a dream come true.

Outside of an athletic connection, are there any parallels you can draw between how you prepare for swimming and how you prepare for your job now?
I'm able to read a situation. If it's postgame and they lost by 40 or won on a buzzer-beater, I've been in that elite situation; I understand [how to approach things].

What is an aspect of your job that you wished more people understood? It's not as easy as one would think, I imagine.
I overprepare; I may have a reputation around the league that I take the most notes. I read a lot—probably too much—the national heavy hitters, the beat guys too. They are there when the lights are not the brightest. I grew up in a household where my father would mute the TV when he thought sideline reporters didn't add anything to the broadcast. I hustle and my goal is to not have viewers hit mute. My dad keeps me on my toes if I fumble during a broadcast. As an athlete, I crave that feedback. I love it. As a sideline reporter, I take that role extremely serious.

You've been mentioned in a few of those sexiest sportscaster lists. Are you appreciative of that kind of acknowledgment or do you see it as hindering how you'd like to be respected in the profession?
I've been doing this 10 years now and perhaps when I was younger it might rattle me a little bit. [At that time] I was working so hard to prove myself, but I had long blonde hair, my wardrobe choices were questionable; I was trying to be someone who I wasn't. Playboy calls me a sexy sportscaster. I look at that as a challenge, OK, I'm going to prove myself. [But] there are worse things to be called.

How have you been enjoying motherhood?
It's a whirlwind, [my daughter is] 17 months now. There's not a better title in this world. I have so much newfound respect for all the moms and dads, it brings so much joy to my life. If I have a tough day, Isabella brings perspective to everything.

What kind of hobbies or interests do you have when you're not working and looking after the little one; how do you like to unwind?
I love running; it's kind of my outlet. I don't swim anymore. Hopefully I'll get back into the pool. Every Olympic year I try it and I get lapped by an 80-yearold. I can't do it half way. Outside of that, I try to cram in as much family stuff as I can.

You were inspired by fellow female broadcasters like Summer Sanders and ESPN's Doris Burke. Have you gotten the chance to interact with either of them?
It's funny, last season was the first time I crossed paths with Doris Burke, after all these years. I went up to shake her hand and introduce myself and she said, "Molly, I love your work," and she went into a story that I did from a previous game and it was one of those moments I wished I could have bottled up. No one is better than Doris Burke. I don't take myself seriously, but boy do I take my job seriously. I'm constantly studying. You watch how she handles this or that. You look at old tape; reporters are just like athletes, I'll watch tape in the summer. That is where you make your money, that is where you improve.

Do you hope to inspire other young women like those ladies did?
Absolutely, that's what it's all about. I want my daughter to understand the power of sports and how much it taught me and made me who I am today. I didn't have many female mentors growing up or even embarking in the business.

I'm not sure exactly how tall you are, but do you ever find it a bit funny when you see yourself on camera standing next to a 7-foot Joel Embiid?
[Laughs] Joel will kneel down to me and I'm like, I can hang with the big boys, I can reach up there.

Published (and copyrighted) in South Jersey Magazine, Volume 14, Issue 8 (November, 2017). 

For more info on South Jersey Magazine, click here. 
To subscribe to South Jersey Magazine, click here. 
To advertise in South Jersey Magazine, click here.

Author:

Peter Proko
Archives
---
More Articles