South Jersey Football Championship Preview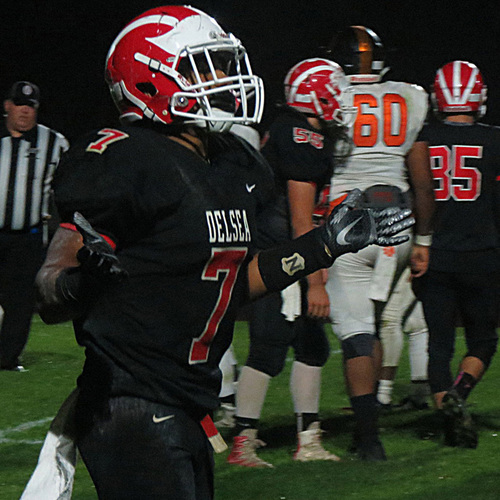 In this weekend's South Jersey football championships, there are four rematches from the regular season. Some are expected to be nail-biters and others are expected to be the opposite. Either way, it should be a great weekend of games. We will preview them in two parts, with Saturday's first.
Saturday Dec. 2
AT ROWAN 
South Jersey, Group 3, 11 a.m.
(4) Delsea (8-3) vs.  (2) Woodrow Wilson (8-3).
On Oct. 27 Delsea beat visiting Woodrow Wilson, 43-12. That is why the Crusaders are favored to win their fifth title in the last six years. In that game, Delsea junior Aidan Borguet rushed for 207 yards and five touchdowns on 27 carries. Tymir Kizzee rushed for 69 yards and one touchdown on eight carries. In short, Wilson had a great deal of trouble with Delsea's ground game.
Join the club.
Everybody struggles stopping Delsea. Even in an opening 39-36 loss to Timber Creek, the Crusaders rushed for 438 yards. Borguet set a single-game school record with 366 yards while scoring three touchdowns.
That is interesting to note because Delsea had to beat a 9-0 Timber Creek team to reach the South Jersey final. Not only did Delsea snap the Chargers 25-game win streak with a 41-30 semifinal win, but the Crusaders rushed for 339 yards (6.2 avg.) and 5 TDs.
In short, stopping Borguet and the Delsea running game is the key for Wilson to be competitive. Borguet is averaging a first down every carry. That's right, he has rushed for 2,112 yards and 26 touchdowns, averaging 10.0 yards per carry.
Woodrow Wilson has some great weapons such as Travon King, a big-play receiver/defensive end who has committed to Rutgers. Junior quarterback Nick Kargman has run the offense well. The Delsea defense gave Kargman and Wilson trouble the first time. Whether the Tigers can regroup from that first game will be the key.
South Jersey, Group 1, 2:30 p.m.
(1)Paulsboro (9-2) vs. (2) Penns Grove (10-1). Paulsboro is the defending South Jersey champ and is coming off Saturday's hard-fought 35-26 loss to SJ Group 2 finalist West Deptford. The key will be whether Penns Grove can stop the running of Dehron Holloway. He has rushed for 1,670 yards (8.0 avg.) and 23 TDs. Senior quarterback Colin McCarthy has thrown for 1,522 yards and 23 TDs.
As good as the Paulsboro offense is, the Red Raiders can't get into a shootout with Penns Grove. Senior Nasser Bateman is Paulsboro's leading tackler, averaging 11.2 per game, while junior Santino Morina has a team-high 10 sacks.
Paulsboro will have to be sure-tacklers against one of the most explosive offenses in South Jersey. Penns Grove is averaging 46.8 points per game. The key is stopping 6-2, 220-pound junior Tyreke Brown, who sat out Penns Grove's 34-21 Thanksgiving eve win over Pennsville to rest a thigh injury. Brown has rushed for 523 yards (10.3 avg.) and 12 TDs. He has 41 receptions for 1,093 yards and 14 TDs and at times lines up at quarterback.
Penns Grove has a more than capable QB in sophomore Kavon Lewis, who has completed 72 percent of his passes for 2,815 yards and 32 TDs.
South Jersey, Group 5, 6 p.m.
(1)Lenape (10-1) vs. (2) Rancocas Valley (10-1).
This is a rematch of the regular season defensive struggle in which Rancocas Valley won, 10-7. Since then Lenape has won seven consecutive games, including a 45-0 win over SJ Group 4 finalist Shawnee on Thanksgiving.
This will be a game pitting two of the top running backs in South Jersey. Lenape's JoJo Kellum has rushed for more than 1,500 yards and 29 touchdowns. Rancocas Valley's Iverson Clement has rushed for 1,419 yards and 13 touchdowns.
Just like the first meeting, this figures to be a defensive struggle. Rancocas Valley has won one sectional title while Lenape has never claimed a sectional championship. Both teams have been among South Jersey's top programs in the last few years and the winner of this game could be a candidate to be the No. 1 team in South Jersey.
Article continues below
---
advertisement


---
Related Articles
---
Author:
Marc Narducci
Archives
---
More Articles