Losses to Pittsburgh and San Jose Continued Difficult Trend for Flyers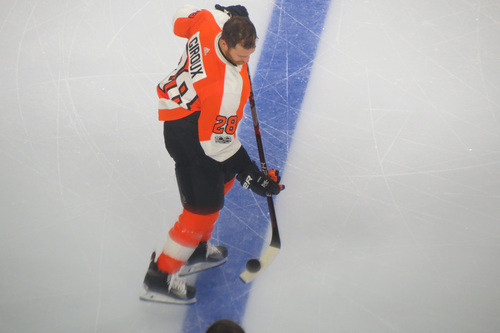 The Flyers inability to hold a multiple goal lead has been a big problem lately for a team that doesn't want to see its season slipping away before it gets to the midway point.
Monday's 5-4 overtime loss at Pittsburgh was the Flyers eighth consecutive defeat, but they have picked up five points in those games. (The losing streak went to nine games after Tuesday's 3-1 loss to visiting San Jose)
Against Pittsburgh, the Flyers led 3-1 after two periods. It was the fourth time in six games that the Flyers had squandered a two-goal lead.
The game against the two-time defending Stanley Cup champion Penguins was among the more exciting of the season.
It did appear that the Flyers ran out of gas late in the third period and in the overtime. And apparently this has been a trend during their losing streak.
According to the Flyers, over the course of the nine-game winless streak, they have trailed in first-period goals, 9-8. They have been even in the second period, 10-10. The Flyers, however have been outscored 10-2 in the third period.
The Flyers, who had trouble scoring, have opened things up recently. In four of the previous six games they have scored three or more goals.
The problem is that they have allowed four or more goals in four of six.
The only positive is that as difficult as the stretch has been, the Flyers (8-10-7) were only five points out of a playoff spot, 25 games into the season.
So the Flyers, while hitting a rough stretch, have more than enough time to recover.
The problem is that things are so tight in the NHL, that making up even five points can be difficult.
There have been a number of positives for the Flyers as they are past the quarter point of the season, with the biggest the return as a scoring threat of captain Claude Giroux.
In his first 25 games, he has 11 goals and 17 assists for 28 points. Last year while playing all 82 games, he totaled just 14 goals, along with 44 assists. He had a career-worst -15 plus-minus rating.
On May 17, 2016, Giroux had surgery to repair his right hip and an abdominal tear. He claimed heading into training camp that he was 100 percent.
Last March, Giroux said it really wasn't the case and that he was less than 100 percent entering the season. Again, Giroux played every game, but he was not the same player. It was no coincidence that he played his better hockey toward the end of the season
This season he has moved from center to left wing and it's been a positive move. With Giroux at left wing, Sean Couturier has shown that he can be much more than one of the better defensive centers in the NHL. He has been an outstanding two-way performer this season.
Nolan Patrick, the No. 2 overall pick in the NHL draft, has shown great potential, although having missed nine games due to a concussion has him still finding his game.
Goalie Brian Elliott, who played great despite allowing five goals against Pittsburgh, while making 47 saves, has been a solid addition.
The Flyers have a good mix of young players and veterans and have the ability to be a playoff team after missing the postseason last year. They will, however have to be better in late-game situations because giving away games like this in November can force a team' s season to end in the first week of April when the regular season concludes.
Article continues below
---
advertisement


---
Author:
Marc Narducci
Archives
---
Just Getting Started
South Jersey Coronavirus (COVID-19) Developments (January 14)
Big Season for Timber Creek grad Devin Leary of N.C. State
Camden-Lenape highlights the best of South Jersey boys' basketball
Just Getting Started
Growkowski, Jalen Hurts the two big keys in Eagles-Bucs playoff
Women to Watch 2022
Bringing out the Best
Top Children's Physicians 2022
Girls Basketball Tournament recap
Top Attorneys 2021
Stealing the Show
South Jersey Coronavirus (COVID-19) Developments (January 4)
Boys basketball tournament recap
Back on Top
More...