Delsea Completes Another Impressive Season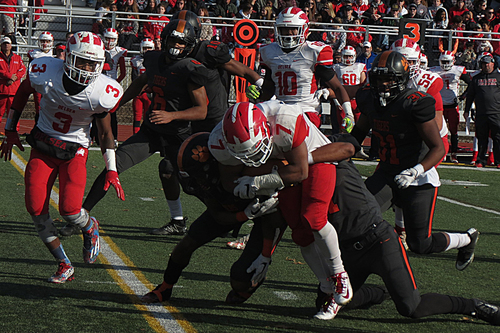 It's been an incredible run with little sign of slowing up. Delsea won its fifth South Jersey Group 3 football championship in the last six years with a 29-28 title game victory over Woodrow Wilson.
That ended the season with a 9-3 record and the Crusaders weren't that far from being undefeated.
They lost their opening game 39-36 to then No. 1 Timber Creek and then were assessed a forfeit because a player who should have been ineligible played in a 28-20 win over Cedar Creek.
That gave Delsea an 0-2 record to begin the season, but the Crusaders never panicked. In fact after a 49-7 win over Paul VI, Delsea fell to 1-3 when the Crusaders lost a 43-35 overtime decision to Holy Spirit.
Again, a 1-3, Delsea realized it wouldn't earn a high seed in the playoffs, but there was never a doubt that the Crusaders would qualify.
Delsea wouldn't lose the rest of the season although the Crusaders would be tested to the limit in the playoffs.
After an opening 56-34 win over Ocean City, Delsea had a rematch with top seeded Timber Creek, a two-time defending sectional champion, which entered the contest with South Jersey's longest then-current win streak of 25 games.
Quarterback Mason Maxwell picked an appropriate time to have his best game ever, especially considering the competition and what was at stake.
Maxwell ran for three touchdowns and threw two others. The second stat was significant because Delsea, is primarily a running team.
Junior fullback Aidan Borguet had his second straight big game against Timber Creek with 223 yards rushing and two scores.
In the opening loss to Timber Creek, Borguet gave an indication that he would be among the best running backs in South Jersey by rushing for a single-game school record 366 yards and scoring three touchdowns.
What made the playoff win over Timber Creek even more impressive is that not only was it on the road, but that Delsea had to overcome a 23-7 deficit midway through the third quarter.
That earned Delsea a rematch with Woodrow Wilson in the championship game. The Crusaders had beaten Wilson, 43-12 in the regular season and were prohibitive favorites.
Yet Delsea had some key injuries along the offensive line and Wilson showed incredible heart, overcoming a 15-0 deficit to take a 28-22 lead. Borguet's fourth quarter touchdown and Larry Holdcraft's extra point provided the winning margin.
Delsea was so close to being undefeated on the field. In addition to the forfeit loss, the opening game outcome wasn't decided until the Crusaders missed a 32-yard field goal with nine seconds left in regulation that would have sent the game into overtime.
In the game with Holy Spirit, the winning Spartans overcame a 35-21 deficit with five minutes left in regulation to send the game into overtime.
So Delsea was able to bounce back and win its fifth sectional title in the last six seasons under coach Sal Marchese, who also earned his 200th career win with the championship game victory over Woodrow Wilson.
Article continues below
---
advertisement


---
Author:
Marc Narducci
Archives
---
More Articles