Haddonfield-West Deptford Stage Yet Another Classic Football Game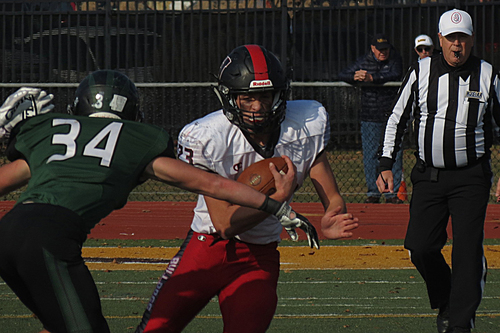 It's become one of the best rivalries in South Jersey and once again Haddonfield and West Deptford played a classic in this year's South Jersey Group 2 football championship at Rowan.
Trailing 17-7 later in the third period, Haddonfield came back for a 21-17 win over the Eagles, adding another chapter in this stirring rivalry.
Since the advent of NJSIAA playoffs in 1974, Haddonfield has won four South Jersey championships, all under current coach Frank DeLano and all since 2010.
Frequently, DeLano and Haddonfield have had to deal with West Deptford enroute to winning the title. What makes this rivalry so intense is that these two are usually battling for the division championship. Both were members of first, the Colonial Conference Liberty Division and then when the Colonial joined the West Jersey Football League, they became members of the WJFL Colonial Division.
Here is a look at the Haddonfield-West Deptford rivalry since 2010 with the playoff games in bold
2010
West Deptford, 31-28
Haddonfield, 16-8
2011
Haddonfield, 31-21
West Deptford, 22-14
2012
West Deptford, 25-12
2013
West Deptford, 31-14
Haddonfield, 21-9
2014
Haddonfield, 28-25 OT
Haddonfield, 27-0
2015
West Deptford, 10-0
2016
West Deptford, 48-14
2017
West Deptford, 17-14 OT
Haddonfield, 21-17
*playoff games
West Deptford is 7-6 over Haddonfield since 2010, but the Bulldogs are 4-1 against the Eagles in the postseason during this span. Since 2010, the two teams have met in the Group 2 championship game four times and Haddonfield is 3-1.
In this year's game, the winning score came on a 51-yard touchdown pass from Jay Foley to Drew Gavranich with 2 minutes and 36 seconds left to play.
Foley checked down and threw a short pass to Gavanich near the left sideline and the Haddonfield junior scampered the rest of the way to the end zone, tip-toeing the sideline, running past his own team's bench enroute to the score.
Then the Bulldogs sealed the win during the next series on an interception by Seamus Glennon.
Thus, Haddonfield ended the season 9-3. The Bulldogs weren't given much chance when they entered the playoffs on a three-game losing streak.
In fact the week before the playoffs, they lost 37-19 to Sterling. Then Haddonfield had to travel to Sterling for a first-round game played on a brutally cold Friday evening.
Haddonfield stunned the Silver Knights, 17-7 and then beat a red-hot Cinnaminson team, 35-8 in the semifinal before its classic win over West Deptford.
It must be noted that West Deptford was the defending SJ Group 2 champ, having gone 12-0 last year. In fact the Eagles had won 22 of their previous 23 games entering the final.
It was an excellent West Deptford team, which fought hard, even after losing standout running back Ken Lim to injury in the first half.
Both teams usually bring out the best in each other and that was the case in another classic in this must-see rivalry.
Article continues below
---
advertisement


---
Related Articles
---
Author:
Marc Narducci
Archives
---
Planning for the Unpredictable
A Chain Reaction
South Jersey H.S. Football Games of the Week
Leading Business Attorneys 2021
South Jersey High School Girls' Soccer Preview
On the Right Track
No Easy Games For The Eagles
Eastern and Cinnaminson are top girls' and boys' seeds in South Jersey Soccer Coaches Tournament
Healthy People, Healthy Business
South Jersey highschool football games of the week
Best of Home and Garden
Back to School
Ready to Take Flight
Bishop Eustace's Danny O'Rourke a model of stability
Who's Who in Real Estate
More...