No Question About South Jersey's Top HS Football Team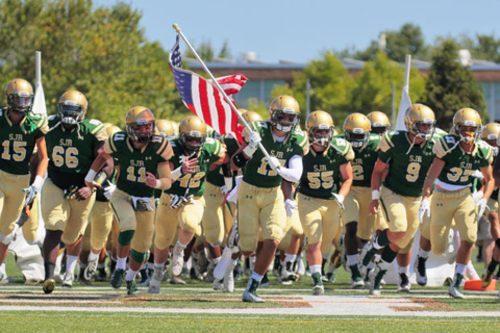 There was only one undefeated team in South Jersey football this season so it was no surprise that St. Joseph was the consensus choice to be the No. 1 team in the area.
The Wildcats, with one of the best football traditions in the state, went 12-0 for the first time in their illustrious history.
The reason St. Joseph has never been 12-0 is because usually the Wildcats have only had to play two playoff games to win a state title. This year they had to play three.
St. Joseph has also had four 11-0 seasons and one 10-0 campaign under legendary coach Paul Sacco.
What made this year more impressive is how the Wildcats bounced back from a subpar season (for them). In 2016 St. Joseph was 7-4 and lost to Mater Dei, 19-0 in the Non-Public Group 2 state semifinal. To show how rare a four-loss season was for St. Joseph, in the previous five seasons before 2016, the Wildcats lost a total of five games.
This was a team that had one of the most devastating running attacks in South Jersey, with senior Qwahsin Townsel and sophomore Jada Byers. Townsel rushed for 1,608 yards (6.8 average) and 31 touchdowns. Byers rushed for 1,554 yards (11.0 avg.) and 21 TDs. He also scored four other touchdowns on punt returns.
Both saved one of their best performances for their biggest win, a 30-14 victory over Mater Dei in the state Non-Public Group 2 title.
Townsel rushed for 232 yards and two touchdowns. Byers rushed for 199 yards and two scores. The two combined to carry the ball 58 times.
St. Joseph had really only two relatively close games. Even the state final wasn't as close as the score indicated, with Mater Dei trailing 30-6 before scoring the last touchdown of the game.
The biggest scare came in the second game of the year, a 42-26 victory over Holy Spirit. St. Joseph trailed by as many as 14 points in the first half, but then got momentum and couldn't be stopped.
The other relatively close game was a 22-10 victory over St. Augustine
Both of those regular season wins were redemption for the Wildcats, who lost to Holy Spirit, 17-14 in overtime last year and were soundly defeated by St. Augustine, 42-0.
Since the advent of NJSIAA state championships for Non-Public schools in 1993, St. Joseph has won 19 state championships. Sacco is one of two South Jersey coaches (along with Florence's Joe Frappolli) to have 300 wins.
With Byers leading the way, look for St. Joseph to be at the top or near it during next year's South Jersey preseason polls.
1. ST. JOSEPH (12-0)
Sept. 9 Mainland, 40-0
Sept. 15 at Holy Spirit, 42-26
Sept. 22 at Absegami, 42-3
Sept. 30 Pennsville, 53-0
Oct. 7 Oakcrest, 61-0
Oct. 13 at Allentown, 58-26
Oct. 21 at Cedar Creek, 33-0
Oct. 28 St. Augustine, 22-10
Nov. 3 at Ocean City, 46-7
Nov. 11 St. Mary Rutherford, 54-6 (NP Group 2)
Nov. 18 Immaculata, 64-26 (NP Group 2)
Dec. 3 Mater Dei, 30-14 (NP Group 2 at Rowan)
Article continues below
---
advertisement


---
Author:
Marc Narducci
Archives
---
More Articles