Man Wanted For Throwing Molotov Cocktail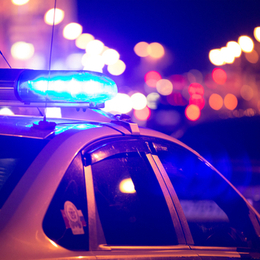 ATLANTIC COUNTY, N.J. (CBS) — Police in Atlantic County are looking for a man who they say threw a molotov cocktail at the Galloway Township Police Department station.
The incident happened 6:30 p.m. Tuesday, when the suspect allegedly went to the lobby of the station, took out a glass bottle containing what police assume is petroleum-based accelerant, attempted to light it and threw at the entrance of the station, police say.
It did not ignite but there were several officers and a citizen present at the time of the incident when the glass shattered and the contents within spilled onto the floor.
No injuries were reported.
Police say the suspect was last seen headed in the area of Jimmie Leads Road.
The suspect is described as a white male, mid to late 20s, 5-foot-7-inches, with a pale and thin face, scruffy brown or ginger facial hair, wearing a brown or tan jacket with a checkered pattern, a gray hooded sweatshirt with the hood up and dark pants.
Anyone having information regarding this incident or able to identify the suspect is asked to call Joseph Picardi at 609-652-3705 (ext. 327).

Author:
http://philadelphia.cbslocal.com/2017/12/14/man-wanted-for-throwing-cocktail/
Archives
---
South Jersey Magazine Digital Edition
South Jersey Man Survives 'Friends' Lighting Him On Fire In Sleep
Man 'Executed' Woman He Met On Marketplace App To Buy Cellphone
Two Families Displaced, Four Townhouses Damaged In Sicklerville Fire
New Jersey Man Gets Life Without Parole In Murders Of Woman, Baby
NJ Mother Who Smothered 3-Month-Old Baby After Heavy Drinking Gets Prison Time
12 Arrested In Trafficking Untraceable 'Ghost Gun' Assault Rifles, Drugs, New Jersey Attorney General Says
3 Confirmed Measles Cases In Lakewood
Nearly $2 Billion Wagered On Sports In New Jersey In Nine Months
Woman Charged With Animal Cruelty After Emaciated Dog Found Eating Carcass Of Another Dog
Search Continues For Killer After 21-Year-Old Woman Fatally Shot Inside Car In Willingboro
Homeless Veteran Johnny Bobbitt, Katelyn McClure Plead Guilty For Roles In $400,000 GoFundMe Scam
Fire Damages Pizza Restaurant In Gibbstown
Serious Injuries Suffered In Multiple-Vehicle Crash On South Black Horse Pike In Gloucester County
Arena Football League Officially Coming To Atlantic City
More Articles