A 2018 Look at the Eagles, Sixers, Phillies and Flyers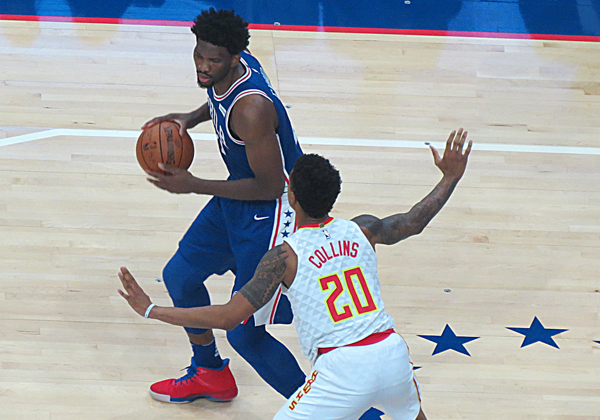 Philadelphia sports fans endured plenty of losing over the past year(s) and 2017 was no exception. Of course the Eagles turned the corner, provided a 13-3 record and enter the NFL playoffs as the No. 1 seed. So maybe things are changing for the locals? Here is a look at all four teams heading into 2018 and what to look for.
Eagles
While many of the national pundits are counting the Eagles out due to their recent offensive inefficiency, it must be noted that opponents attempting to win a January game in likely frigid Philadelphia, won't be any picnic either.
That said, so much will be put on Nick Foles and rightly so. He didn't look good against Oakland on Christmas evening and his one quarter against Dallas on New Year's Eve was less than inspiring.
It's thought that for the Eagles to advance, their defense and special teams will have to be dominant, but Foles will have to be better as well. He is not the sole reason for the offense's slump, but his inability to find wide receivers and his penchant for ill-advised throws, has Eagles fans fretting.
That is why when the Eagles finally take the field on Saturday Jan. 13 for their first playoff game, all eyes will be on Foles.
It says here it's too early to jump off the Eagles bandwagon, but not too early to be worried.
76ers
The Sixers ended 2017 with back to back wins in Denver and Phoenix. This is a team capable of making the playoffs and quite frankly will be a major disappointment if they don't. So much rests with Joel Embiid.
Through the first 36 games, the Sixers were 15-12 with Embiid in the lineup and 2-7 without him.
He is averaging 24 points, 11 rebounds and two blocked shots, which if he can stay healthy, Embiid should make the first of many all-star teams.
Phillies
There is the thought that the moves that GM Matt Klentak has made, signing first baseman Carlos Santana for a three-year, $60 million contract, signing relievers Pat Neshek and Tommy Hunter, that the Phillies rebuilding process is speeding up.
The Phillies are attempting to copy what many other teams short of starting pitching are doing – building a strong bullpen to make up for a weak starting staff.
Still, the Phillies will need to bolster a starting staff that beyond Aaron Nola. They certainly appear improved. Challenging for a playoff spot is still premature, and even getting to .500 after last year's 66-96 record will e challenging. The Phillies have gone six years without making the playoff, the last five without winning more than 73 games. Improvement is likely this year and with the Phillies itching to spend on future free agents, the future could be bright.
Flyers
This is a confounding team and the recent two-game trip to Florida was a classic example. After laying an egg in a 3-2 loss at Florida, the Flyers won 5-3 the next night Tampa Bay, which took the NHL's best record into the matchup.
The Flyers have done better against elite teams and have at times let their guard down against the lesser lights.
Claude Giroux and Jake Voracek have enjoyed bounce-back seasons and should be all-stars. The Flyers, despite an earlier 10-game losing streak (which they were able to still accumulate five points), entered the New Year four points out of the second wild card spot.
They have plenty of time to make up ground, although one has to wonder if goalie Brian Elliott, will have much left in the tank. The win against Tampa Bay was his 13th consecutive start and the Flyers will have to find some games to give him a break.
After missing the playoffs last year, the Flyers should be disappointed if they aren't in the postseason. GM Ron Hextall has done a good job of rebuilding while being competitive and he has a team more than capable of making the playoffs.
Article continues below
---
advertisement


---
Author:
Marc Narducci
Archives
---
More Articles