Impressive New South Jersey BBall HOF class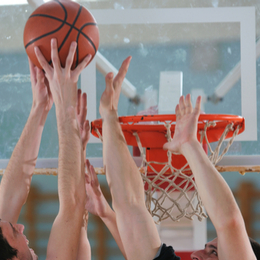 The Albert Carino Basketball Club of South Jersey will induct eight in its latest Hall of Fame Class. The induction ceremony is 5:30 p.m. on Sunday Feb. 11 at Cherry Hill's Crowne Plaza.
Here are the inductees:
Chris Carideo (St. Augustine). A 1991 graduate, Carideo was a two-time first-team all-Cape Atlantic League selection for the Hermits.
He then enjoyed a prolific career at Widener, capped by being named an all-American as a senior in 1995. He scored 2,067 career points and hit 402 three-pointers, which was then an NCAA Division III record and now ranks third best.
Carideo is currently the head coach at Widener. He became the first coach in school history to lead the team to the NCAA Division III tournament during his first three years.
This is now his 12th season as Widener's head coach. He was inducted into the Philadelphia Small College Hall of Fame in 2012.Before coming to Widener as a coach, he was the head coach for five seasons at the U.S. Merchant Marine Academy, where he guided the Mariners to conference titles in 2002 and 2003 and NCAA Tournament appearances each year.
Terry Cole (Pemberton). Cole was a four-time MVP for Pemberton's women's basketball team and then enjoyed a stellar career at Rutgers-Camden. She still owns career records at Rutgers-Camden in points (2,240), scoring average.
Jessica Copskey DePrince (Sterling). A 2001 graduate, Copskey was a leading force in Sterling's Tournament of Champions champ her senior year. The Silver Knights became the first South Jersey team to capture a TOC title.
A South Jersey Player of the Year as a senior, Copskey scored 2,991 career points and helped Sterling win Group 2 state titles in 2000 and 2001. The 2001 team finished ranked No. 17 nationally by USA Today.
She then attended Drexel and was a starter her freshman season. After that she suffered an injury that curtailed her career.
Tony Davenport (Pleasantville). A 1979 graduate, Davenport was a three-time first-team all-South Jersey selection. He scored 1,950 career points as Pleasantville was among the best team in South Jersey all three seasons. Both Tony and his brother Bruce were stars at Pleasantville and each played two seasons for the Harlem Globetrotters.
Brian Turner (Moorestown Friends). A 1998 graduate, Turner was a Philadelphia Inquirer first-team all-South Jersey selection as a senior. He scored a school-record 47 points in a game his senior season. He was named his team MVP all four seasons. Turner scored a school record 1,931 career points.
Turner played two seasons at Division I Davidson before transferring to Rutgers-Camden
In 43 collegiate games at Rutgers Camden he totaled 951 points, averaging 22.1 points along with 7.8 rebounds. Following his senior season, he became the first player in school history to earn NABC first-team all-American honors.
Paul Wiedeman (Haddonfield). Wiedeman won a state championship as a player and three as a coach at Haddonfield. He was the point guard for Haddonfield's state championship team in 1989. He then played at Rowan University and helped the Profs advance to the Division III championship in 1993.
As a coach, he has guided Haddonfield to three state titles in 2004, 2005 and 2005. Under his guidance the Bulldogs have won five South Jersey titles and 12 conference championships.
John Wilson (Sterling). Wilson was a true leader, a four-year starting point guard and three-year captain for the Silver Knights. As a senior he was second in South Jersey in scoring, averaging 24.9 points per game. He was a three-year first-team all-Colonial Conference choice and first-team all-South Jersey as a senior in 1983.
An outstanding student, he earned a Bachelor of Science degree from Penn's Wharton School of Business. He played basketball at Penn and was part of two NCAA Tournament teams. In 1986 he was voted Penn's most improved player.
Bruce Campbell (Distinguished Service Award). A resident of Absecon, Campbell was a highly respected high school and collegiate official for men and women. Incredibly, the was assigned to work the NJSIAA state tournament for 43 consecutive years.
Article continues below
---
advertisement


---
Author:
Marc Narducci
Archives
---
More Articles