Eagles Fans Flying High After Win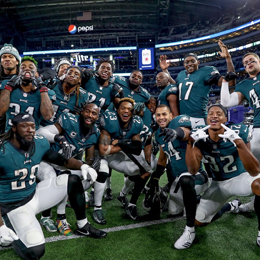 The spirit and the atmosphere is electric as fans across the Delaware Valley are pumped for the NFC Championship game.
Hundreds of fans piled into Chickie's and Petes like a sea of green, all hoping for a chance to head to the Super Bowl.
This night began with about 20 Vikings fans at one table, but that would quickly change because as far as the eye can see it's all birds fans.
Since the beginning of the NFL playoffs oddsmakers have labeled the Eagles as underdogs, and fans have really taken that to heart.
Many fans are wearing make-shift underdog masks and one couple even dawned some green dog costumes.
"We have a defensive line, that will kill these Minnesota Vikings," Ryan Hicks, Sr. said. "Case Keenum watch yourself, watch out. Fletcher Cox is coming for you."
These fans, like many, are hoping this theme will help propel their team to a victory against Minnesota.
"We are feeling so pumped up," said Kelly New of North Wildwood. "Eagles Nation, we want to win this game so bad. We were here last week, the energy inside the stadium is fabulous. We're going to the Super Bowl!"

Author:
http://philadelphia.cbslocal.com/2018/01/21/eagles-fans-flying-high-for-nfc-championship-game/
Archives
---
South Jersey Biz Digital Edition
Man Accused Of Trying To Kill Toms River Police Detective
School Bus Driver Charged In Crash That Injured 8 Students In South Jersey
Man Gets 40-Year Sentence For Killing Couple In Their Camden Home
Police Searching For Man Who Allegedly Sexually Assaulted Woman In Camden Home
Gov. Murphy Says Bill To Legalize Recreational Marijuana In NJ Short On Votes
Lindenwold Man Sentenced For Shooting Camden County Metro Officer In Leg
1 Dead, 3 Injured In Shooting At Camden After-Hours Club
Camden City Council Puts Brakes On Limiting Roadside Memorials After Hearing From Grieving Families
Increased Security At Clearview Regional Middle School After Bomb Threat Discovered In Bathroom
Homeless Veteran Johnny Bobbitt Pleads Guilty In State Court For Role In GoFundMe Scam
Driver Killed In Single-Vehicle Crash After Truck Found Overturned On Field Near High School In Woolwich Township
2 Dead In Multi-Vehicle Crash In Gloucester County During Winter Storm
Prosecutors Probe Slayings Of 2 Shot In Idling Car In Camden
Gloucester County Dealing With Recent Spike In Hepatitis A Cases
More Articles