More football commitments trickling for South Jersey football players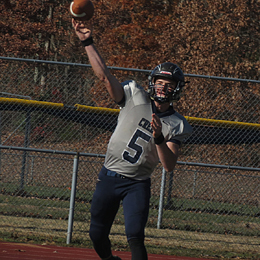 While many of the top senior high school football players have made college commitments, some continue to trickle in.
The latest is Woodrow Wilson tight end-defensive end Travon King, who made a verbal commitment this week to Temple.
King was a consensus first-team all-South Jersey selection who had 16.5 sacks as a defensive end. At 6-foot-3, and 210-pounds, he could become a college outside linebacker. He was also a quality tight end for the Tigers, who advanced to the South Jersey Group 3 final before losing a 29-28 thriller to Delsea.
For the first time this season, there are two signing periods for high school senior football players. Before this year, recruits had to wait until the first Wednesday in February to sign.
This year, the NCAA incorporated an early signing period where a recruit could sign between Dec. 20-22. Many of the top players nationwide and in South Jersey opted for the early signing period.
Some such as Timber Creek senior Devin Leary made a decision to attend North Carolina State in the spring and never wavered. Leary was still hearing from college after he made his verbal commitment, which is common in the recruiting game.
Penn State was among the schools attempting to get him to change his mind, but Leary stuck to his initial decision and many feel he will one day be an impact player in the Atlantic Coast Conference.
When looking at the list below, one can see how talented South Jersey football players are to attract the big-name schools.
Here is the list of players who have committed. Of these, only King and Highland's DaeJuan, who is headed to Maine, haven't officially signed but expect to on Feb. 7.
2018 South Jersey high school football recruits
Player, HS, Pos., Ht., Wt., college
Nihym Anderson Vineland LB 6-2 235 Maryland
Iverson Clement Rancocas Valley 5-11 180 Florida
Alex Desire Burlington Twp. OL 6-5 280 Towson
Shamere Collins St. Augustine DB 5-10 175 Sacred Heart
Kyle Dobbins Timber Creek RB 5-10 185 Temple
Xavier File St. Augustine WR 6-0 175 Army
Taj Harris Palmyra WR 6-2 175 Syracuse
Trevon King Woodrow Wilson DE 6-3, 210 Temple
Deion Jennings Timber Creek DB 6-0 180 Rutgers
Devin Leary Timber Creek QB 6-2 185 North Carolina State
Nah'Sir Morgan Atlantic City WR 6-3 180 Maine
Isaih Pacheco Vineland Ath. 5-10 180 Rutgers
Daevon Robinson Shawnee WR 6-4 210 Rutgers
DaeJuan Sanders Highland RB 6-0, 206 Maine
Qwahsin Townsel St. Joseph LB 6-1 203 Villanova
Jeff Undercuffler Holy Cross QB 6-6 210 Albany
Article continues below
---
advertisement


---
Author:
Marc Narducci
Archives
---
Leveling the Playing Field
Phillies Zack Wheeler should be a first-time All-Star
One Year Later
Foles the Unlikely Eagles Super Bowl MVP
In Good Health
One of Us
Former Glassboro Star George Johnson Almost Vaulted Team to NFC Title Game
Change for Good
Bar Bites
Remembering Her Roots
2017 Executives of the Year
Top Five: Paninis
Truer Words Have Been Spoken
Superior Sandwiches
A Thriving County
More Articles