NJSIAA Girls Basketball Group 1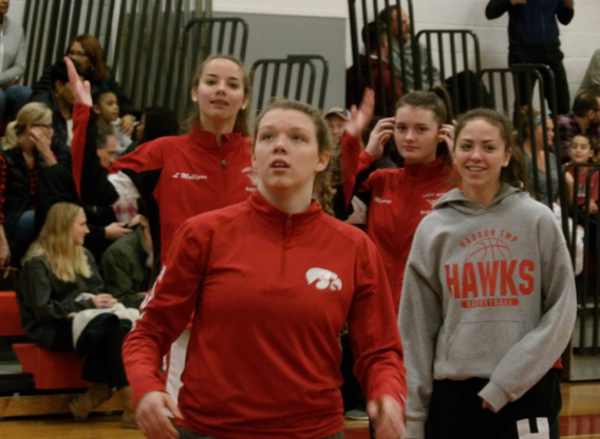 Haddon Township has enjoyed another typical season for the Hawks, one marked by a dogged defense, and plenty of wins. A year after falling in the sectional final, the Hawks enter as this season's South Jersey Group 1 favorite. Here is a look at the field.
Girls South Jersey Group 1
Defending champion: Wildwood beat Haddon Township, 42-31 in the sectional final.
This season's main contenders: Haddon Township, Wildwood, Pitman and Gloucester.
Outlook: Don't be surprised if last year's sectional finalists meet again in this year's championship game. Haddon Township will likely earn the No. 1 seed this season. The Hawks are annual contenders under coach Tom Mulligan.
This is one of the best defensive teams in South Jersey. The Hawks won 13 of their first 15 games and the two losses came against Group 4 contender Shawnee and a 36-35 loss to Group 2 contender Sterling.
The Hawks have one of the top players in Group 1 in senior combo guard Grace Marshall, who recently scored her 1,000th career point. She is the Hawks' scoring leader, averaging 13 points per game, but is also an adept passer.
Junior Madison Bradley was averaging just near 10 points per game for Haddon Township.
Teams that play the Hawks have to be wary about committing turnovers, because Haddon Township might be the best defensive team in the field.
Wildwood won 10 of its first 14 games and the Warriors began the week having not lost to a South Jersey Group 1 team. Among the wins was a 55-37 victory over another Group 1 contender, Pitman.
Wildwood junior Maddie McCracken is among the most dangerous scorers in Group 1, if not South Jersey. Through the first 14 games she was averaging 24.2 points per game. She had a season-high 38 points in a 54-45 loss to Gloucester Township Tech.
Gloucester, which is competing for Wildwood for the Tri-County Classic Division champion, has a long history of advancing the Group 1 tournament.
The Lions lost a 35-24 decision earlier this season to Haddon Township, and these two could also end up meeting in the postseason.
In that game Gloucester got down 15-4 at halftime and couldn't recover.
Showing an ability to bounce back, Gloucester then won its next game over Pitman, 39-21 as senior Kylar Coughlin and sophomore Chloe Bennett each scored 12 points. Coughlin was averaging a team-high 15 points per game for the Lions, who won 10 of their first 13 games.
Pitman has a chance to be among the top four seed but the Panthers won't be favored against Haddon Township, Wildwood or Gloucester. That doesn't mean that Pitman can't contend, but this is a Group where there is definite separation after the top three teams.
And it could be one of the more low-scoring Groups, especially with Haddon Township as the favorite.
Article continues below
---
advertisement


---
Author:
Marc Narducci
Archives
---
A Golden Opportunity
Game On
Basketball club honors players
Vail playing at top-level college ball
Seizing the Moment
Timber Creek's Leary heads to Illinois
Phillies Center Field Job Remains Up for Grabs
The Difficult of Coaching Football at a Small Enrollment School
March Madness is Upon Us in College Basketball
Eagles Starting Over After Trading Carson Wentz
Grateful for the Opportunity
New Eagles Coaching Staff Announced
Repeat as Super Bowl Champion a Daunting Task
Will Carson Wentz Get Traded?
South Jersey Talent in the NBA and ABA
More Articles