Winning a South Jersey Championship...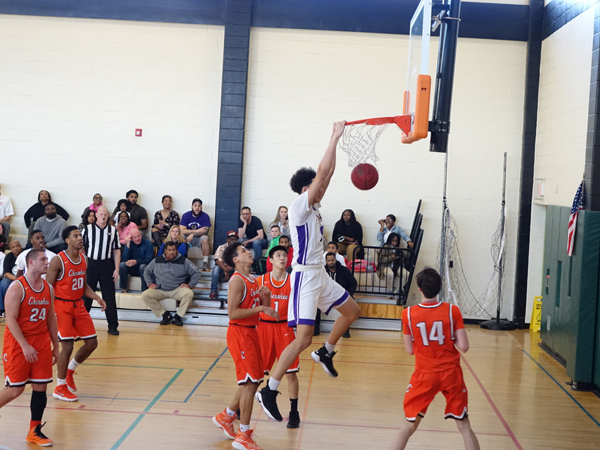 Winning a South Jersey Championship Shouldn't be Taken for Granted, Even Among the Top Programs
Throughout the years, some teams win so frequently that we take it for granted that the winning will continue. In the case of Camden's basketball team, the Panthers have won 47 South Jersey titles and 11 state championships.
This has long been among the model programs in the state and should continue to be so for the foreseeable future.
Camden had won six straight sectional titles and had appeared in five straight State title games entering this year.
The Panthers were again among the best teams in South Jersey and for quite some time held the top spot in the ratings.
And while Camden was favored to win the South Jersey Group 2 title, Haddonfield had other ideas.
This has turned into a nice rivalry. Last year Camden won an exciting 42-40 overtime decision over Haddonfield in the South Jersey Group 2 final.
This year, the teams met in the semifinals, but it was no less dramatic as Haddonfield earned a 54-53 overtime win over the Panthers.
What this shows is how difficult it is to win a single title. The fact that Camden had won the previous six sectional titles (some in Group 3, others in Group 2), is truly impressive.
It also shows that championships are hard to earn. Knocking off a tradition-filled program like Camden, is among the more difficult feats for any South Jersey team.
The Panthers had eliminated Haddonfield from the tournament in three of the previous four seasons.
And it took quite a bit to knock off a team that is guided by one of South Jersey's top point guard in Corey Greer and has one of the area's top seniors in forward Myles Thompson and one of the better sophomores in Lance Ware.
Haddonfield will now likely have the future favorite's role since the Bulldogs started four juniors, led by point guard Mike DePersia, who scored the winning point on a put-back at the buzzer.
DePersia led Haddonfield with 20 points, but more than that he helped lead a comeback as the Bulldogs trailed by 14 points at halftime.
Yes, this will go down as one of the signature wins for Haddonfield, because Camden had beaten so many of the top teams this season in South Jersey. The Panthers won arguably the deepest division in South Jersey, the Olympic National, which consisted of beating Top 20 teams Camden Catholic and Bishop Eustace twice each.
So this was a strong Camden team, capable of beating anybody in South Jersey and anybody in Group 2.
What it shows is the strength of Haddonfield, which proved that nothing is assured, that winning one championship in year, or in Camden's case six straight seasons, doesn't guarantee anything, especially against steep South Jersey competition.
Haddonfield finished the deal by beating Lower Cape May, 63-45 in the South Jersey Group 2 championship.
The Bulldogs were able to put the Camden win in the rearview mirror and concentrate on the task at hand.
With four juniors in the starting lineup many are already penciling Haddonfield as the SJ Group 2 favorite next year.
As we have seen, even with a powerhouse like Camden, nothing is guaranteed from one year to the next.
Photo by Marc Narducci: Camden High's Lance Ware dunks the ball
© SouthJersey.com 2018. All rights reserved. This article or parts thereof may not be reprinted or reproduced by any other party without the express written consent of SouthJersey.com. For more information, please call 856-797-9910.
For more Local Sports features, visit our South Jersey Sports page.
Article continues below
---
advertisement


---
Author:
Marc Narducci; Photo by Marc Narducci
Archives
---
Seizing the Opportunity
What's on Your Mind
In the Groove
We're Number One?
Prime Performer
Best of the Best 2021
Land of the Free
Brooklawn fall one game short of an American Legion state title
Can't Hack It
Ben Simmons uncomfortable stay with the 76ers
Filling a Critical Void
Out and About
Flyers reshape team
Power 50
A strong showing by South Jersey products in the MLB Draft
More...