Molding a Legacy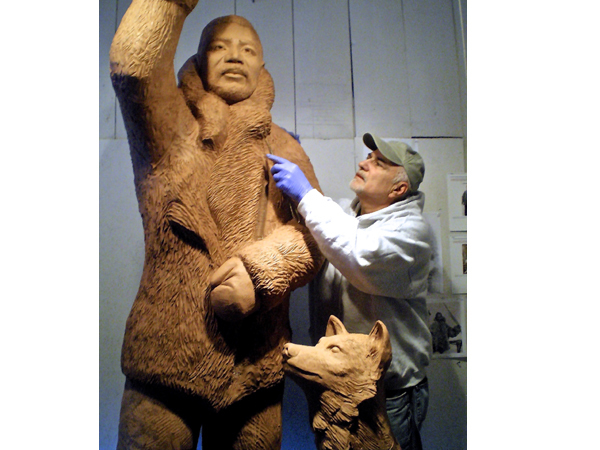 If the name John Giannotti is not exactly familiar to you, perhaps some of his monuments and sculptures are. He is probably best known for "Haddy," the bronze sculpture of the dinosaur Hadrosaurus foulkii in the center of Haddonfield. But he has dozens of others on display here in South Jersey and all around the world.
A Long Island native, Giannotti moved to the area when he started teaching at Rutgers University-Camden in 1970 and now calls Haddonfield home. After he retired from teaching, he devoted more time to monumental sculptures and pursuing projects that particularly piqued his interest. His passion for storytelling through art has not ceased, and these days he expresses these stories in his sculptures as well as through music.
"The most important thing about anything I do—whether it's calligraphy, painting, sculpting a 14-foot dinosaur, teaching or playing saxophone—it has to be with passion, says Giannotti. "It is the greatest way to stay young. Once you lose passion, it takes something out of you."
We caught up with him to find out what is keeping him young these days, and reflect on some of his most memorable projects.
His early days as an artist…
Article continues below
---
advertisement


---
My dad was a sign painter and artist himself, and as a child I hung out in his sign shop where I had hundreds of [paint] colors and brushes at my disposal. I learned the craft of calligraphy and lettering arts at
a young age and I would work with him on projects, sometimes on billboards 60 feet tall. I had no idea at the time what kind of effect this experience would have on my life. Later on, I paid for my college education doing commercial silk-screening. I would rent an old building and live in one half and run the business out of the other half.
How attending Rutgers University impacted his art…
After finishing my undergraduate work in Buffalo, I went for my MFA at Rutgers-New Brunswick. In the late '60s, Rutgers played a huge role in the development of pop art, and George Segal had graduated from there, and other famous artists were based at Rutgers. It was a great education, and shortly after, the Seward Johnson Atelier opened in Princeton and I did a lot of bronze there, and even after when I became a teacher at RutgersCamden, where I worked my way up to chair of the fine arts department before retiring in 2001.
How children helped build "Haddy"…
When I got the commission for Haddy, my son Del was in the second grade and at the time I thought it would be an incredible thing for kids to see the process. It took about 10 months and during that time, over 600 children from local elementary schools came to my barn studio to watch me work on it and I'd talk to them about it. I gave every single one of those children a tiny lump of clay and told them to attach it somewhere on the dinosaur, and although I would change it and move it around to shape the dinosaur, that would be "their" spot. It became a very personal thing. Those kids are seniors or beyond now, and every once in awhile I will see people go up and point to their spot on the sculpture. That sculpture is a landmark in town and I'm quite happy with the result of it.
On finding the real story behind a project…
Depending on the project, sometimes you are working from life with an actual model and sometimes it's a mixture of a model and dozens of photographs of the subject from all angles—in the case of someone historical. My daughter Keara, when she was about 3 or 4 years old, was a model for "The Rescue," a sculpture depicting a firefighter coming down the ladder with a young child hanging onto him. There are two of these in South Jersey, in Lakeland and Chews Landing outside of the fire company and several more around the country.
I knew this sculpture needed special meaning not only for those looking at it, but for those who inspired it. I took a 12-inch clay model and visited the different fire companies in Camden County, unannounced, and asked their thoughts on the model. In my particular model, the girl looked frightened. A firefighter in Camden looked at it and told me this [scenario] had just happened to him and he got very emotional. I knew I needed to listen to him. He told me the girl's eyes were closed, but he could feel her fingers and toes pressing and holding onto him through his layers of gear. I completely changed the sculpture and made the girl peaceful and added tension to her hands and feet. That's what made it; that one firefighter who had the story. If you don't get the story and inspiration right, it means nothing to me.
A lifelong collaboration with fellow South Jersey artists…
The two most important people who have helped me in making my art are brothers Joseph and Angelo Carolfi. Their father Pietro was one of the finest mold makers in the entire country. He was from Italy and moved to this country and opened this little shop behind his house on Haddon Avenue. If you pass it you have no idea they are making molds and casting some of the best artists in the area. I met Joe in 1974 while I was teaching a sculpture class, but he wasn't a student. [After seeing his work], I realized I had to get to know him better. Virtually every sculpture of mine in a 20-mile radius either Joe or Angelo had something to do with making it. I recently worked on a project for which Carolfi Studios was commissioned to do the new owl at Temple University. I did most of the clay work and feather details on the owl itself with another sculptor and Joe cast it.
Retired, but staying busy…
In college, sculpture became my main medium but there is this other half to me that has to do with music. I've played music all my life and I feel there is a correlation in making art and making music. Sculpture has this feeling of building, with goals or a climax in mind; just as a piece of music builds. I've been playing saxophone longer than I can remember and I've played in bands all my life. I'm a member of a local rock cover band, Mary Hates the Relics, and we appear at charity events and bars. The other guys in the band are probably 20 years younger than me, and their music is '90s rock—Green Day, Incubus, Pearl Jam—and there's almost no saxophone in their music, but we found a way to mix it in. I'm also in a jazz blues fusion quartet, Quartet 33, and we play some Steely Dan, Sting, Van Morrison, not all strictly jazz.
I've also been lecturing for Il Circolo Italiano, a group that meets to talk about Italian culture and language. I've been giving lectures there for 15 years about artists and the Renaissance. I'm also in the Road Scholar program in Philadelphia where senior citizens from around the country come to visit the city and different specialists—experts in history, music, art— take them around on tours. I do a tour of outdoor sculptures in Philadelphia and give a tour of the Rodin Museum. It's an incredible experience and they are some of the greatest students I've ever had. It's been a way for me to keep the passion alive and an outlet to keep things moving.
Published (and copyrighted) in South Jersey Magazine, Volume 14, Issue 12 (March 2018).
For more info on South Jersey Magazine, click here.
To subscribe to South Jersey Magazine, click here.
To advertise in South Jersey Magazine, click here.
Author:
Liz Hunter
Archives
---
Who's Who in Health Care
Former Shawnee star Doolittle Calls It A Career
Camden County College welcomes Baseball Hall of Fame
South Jersey Football Games of the Week
Out & About
QB Ronnie Borden is Back in the Game
Should fans be worried for the Phillies bullpen?
South Jersey Football Games of the Week
A look at South Jersey's Top H.S. Girls' Soccer Teams
Out & About
Eagles will be fine after close call in opener
High School Football Games of the Week
Is it Super Bowl or bust for the Eagles?
What's New in South Jersey?
From New Jersey to Nashville
More...